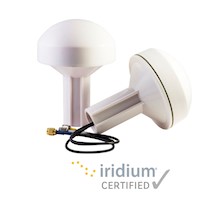 Multiband Mariner GSM IR Antenna
Overview
Coming in five versions — Iridium only, Iridium GPS, Iridium Cell GPS, Cell GPS and GPS only — the Mariner comes with a M25/1″ marine thread that will fit most standard marine mast, deck or railing bracketry. The housing uses 'O' rings and silicone for waterproofing and is made of injection moulded UV stabilised ABS. The cable exits allow for the cables to run down the mast or exit the side of the antenna.
How it works
Mount using an M25/1″ thread.
The antenna is fitted with 30cm pigtails as standard.
Cables are colour coded – Iridium – White, GPS – Blue – Cellular – Yellow.
Technical Specifications & Features
Applications
Iridium Voice, Iridium GPS/Glonass
Iridium Cell/GPS, Cell GPS/Glonass
Main features
Easy Integration
Groundplane Independent
RoHS compliant
Circular polarization for high efficiency
Very good omnidirectional pattern
Good Axial ratio at zenith
Good aperture
L140mm x 70mm Base