Become a Partner
The Power of the Iridium Partner Ecosystem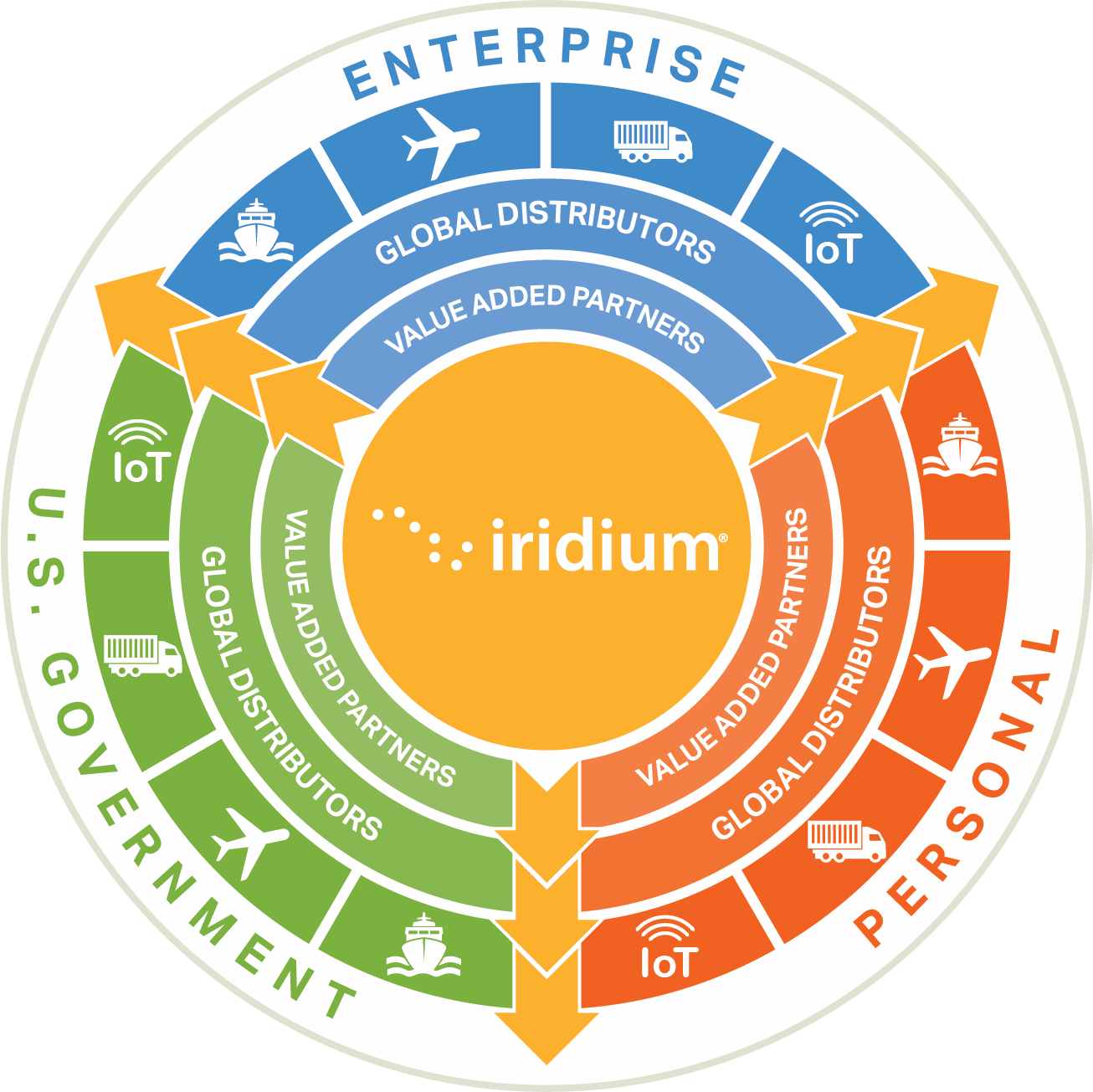 Iridium proudly operates a strong partner ecosystem that helps connect enterprises, governments, people, and things in exciting new ways. With over 450 value-added partners, the Iridium® partner ecosystem enables leading global technology companies to leverage Iridium's unique network to manufacture, develop, market, and support innovative applications for a variety of different markets and industries.
This worldwide wholesale model is designed to facilitate innovation and opportunity, while generating meaningful revenue for all involved. Iridium markets and sells products, services, and airtime through these global partners and their distributors — allowing our partners to evolve with us, instead of competing against them.
The Iridium partner ecosystem maximizes the breadth and scope of innovation, leveraging our partners' specialized knowledge to deliver differentiated and optimal solutions by providing more capabilities to end-users in a diverse set of industries and markets around the globe.
Types of Licensed Partners
Service Provider (SP)

Sells products and services for both voice and data: Iridium devices + Iridium airtime
Value-Added Retailer (VAR)

Sells primarily data products and services: Iridium technology + Partner solutions
Value-Added Manufacturer (VAM)

Manufactures unique solutions that are sold to/through other partners: Iridium technology + Partner innovation
Value-Added Developer (VAD)

Develops and markets new products based on Iridium equipment: Iridium technical data and specifications + Partner innovation and distribution
Dealer

Authorized to sell Iridium technology via SPs and VARs: Iridium products + Iridium services
What's Iridium Looking For in a Partner?
Iridium partner programs support companies whose solutions leverage the power and reach of the Iridium satellite network.
Complements Iridium's existing distribution network of partners
Provides strategic value to Iridium's portfolio of solutions
Delivers unique opportunities for expansion of Iridium products and services
Supports the autonomous development of end solutions
Fills a market need with a unique product/solution and defined business case
Partnering with Iridium

Iridium is the only mobile satellite service company offering coverage over the entire globe. The Iridium constellation of Low-Earth Orbiting (LEO) cross-linked satellites provides critical voice and data services for areas not served by terrestrial communication networks. By partnering with global communications companies operating in key markets sectors, Iridium is able to consistently bring innovative technology solutions to a broad base of customers around the globe.
Commercial Markets

Commercial markets are served by Iridium through a worldwide network of distributors. Customers represent a broad spectrum of industry including maritime, aeronautical, government/defense, public safety, utilities, oil/gas, mining, forestry, heavy equipment and transportation. In addition, Iridium provides services to the U.S. Department of Defense and other U.S. and international government agencies.
Partnership Benefits

• Sales and Product Development Support
• Technical Tool Kits
• Co-Branding & Marketing Opportunities
• Product and Solution Exposure on Iridium.com
• Access to Iridium for Partners, Iridium's secure partner portal which provides access to products, sales and marketing tools and information
Getting Started
If your company is a Value-added Manufacturer or Value-added Developer with a relevant and current business opportunity, please complete the Partner Application Form below.
For organizations where direct partnership with Iridium is not the best fit, Iridium will refer you to established Iridium partners for support in your manufacturing and development needs. To become a Dealer, you can fill out the New Dealer Registration Form.