When networks are down, or you're beyond coverage, Iridium® is the solution you can rely on.
Whether in or out of radio/cellular coverage, Iridium keeps you connected with highly reliable, cost-effective equipment and service plans.
Iridium Certus®
Iridium Certus® delivers reliable broadband for voice & data.
Iridium Push-To-Talk
Iridium Push-To-Talk (PTT) brings a Global LMR Experience.
Iridium PTT Products
PTT products can integrate with your communications requirements.
Iridium Certus® — Mission-Critical Connectivity
Iridium Certus® delivers reliable broadband connectivity for voice and data applications where you need it.
When you're working on the front line, every second counts, and Iridium's reliable, low-latency, weather-resilient broadband provides mission-critical connectivity for first responders and public safety teams anywhere in the world.
Featuring solid state antennas and the fastest L-band speeds available, Iridium Certus brings real-time comms-on-the-move capabilities to life, transforming your vehicle into a highly functional mobile office. And with automatic least-cost routing between cellular and satellite, the Thales MissionLINK enables your organization to stay on budget and connected to the right network as you need it.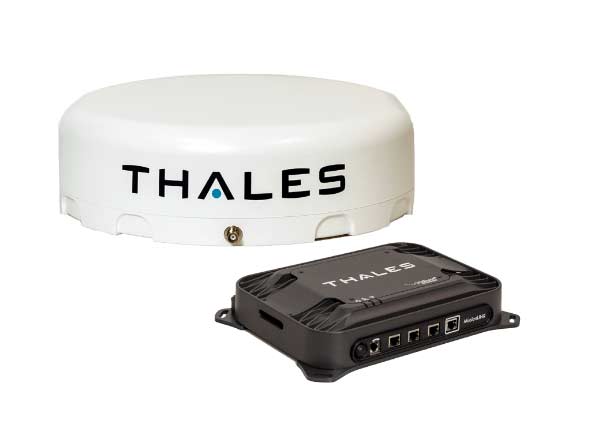 MissionLINK™ by Thales
MissionLINK comes with an intuitive, user-friendly interface and can be quickly integrated into existing vehicles. Whether you operate as part of a deployed force or as a single individual, this solution is designed to meet your unique challenges through a simple, adaptable and robust design.
Speeds up to 704 Kbps
3 dedicated voice channels
Radio gateway enabling LMR access
Built in cellular routing
Location tracking
IRIDIUM PUSH-TO-TALK — INSTANTLY CONNECTED
Iridium Push-To-Talk (PTT) Brings a Global LMR Experience
Iridium handheld devices are lightweight, rugged, and battery-powered, supporting your team, wherever you go – and with Iridium Push-to-Talk, interoperable PTT capabilities keep you instantly connected with your dispatch center, team members, and other organizations anywhere on the globe.
Iridium PTT products and services have been designed to be easily integrated with your enterprise-wide communications requirements. This includes stand-alone products and accessories specially designed for inside buildings, vehicles, helicopters, airplanes and more.
With interoperability and cross banding solutions, you can automatically extend your traditional LMR networks with your Iridium products and services.
Unparalleled Control of Deployed Devices
With the Iridium PTT Command Center, a secure, web-based management portal, you will experience a simplified way to deploy and maintain all Iridium and Iridium Connected® PTT devices, including talkgroup creation, geographical coverage, device naming and cross-organization sharing. All at no additional charge.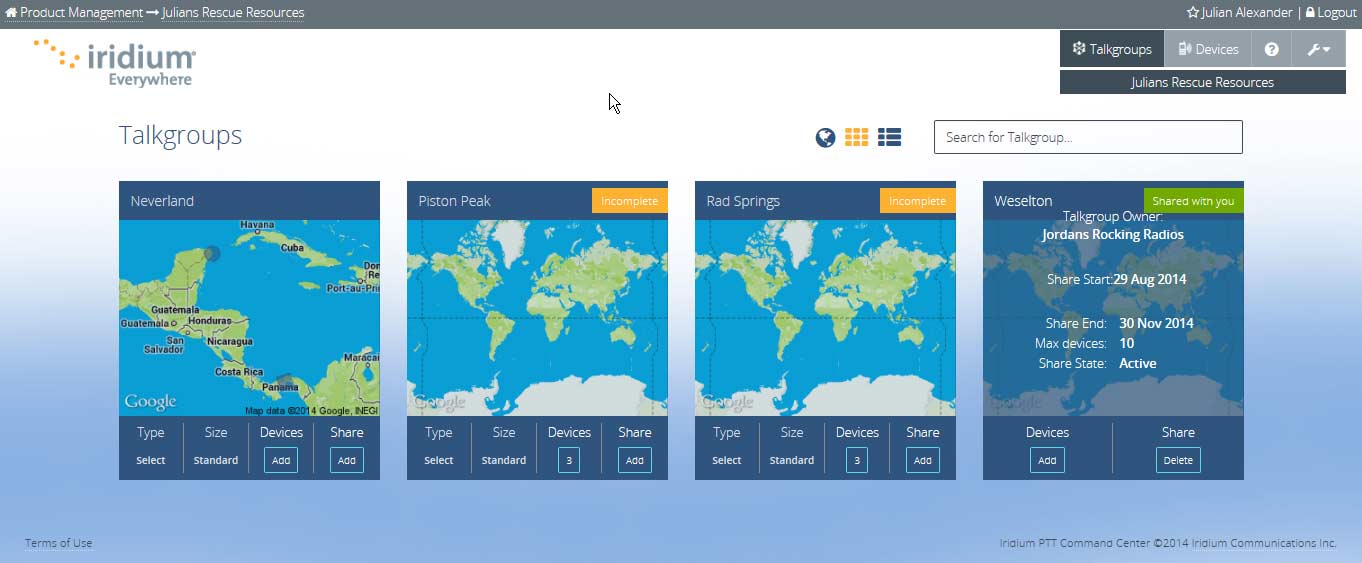 The easy-to-use Iridium PTT Command Center provides rapid access to the heart of your operations and unparalleled control of devices deployed in the field.
IRIDIUM PUSH-TO-TALK PRODUCTS— EASY TO USE
Iridium Extreme® PTT – 2-in-1 Handset

Iridium Extreme PTT brings the power of a fully functional satellite phone and the Iridium PTT capabilities all in one compact and rugged device.
Everything offered within the Iridium Extreme plus push-to-talk functionality
Global PTT capabilities and configurable talkgroups
A reinforced PTT button
A high audio speaker
Enhanced SMS and email messaging capability
GPS-enabled, location-based services
SOS access in Phone Mode
Icom IC-SAT100
The IC-SAT100 provides a traditional Land Mobile Radio experience including:
An IP67-rated durable housing
Large front-ported speaker for loud audio
A top mounted on/off volume selector
Talkgroup selector for "no-look" operation
Field replaceable antenna
One-to-Many Communications
Talkgroup Scan
Enhanced SMS and email messaging capability
Priority Interrupt Calling
Emergency Button

Want more information?
To learn more about how Iridium's Public Safety Land Mobile solutions fit your organization's needs, and to take advantage of our limited time promotions, fill out the form below: