« Back
Defining Satellite Push-To-Talk (PTT): Extending Real-Time Group Communication Beyond Traditional Tower-Based Networks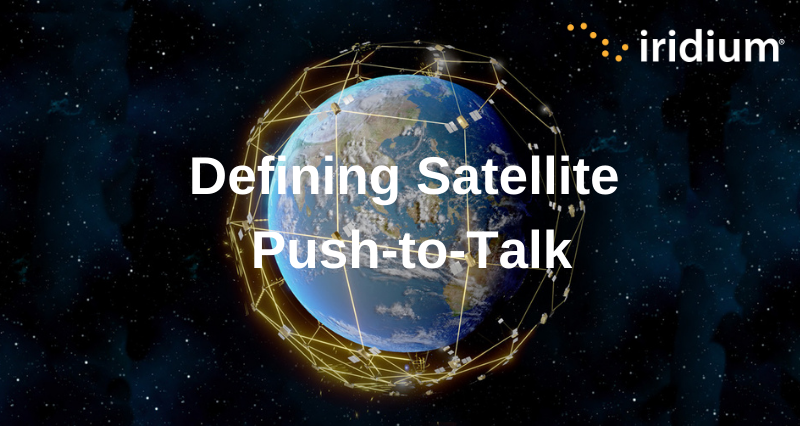 What is satellite PTT?
Typically, when people think of Push-To-Talk (PTT) technology, standard "walkie talkies" and high frequency (HF) radios or Land Mobile Radios (LMR) come to mind. Whether its emergency responders relying on LMR devices to quickly communicate across teams during an emergency, or humanitarian organizations using Very High Frequency (VHF) to support global philanthropic missions, PTT devices are useful tools for a variety of situations. 
Traditional PTT devices tend to rely on terrestrial infrastructure to connect, creating limitations for how far they can reach without significant financial investment. For teams managing network connectivity for remote operations, they are often faced with the challenge of building out a land-based radio network which comes with large environmental and financial costs that can significantly stall progress. This has led network operators to pursue satellite technology as an alternative form of connectivity.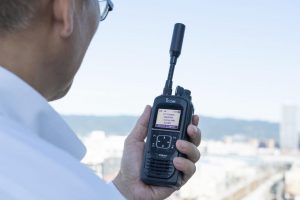 How does satellite PTT work?
Just like land-based two-way radios, satellite PTT enables group communications at the push of a button. However, rather than relying on ground-based communications infrastructure to connect, these devices are connected via satellites in space, extending their reach beyond the limits of tower-based infrastructure. For instance, Iridium's portfolio of satellite PTT devices, including the Iridium Extreme® PTT and Icom IC-SAT100, deliver group communications over the Iridium network. The constellation is comprised of 66 crosslinked, Low Earth Orbit (LEO) satellites that blanket the earth with reliable and low latency satellite coverage that enables a PTT experience similar to LMR, HF, and VHF systems. Its L-band spectrum signal is weather-resilient, ensuring connectivity no matter the condition, making it an ideal solution for teams working in harsh locations.
What are its advantages?
Iridium PTT products and services are unique in that they can be deployed anywhere on the planet, enabling mission-critical, group communications across continents, including the world's most remote regions. This is especially important for users who travel to remote areas and need team-based communications on demand, or for those who need to extend regional operations to areas where installing a traditional land-based network would be cost prohibitive. In the spirit of cost savings, unlike most satellite services that are billed per minute or per megabyte (MB), Iridium's PTT service is offered with a flat monthly access fee and various talk group size options providing predictable billing without unplanned fees that can impact operational budgets.  
| | | |
| --- | --- | --- |
| | | |
| Secure Comms | Flat Monthly Cost | On-the-fly Talkgroup Creation |
In addition to its global reach and budget conscious plans, Iridium PTT can be instantly implemented, connecting groups in up to 10 different regions, helping team-based organizations, like emergency responders, operate quickly, effectively and with more success. For situations that require on-the-fly updates, administrators can easily make changes with the PTT Command Center, even from different continents, enabling a level of coordination previously not possible with traditional tower-based networks. Additionally, the service can provide a back-up mode of communication in the event of natural disasters and is a useful tool all local governments and emergency responders should consider having on standby and ready to use at a moment's notice. It is also a highly secure service, with end-to-end AES-256 encryption, making it an ideal option for militaries and government organizations in need of reliable and secure global group communications capabilities, offering protection from eavesdroppers and adversaries, operational security and safety.
Figure 1 Iridium PTT Command Center – Talkgroup Example
As you can see, with a global communications infrastructure in the sky, satellite PTT has enhanced overall group communications, making it the top connectivity choice for remote operations in lieu of traditional radio systems. The incorporation of satellite technology into the PTT landscape has removed coverage limitations, offering a rapidly deployable solution that provides all-weather, reliable group communications when and where customers need it, without compromise. 
Want to learn about satellite PTT interoperability? Check out this post.  
For puns, Iridium news, puns, partner news, dad jokes, industry trends, and also puns, follow us on Facebook, LinkedIn, and Twitter.
Related Products & Services