Keeping Deployed Mobilized Satellite Communications Safe & on Track — Anywhere
Iridium Certus® for the U.S. Government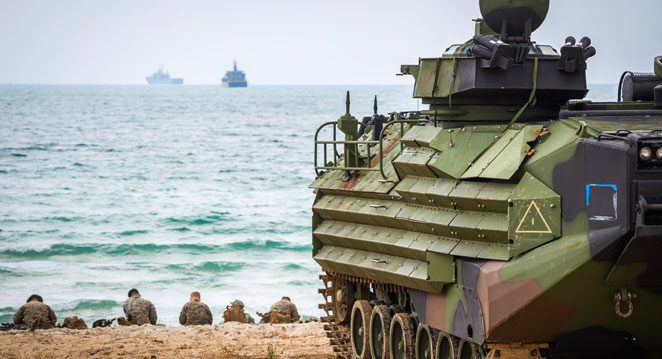 At your service.
No other company can help mobilize and monitor personnel, data, and assets on the ground, beyond line-of-sight, and out of reach of terrestrial networks – anywhere on the planet. Iridium is providing mission-critical, tactical, real-time voice, and low-latency data when you need it most.
"Iridium Certus is truly the next generation offering in mobile L-Band. Coupled with the ThalesLINK portfolio of products, Iridium is delivering state-of-the-art solutions for mission critical applications in both commercial and government markets. Thales is excited to be in partnership with Iridium and is looking forward to continuing our collaborative efforts for years to come."
Brian Aziz, Satcom Solutions Director, Thales
Keep ground forces connected with Iridium Certus land mobile solutions, offering dependable communications on the move (COTM) for training exercises, special operations, and reconnaissance, even in the most remote areas.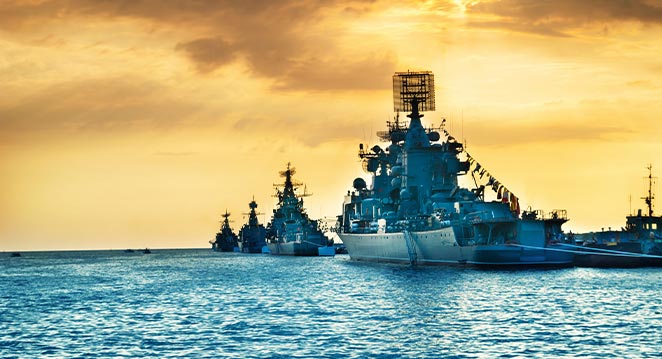 Iridium Certus maritime solutions provide essential connectivity for combat ships and research vessels anywhere in the world, including the polar regions and Sea Area A4.
Iridium Certus aviation solutions will provide the critical connections you need from the cockpit and cabin to the command center, ground for transport fleets and other military aircraft.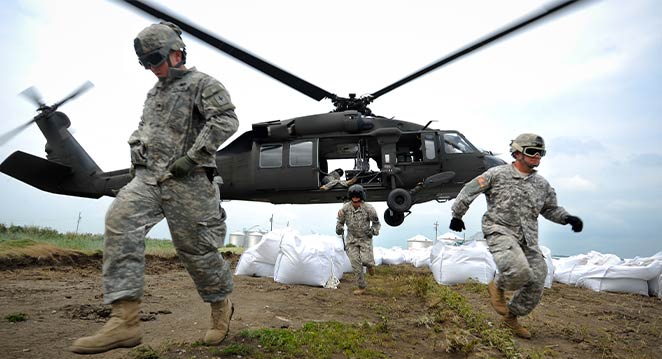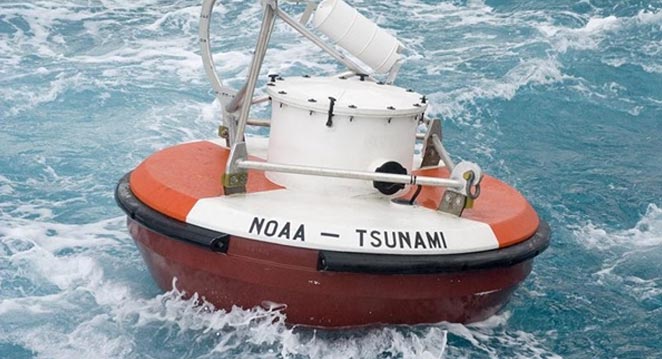 Conduct efficient government missions ranging from Intelligence, Surveillance, Reconnaissance (ISR), to In-Transit Visibility (ITV), to remote sensing, to BVLOS UAV/UGV missions, to scientific research, and more.
Iridium partners bring years of government and defense experience to help advance the way the U.S. Government communicates.
Iridium Certus midband and broadband services are deployed by select partners with a proven history of delivering innovative solutions to U.S. Government customers with specific requirements. With these leading value-added partners, Iridium is advancing the way the U.S. Government communicates every day.

MissionLINK™ and VesseLINK™ by Thales
A full suite communications solution.
The MissionLINK™ and VesseLINK™ by Thales are providing government and military customers with access to the fastest L-band speeds for reliable communications on the move through Iridium Certus. Additional Iridium Certus solutions for the U.S. Government are expected as Iridium works closely with key partners on new devices.
High Mobility
Iridium's network is built for mobility providing connectivity and communications on the move, allowing ships, vehicles, aircraft, and personnel to remain in contact while serving anywhere in the world.
Multi-Service Connectivity
Iridium Certus is a multi-service platform providing users the ability to maintain simultaneous access to:
High Quality Voice
Midband and Broadband Data
Tracking and Monitoring
Other over the top (OTT) services across Iridium Certus terminals.
Reliable Coverage
Unlike distant Geostationary satellite networks that limit geographic use and experience service degradation during inclement weather, Iridium Certus operates through the truly global, reliable, and weather-resilient L-band based Iridium network comprised of 66 Low-Earth Orbit satellites.
Robust Terminals
Iridium Certus™ terminals utilize antennas with stationary internal components providing enhanced reliability and a lower profile design to enable new applications for satellite services. Unlike Geostationary terminals that require complex and expensive steerable antennas or manual pointing to connect, Iridium terminals feature omni-directional antennas that automatically connect with the closest Iridium satellite wherever positioned in the sky, simplifying the set-up and use of these terminals.
Want more information?
To learn more about how Iridium's U.S. Government Certus solutions fit your organization's needs, fill out the form below:
Fact Sheet
Last Updated
Size

Mar 02, 2020
978.04 KB

| | |
| --- | --- |
| Size: | 978.04 KB |
| File Name: | FS_Iridium+Certus+700_Fact+Sheet_030220.pdf |
| Vendor: | Iridium |
| File Type: | PDF |
| Description: | Fact Sheet detailing our Iridium Certus 700 Service class offerings |
| Products: | Iridium Certus 9810, MissionLINK by Thales, SAILOR 4300 by Cobham, VesseLINK by Thales |
| Services: | Iridium Certus®, Iridium Certus® 700 |
| Verticals: | Iridium Certus |

Press Release

Sep 03, 2019
305.8 KB

Size:
305.8 KB
File Name:
PR_Iridium+and+Thales+Expand+Partnership+Aircraft+Connectivity_Thales+FlytLINK_090319.pdf
Vendor:
Iridium
File Type:
PDF
Description:

Title: Iridium & Thales Expand Partnership to Deliver Aircraft Connectivity Services
Distribution Date: September 03, 2019

Press Release announcing Thales as the newest Iridium Certus Aviation service provider.

Products:
FlytLINK by Thales
Services:
Iridium Certus®
Verticals:
Aviation, Corporate

Use Cases & Infographics

Feb 09, 2021
179.09 KB

| | |
| --- | --- |
| Size: | 179.09 KB |
| File Name: | INF_Iridium+Certus_Infographic_+Services+Classes_020921.pdf |
| Vendor: | Iridium |
| File Type: | PDF |
| Description: | Infographic describing all of the Iridium Certus Service Classes |
| Services: | Iridium Certus® |
| Verticals: | Iridium Certus |

Sep 15, 2020
1.29 MB

| | |
| --- | --- |
| Size: | 1.29 MB |
| File Name: | INF_Iridium+Certus_Infographic_Government+Services_091120.pdf |
| Vendor: | Iridium |
| File Type: | PDF |
| Description: | Infographic detailing the services Iridium offers to the US Government |
| Services: | Iridium Certus® |
| Verticals: | U.S. Government |

Jan 29, 2020
484.29 KB

| | |
| --- | --- |
| Size: | 484.29 KB |
| File Name: | UC_Iridium+Certus_Aviation+Use+Cases_Business_JAN20.pdf |
| Vendor: | Iridium |
| File Type: | PDF |
| Description: | Infographic showing Iridium Certus Use Cases for Business Aviation |
| Services: | Iridium Certus® |
| Verticals: | Aviation, Iridium Certus |

Jan 29, 2020
151.27 KB

| | |
| --- | --- |
| Size: | 151.27 KB |
| File Name: | UC_Iridium+Certus_Aviation+Use+Cases_Commercial_JAN20.pdf |
| Vendor: | Iridium |
| File Type: | PDF |
| Description: | Infographic showing Iridium Certus Use Cases for Commercial Aviation |
| Services: | Iridium Certus® |
| Verticals: | Aviation, Iridium Certus |

Jan 29, 2020
116.5 KB

| | |
| --- | --- |
| Size: | 116.5 KB |
| File Name: | UC_Iridium+Certus_Aviation+Use+Cases_General_JAN20.pdf |
| Vendor: | Iridium |
| File Type: | PDF |
| Description: | Infographic showing Iridium Certus Use Cases for General Aviation |
| Services: | Iridium Certus® |
| Verticals: | Aviation, Iridium Certus |

Jan 29, 2020
1.52 MB

| | |
| --- | --- |
| Size: | 1.52 MB |
| File Name: | UC_Iridium+Certus_Aviation+Use+Cases_Rotocraft_JAN20.pdf |
| Vendor: | Iridium |
| File Type: | PDF |
| Description: | Infographic showing Iridium Certus Aviation Use Cases for Rotocraft |
| Services: | Iridium Certus® |
| Verticals: | Aviation, Iridium Certus |

Jan 29, 2020
964.89 KB

| | |
| --- | --- |
| Size: | 964.89 KB |
| File Name: | UC_Iridium+Certus_Aviation+Use+Cases_UAV_JAN20.pdf |
| Vendor: | Iridium |
| File Type: | PDF |
| Description: | Infographic showing Iridium Certus Aviation Use Cases for UAVs |
| Services: | Iridium Certus® |
| Verticals: | Aviation, Iridium Certus |

Video

Jan 17, 2019
57.51 MB

| | |
| --- | --- |
| Size: | 57.51 MB |
| File Name: | VID_Iridium+Certus_Overview+Video_JAN19.mp4 |
| Vendor: | Iridium |
| File Type: | MP4 |
| Description: | Marketing video providing an overview of the new Iridium Certus service. |
| Products: | Iridium Certus 9770, Iridium Certus 9810 |
| Services: | Iridium Certus® |
| Verticals: | Iridium Certus |