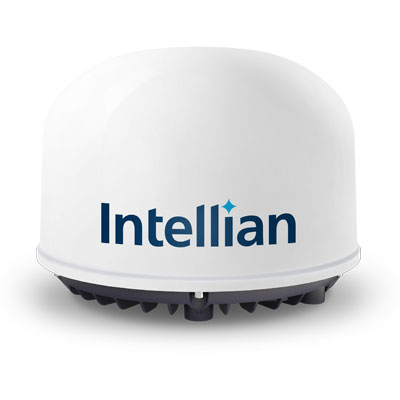 By : Intellian Technologies, Inc. | Model : C700
Maritime Satellite Terminal Offering Iridium Certus® 700 Service
12-Element Patch Antenna for Optimal Low Elevation Angle Performance
Stand-alone & Rack Versions Available
GMDSS Ready
Three (3) High Quality Voice Lines with Soft PBX Function
Supports Up to (16) SIP Phones & (2) Analog Phones
4-Port Ethernet (LAN) PoE & WAN
Built-in WAN for Least-cost Routing of Data Traffic Via 3G/LTE
Built-in Router & Wi-Fi supporting Multiple Users of the Terminal
Built-in Firewall for Cyber Secure Connections
Product Description
The Intellian C700 Maritime Satellite Terminal enables a variety of applications including safety, bridge and crew welfare communications, connected ship IoT capabilities like engine monitoring and remote diagnostics, as well as situational awareness reports.
Developed for Iridium's global network and designed to provide the fastest L-band broadband service in the industry, the C700 delivers up to 352 kbps transmission and 704 kbps reception speeds through the Iridium Certus platform. Its 12-element patch technology also ensures seamless connectivity, even in adverse weather or environments.
All Intellian C700 terminals are optimized as VSAT companion devices. The combination of the traditional Intellian's VSAT Ku-band and Intellian's new C700 systems will guarantee a seamless connection wherever you are. Easy APIs for M&C, firewall security, and will easily integrate as part of a VSAT out-of-band management solution.
The 12-element patch antenna improves low elevation angle performance. This innovative electronic phased-array antenna guarantees a reliable and high-throughput connection in all conditions. Also, the H2 class high power amplifier enables uplink data speeds of up to 352 kbps as standard.
Features
Powerful (12) Element Patch Phased-Array Antenna
H2 Antenna Amplifier for 352 kbps Uplink Service Guarantees the Most Reliable & High Throughput in Rough Seas
Easy Installation & Simple Configuration
Built-in Power-over-Ethernet (PoE) for Powering IP Devices like SIP Phones, Cameras, Wireless Access Points, etc.
Reliable Solid-State Technology
Built-in Firewall for Cyber Secure Connections
GMDSS Ready
Three (3) High Quality Voice Lines with Soft PBX Function
Supports Up to (16) SIP Phones & (2) Analog Phones
4-Port Ethernet (LAN) PoE & WAN
Built-in WAN for Least-cost Routing of Data Traffic Via 3G/LTE
Built-in Router & Wi-Fi supporting Multiple Users of the Terminal
Benefits
Lower Total Cost of Ownership
Rack Mount Version Available
Solid-State Reliability
Designed for a 10-Year Minimum Operational Lifetime
3-Year Global Warranty – Parts & Labor
Technical Specifications & Features
Physical Specifications
| | |
| --- | --- |
| ADU Dimensions | 370 x 270 mm (14.5 x 11.0 in) |
| ADU Weight | 14.3 lb (6.5 kg) |
| BDU Dimensions | 280 x 183.5 x 41 mm (11 x 7.21 x 1.45 in) |
| BDU Weight | 4.4 lb (2 kg) (Stand-alone Type) |
Power
| | |
| --- | --- |
| Power (Max) | 120 W |
| DC Input (Max) | 10 – 32 V DC |

Environmental Specifications
| | |
| --- | --- |
| Operating Temperature Range | ADU:-25℃ ~ + 55℃, BDU: -15℃ ~ + 55℃ |
| | More Than 95% |
| Water Ingress | ADU: IP56, BDU: IP31 |
| Shock | IEC60068-2-27 (Operation) IEC60721-3-6 Class 6M3 (Survival) |
| Vibration | IEC60945 (Operation), IEC60721-3-6 Class 6M3 (Survival) |

Connectivity
Satellite Network: Iridium
Voice: (3) Simultaneous HD Voice Lines
IP Data (Background): Uplink: Up To 352 Kbps, Downlink: Up To 704 Kbps
IP Streaming Uplink/Downlink: Up To 256 Kbps
Short Burst Data: Yes