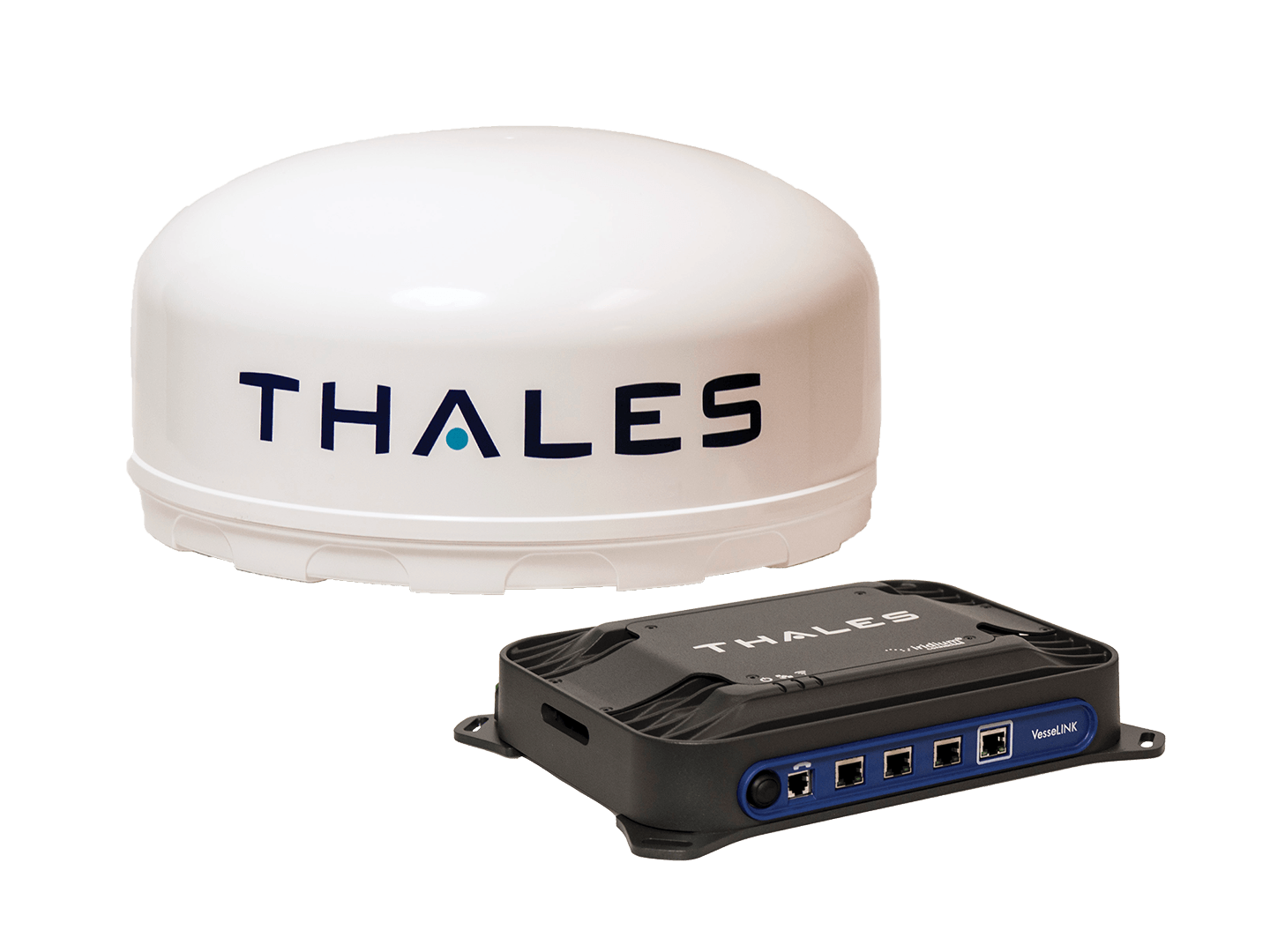 VesseLINK™ by Thales – a global leader in delivering sophisticated solutions for the world's navies – gives your critical marine operation global communications coverage. It is the solution to depend on for essential communications wherever and whenever you are at sea. Whether you operate a large fleet or a single vessel, this solution is designed to meet your unique challenges through a simple, adaptable and robust design.
VesseLINK comes with an intuitive, user-friendly interface and can be quickly integrated into existing vessels or new fleets. It also includes built-in upgradeability to extend the life of your investment and ensure peak speed and performance.
Technical Specifications & Features
Antenna:
Size 35.6 cm dia. x 22.9 cm h
Weight 3.2 kg
Terminal:
Size 30.5 cm x 22.9 cm x 7.6 cm
Weight 3.4 kg
Safety Services:
Voice and data enabled delivering up to 3 dedicated voice channels
Telemedicine capable
Location tracking
Operational Enhancements:
Enhanced at-sea reporting, service logging, crew connectivity, system/cargo monitoring and other operational requirements
Real-time weather
Embedded 802.11b/g Wi-Fi Access point
Multiple user capability, up to 12 connected devices
Application enabled functionality for Android and iOS devices
Disclaimer: Iridium Connected products are developed by third party manufacturers not affiliated with Iridium.  The third party products are not created, manufactured, or endorsed by Iridium.  Iridium makes no representations, warranties, or guarantees relating to third party manufactured products, their features, or their technical specifications.  IRIDIUM OFFERS NO WARRANTIES AND EXPLICITLY DISCLAIMS ANY WARRANTY OF MERCHANTABILITY, FITNESS FOR A PARTICULAR PURPOSE, OR NON-INFRINGEMENT, EXPRESS OR IMPLIED.  Third party products are subject to change.  All product and company names are trademarks of their respective holders, and the use of them does not imply any affiliation with or endorsement by them. 
Resources
Brochure
Last Updated
Size

Jan 17, 2018
792.88 KB

| | |
| --- | --- |
| Size: | 792.88 KB |
| File Name: | BR_Thales VesseLINK_Brochure_MAY17.pdf |
| File Type: | PDF |
| Description: | Brochure for Thales VesseLINK, a partner device powered by Iridium Certus. |
| Verticals: | Iridium Certus, Maritime |

Case Study

Oct 12, 2020
1.34 MB

| | |
| --- | --- |
| Size: | 1.34 MB |
| File Name: | CS_Iridium+Certus+Enables+Remote+Monitoring+of+Subsea+Systems_091520.pdf |
| Vendor: | Iridium |
| File Type: | PDF |
| Description: | Case Study - Iridium Certus Enables Remote Monitoring of Sub-Sea Systems |
| Products: | Iridium Certus 9810, VesseLINK by Thales |
| Services: | Iridium Certus® |
| Verticals: | IoT, Maritime |
| Applications: | Asset Management, Energy and Utilities |

Comparison Chart

Nov 06, 2020
403.66 KB

| | |
| --- | --- |
| Size: | 403.66 KB |
| File Name: | CC_Iridium+Certus_Comparison+Chart_Maritime+Products+by+Speed+Class_103120.pdf |
| Vendor: | Iridium |
| File Type: | PDF |
| Description: | Iridium Certus Maritime Products Comparison Chart by Service Class |
| Products: | C700 by Intellian, Lars Thrane LT-3100S GMDSS System, SAILOR 4300 by Cobham, VesseLINK by Thales |
| Services: | Iridium Certus® |
| Verticals: | Iridium Certus, Maritime |

Fact Sheet

Mar 02, 2020
978.04 KB

| | |
| --- | --- |
| Size: | 978.04 KB |
| File Name: | FS_Iridium+Certus+700_Fact+Sheet_030220.pdf |
| Vendor: | Iridium |
| File Type: | PDF |
| Description: | Fact Sheet detailing our Iridium Certus 700 Service class offerings |
| Products: | Iridium Certus 9810, MissionLINK by Thales, SAILOR 4300 by Cobham, VesseLINK by Thales |
| Services: | Iridium Certus®, Iridium Certus® 700 |
| Verticals: | Iridium Certus |

Presentation

Mar 25, 2021
102.9 MB

| | |
| --- | --- |
| Size: | 102.9 MB |
| File Name: | PR_Iridium+GMDSS_AMMITEC+Webinar+Replay_032421.zip |
| Vendor: | Iridium |
| File Type: | ZIP |
| Description: | Zip files contains the AMMITEC Webinar Presentation entitled "The Iridium GMDSS Advantages, Cost, Coverage & Capabilities", as well as the video reply. The event was held on March 24, 2021 and hosted by Kyle Hurst |
| Products: | C700 by Intellian, Lars Thrane LT-3100S GMDSS System, SAILOR 4300 by Cobham, VesseLINK by Thales |
| Services: | Iridium Certus®, Iridium GMDSS |
| Verticals: | Iridium Certus, Maritime |

Press Release

Jul 30, 2019
197.85 KB

Size:
197.85 KB
File Name:
PR_IMOCA+Appoints+Iridium+its+Official+Communications+Partner_073019.pdf
Vendor:
Iridium
File Type:
PDF
Description:

Title: IMOCA Appoints Iridium its Official Communications Partner
Distribution Date: Tuesday, July 30, 2019
Distribution Time: 07:31 AM EST

Press release announcing Iridium as the official communications partner of the International Monohull Open Class Association, or IMOCA, and their IMOCA Globe Series World (Racing) Championship. IMOCA is the association representing 60 foot monohull class yachts, and is recognized as such by the International Sailing Federation. The IMOCA Globe Series World Championship is a series of races that take place around the world, including the Vendée Globe race, which is a single-crewed, non-stop round the world race starting in November of 2020.

Thales joins Iridium as an official communications partner with each yacht equipping a VesseLINK terminal and operating using Iridium Certus as their primary means of satellite communication. More than 30 skippers worldwide will be relying on Iridium-based technology as they pilot through extreme open-sea environments.

Products:
VesseLINK by Thales
Services:
Iridium Certus®
Verticals:
Corporate, Iridium Certus, Maritime

Use Cases & Infographics

Nov 06, 2020
591.76 KB

| | |
| --- | --- |
| Size: | 591.76 KB |
| File Name: | UC_Iridium+Certus_Maritime+Use+Case_Sailing_IMOCA+and+Thales+VesseLINK_110620.pdf |
| Vendor: | Iridium |
| File Type: | PDF |
| Description: | Iridium Certus Maritime Use Case for Skippers, which features IMOCA and the Thales VesseLINK product. |
| Products: | MissionLINK by Thales |
| Services: | Iridium Certus® |
| Verticals: | Iridium Certus, Maritime |

Video

Jun 19, 2018
192.51 MB

| | |
| --- | --- |
| Size: | 192.51 MB |
| File Name: | VID_Iridium+Certus_Maritime+Products+Video_JUN18.mp4 |
| Vendor: | Iridium |
| File Type: | MP4 |
| Description: | Iridium Certus Maritime Videos featuring the Cobham SAILOR 4300 and the Thales VesseLINK |
| Products: | Iridium Certus 9810, SAILOR 4300 by Cobham, VesseLINK by Thales |
| Services: | Iridium Certus® |
| Verticals: | Iridium Certus, Maritime |

Jun 20, 2018
192.48 MB

| | |
| --- | --- |
| Size: | 192.48 MB |
| File Name: | VID_Iridium+Certus_Maritime+Thales+VesseLINK+Video_JUN18.mp4 |
| Vendor: | Iridium |
| File Type: | MP4 |
| Description: | Video showcasing an upcoming Iridium Certus products for Maritime, Thales VesseLINK. |
| Products: | Iridium Certus 9810, VesseLINK by Thales |
| Services: | Iridium Certus® |
| Verticals: | Iridium Certus, Maritime |