What is GMDSS?
The Global Maritime Distress and Safety System (GMDSS) is a set of protocols, equipment, and communications systems designed to ensure that if a ship is in distress, aid can be dispatched from anywhere in the world. Under the International Convention of the Safety of Life at Sea (SOLAS), all ships over 300 gross tonnage on international voyages must carry specified radiocommunications equipment, both satellite and terrestrial, for sending and receiving distress and safety communications.
DISTRESS ALERT
Activated by the press of a button, distress alerting sends basic, but critical data to a Rescue Coordination Center (RCC).
SAFETY VOICE
Distress voice allows mariners in distress to connect to an RCC through a phone call and share additional details about the distress situation.
Maritime Safety Information (MSI)
MSI is important safety information received by the GMDSS terminal. This includes navigational, meteorological, and safety-related messages. MSI will be transmitted through an Enhanced Group Call (EGC) service called Iridium SafetyCastSM.
When GMDSS was initially established more than 20 years ago, only one satellite company was approved to provide these services – and that company did not (and still does not) provide truly global coverage. Further, since the inception of GMDSS, there have been many advances in technology, and the number of vessels at sea has increased dramatically.
A reliable, robust, and truly global satellite GMDSS solution is critical – and Iridium is ready to provide that choice to mariners anywhere in the world.
Iridium GMDSS Application Timeline
In May 2018, the IMO's Maritime Safety Committee (MSC) officially recognized Iridium as a provider of GMDSS services. This was a significant achievement as the recognition ended a decades-long monopoly and will allow for coverage where none existed before, including Arctic and Antarctic waters in Sea Area A4.
Less than a year later, Iridium announced the signing of a Public Services Agreement (PSA) with the International Mobile Satellite Organization (IMSO) detailing the conditions for IMSO to act as a regulator and maintain oversite of Iridium GMDSS services. The signing of this agreement led to issuing Iridium a Letter of Compliance in January 2020, stating that the company is ready to begin providing its GMDSS service
For the first time, Iridium will bring competition and truly global coverage to mariners sailing any of the world's oceans. As Iridium works with its partners to develop GMDSS solutions, the new competition is expected to drive supplier diversity and reduce the costs of shipboard equipment.
Planned Iridium GMDSS Equipment
Since IMO recognition to provide GMDSS solutions was secured, Iridium has been focused on efforts to implement the service. Currently, experienced, best-in-class manufacturing teams are developing and eventually will be testing new GMDSS hardware for use on the Iridium system.
Expected to launch in the first half of 2020, Iridium GMDSS services with improved Search & Rescue (SAR) functionalities will be available through a single, small-form-factor maritime terminal. The Iridium Connected® GMDSS device developed by Lars Thrane LT-3100S will integrate all three satellite GMDSS services at what is expected to be a fraction of the existing cost of competitive options, and it will be the first solution to offer truly global GMDSS services.
The existing Iridium Certus maritime terminals, Cobham SAILOR 4300 and Thales VesseLINK, are GMDSS-compatible. These terminals will require supplemental below-deck hardware from their manufacturers to enable Iridium GMDSS services.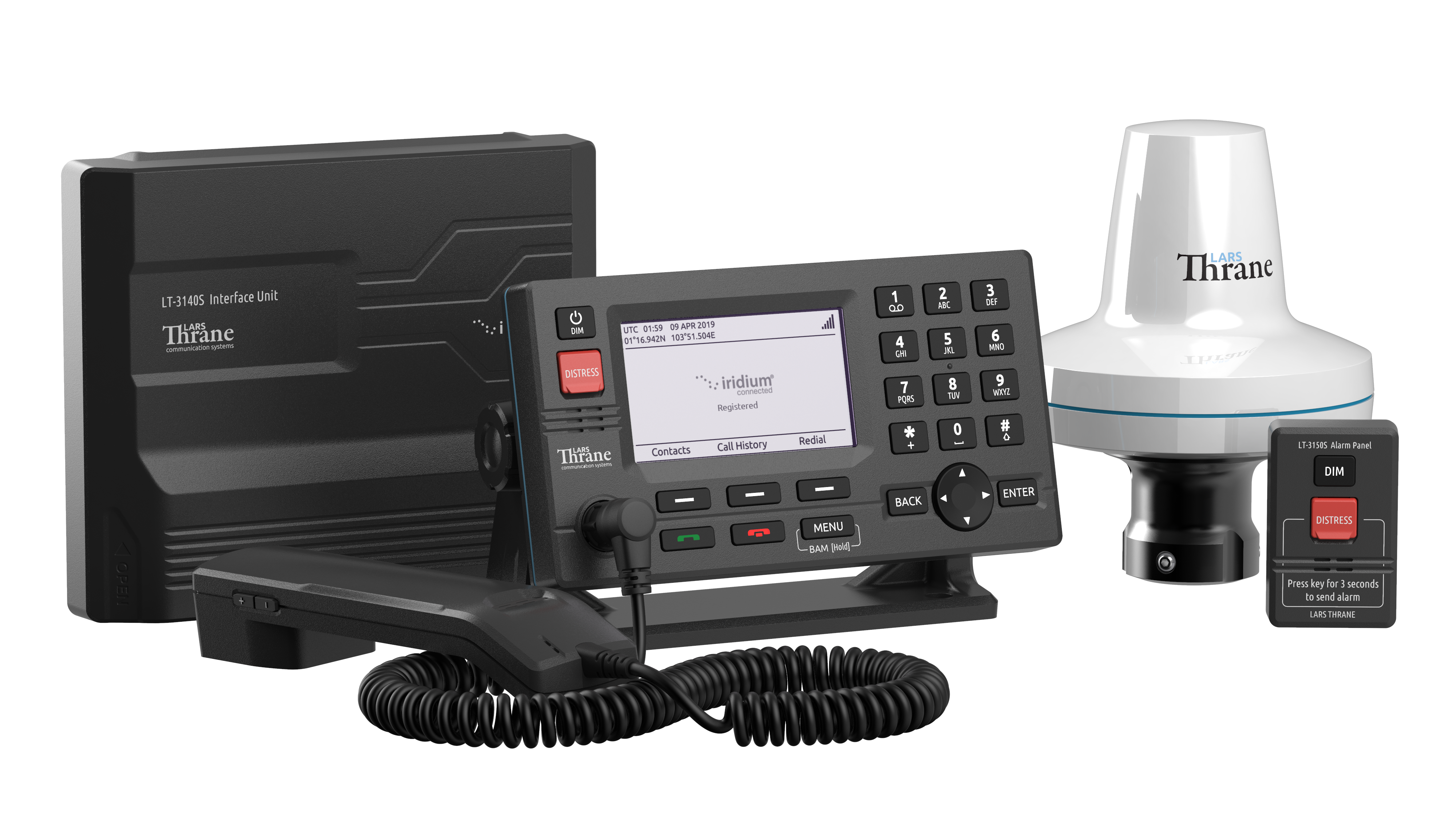 History of GMDSS
Developed by the International Maritime Organization (IMO) in the 1970s in response to numerous maritime disasters (including the Titanic's sinking years earlier), the full implementation of the GMDSS took place in February 1999 and redefined how distress communications were sent. For the first time, ships far from land were able to send alerts directly to shore, rather than just to other ships, allowing shore-based facilities to take responsibility for coordinating necessary rescue efforts. In addition to improving ship distress communications, GMDSS also provided for the automatic broadcast of Maritime Safety Information (MSI), allowing ships to navigate the waters more safely.
Today, the GMDSS is an integrated communications system that helps ensure that ships in distress do not disappear at sea, saving the lives of countless mariners. Under GMDSS requirements, all ships are required to be equipped with a variety of communications instruments, including satellite terminals, satellite emergency position-indicating radiobeacons (EPIRBs), and NAVTEX receivers, to automatically receive shipping safety information.
CAPABILITY
All Iridium GMDSS-capable terminals will come standard with functionality for all three satellite GMDSS services. Unlike existing competitive options, Iridium Connected® GMDSS terminals will initiate both Distress Alert and Distress Voice simply and quickly with the press of just one button.
COVERAGE
The Iridium network is designed to work in extreme conditions at sea. Our unique constellation architecture connects 66 crosslinked satellites in Low-Earth Orbit (LEO), providing coverage around the entire globe, from pole to pole. LEO provides a stronger signal and better "look angles" than geostationary satellites, helping keep ships connected, even in adverse weather.
Iridium will be the first satellite provider to provide GMDSS globally, including over the Arctic and Antarctic waters in Sea Area A4. This area is considered among the most dangerous places on Earth, but is not current served by the only satellite GMDSS solution.
COST
The initial Iridium Connected GMDSS terminal developed by Lars Thrane (LT-3100S) is expected to supply all three satellite GMDSS services at approximately 25 percent of the cost of the current equipment required to supply all three services. Providing GMDSS at a reduced, more affordable cost will allow more vessels to install GMDSS terminals and access life saving services.
Today, Iridium equipment is already used on 50,000 vessels (20 percent of which are SOLAS vessels) for non-GMDSS safety and security purposes. The Iridium network is resilient, robust, and already a trusted provider of safety and security services in the maritime market, and the addition of Iridium GMDSS services will allow mariners to feel truly safer anywhere at sea.
Resources
Developer Documentation
Last Updated
Size

Jan 06, 2020
358.2 KB

| | |
| --- | --- |
| Size: | 358.2 KB |
| File Name: | DEV_Iridium_GMDSS_Design_and_Installation_Guidelines_010620.pdf |
| Vendor: | Iridium |
| File Type: | PDF |
| Description: | Design and Installation Guidelines for the Iridium GMDSS Service. |
| Services: | Iridium GMDSS |
| Verticals: | Maritime |
| Applications: | Safety Services, Safety Services |

Fact Sheet

Mar 30, 2020
755.9 KB

| | |
| --- | --- |
| Size: | 755.9 KB |
| File Name: | FS_Iridium+GMDSS_Fact+Sheet_033020.pdf |
| Vendor: | Iridium |
| File Type: | PDF |
| Description: | Fact Sheet describing Iridium's GMDSS (Global Marine Distress and Safety Systems) Services |
| Services: | Iridium GMDSS |
| Verticals: | Maritime |
| Applications: | Safety Services, Safety Services |

Press Release

Jan 27, 2020
276 KB

Size:
276 KB
File Name:
PR_Iridium+Continues+GMDSS+Readiness+with+Announcment+of+Launch+Partners_121119.pdf
Vendor:
Iridium
File Type:
PDF
Description:

Title: Iridium Continues GMDSS Readiness with Announcement of Launch Partners
Distribution Date: Wednesday, December 11, 2019
Distribution Time: 08:01 AM EST

Press release formally announcing Iridium's GMDSS service providers. These companies will be the first in the industry to provide truly global satellite Global Maritime Distress and Safety System (GMDSS) service to mariners and include: Arion Communications, AST, Marlink, Marsat, NSSLGlobal, Satcom Global and Speedcast.

Services:
Iridium GMDSS
Verticals:
Corporate, Maritime

Jan 13, 2020
159.92 KB

Size:
159.92 KB
File Name:
PR_+Iridium+is+Now+Formally+Authorized+to+Provide+GMDSS+Service_011320.pdf
Vendor:
Iridium
File Type:
PDF
Description:

Title: Iridium is Now Formally Authorized to Provide GMDSS Service
Distribution Date: Monday, January 13, 2020
Distribution Time: 13:32 PM EST

On January 13, 2020, Iridium received the Letter of Compliance formally authorizing the Company to provide Global Maritime Distress and Safety System Service (GMDSS).

Services:
Iridium GMDSS
Verticals:
Corporate, Maritime

Jun 05, 2019
197.05 KB

| | |
| --- | --- |
| Size: | 197.05 KB |
| File Name: | PR_New+Era+Safety+At+Sea_GMDSS+Service_Lars+Thrane_060419.pdf |
| Vendor: | Iridium |
| File Type: | PDF |
| Description: | Press Release concerning the launch of the first Iridium partner product to feature Iridium GMDSS support, dated June 4, 2019. |
| Services: | Iridium GMDSS |
| Verticals: | Corporate, Maritime |

Apr 16, 2019
199.54 KB

| | |
| --- | --- |
| Size: | 199.54 KB |
| File Name: | PR_Historic+PSA+Signed+GMDSS_041619.pdf |
| Vendor: | Iridium |
| File Type: | PDF |
| Description: | Press Release concerning the signing of a Public Services Agreement with the International Mobile Satellite Organization (IMSO) dated April 16, 2019. |
| Services: | Iridium GMDSS |
| Verticals: | Corporate, Maritime |

Product Details

Jan 10, 2020
2.09 MB

| | |
| --- | --- |
| Size: | 2.09 MB |
| File Name: | PP_Lars+Thrane_LT-3100S+GMDSS+System_Product+Sheet_Rev.1.01.pdf |
| Vendor: | Lars Thrane A/S |
| File Type: | PDF |
| Description: | Product Sheet for the Lars Thrane LT-3100S GMDSS System |
| Services: | Iridium GMDSS |
| Verticals: | Maritime |
| Applications: | Safety Services, Safety Services |