« Back
Connecting the World's Oceans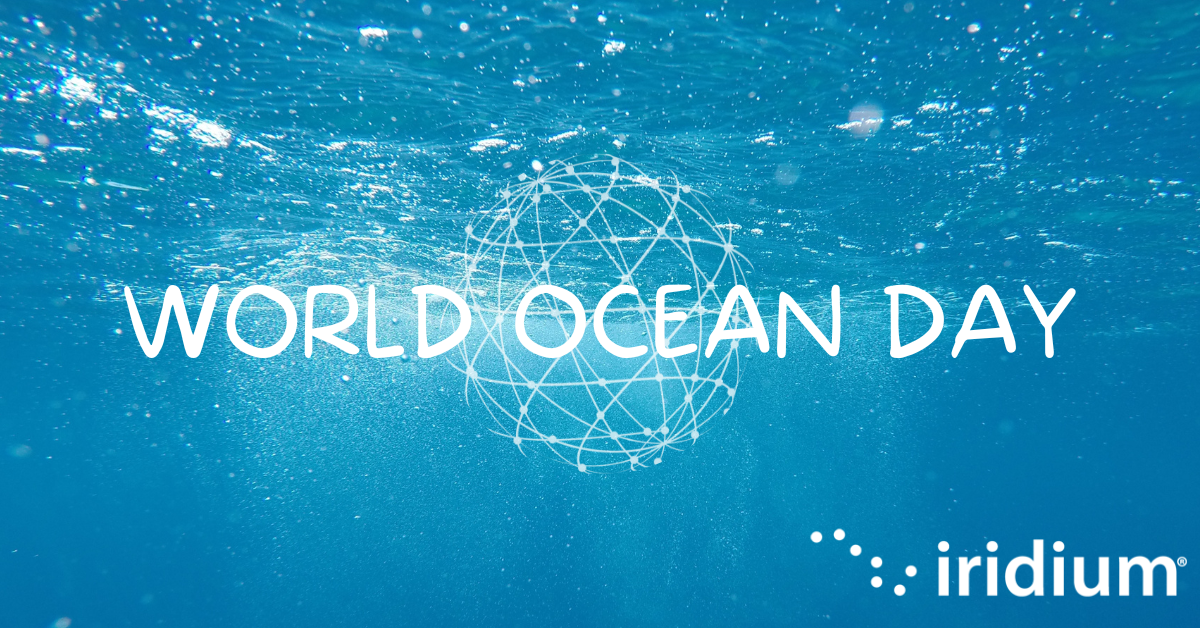 World Ocean Day, celebrated annually on June 8th, serves as a reminder of the crucial role our oceans play in sustaining life on Earth. As the only satellite network that connects the entire planet, Iridium is proud to provide innovative connectivity solutions everywhere at sea.
Below are some of the many ways Iridium enables reliable connectivity even in the harshest maritime environments, offering numerous benefits for the world's oceans and those who explore and care for it.
Enhancing Safety and Security
The Iridium network provides a lifeline for mariners, enhancing safety and security at sea. Whether it's enabling distress signal transmissions, facilitating search and rescue operations, or supporting emergency communication services, Iridium connectivity is instrumental in safeguarding the lives of sailors, fishermen, recreational boaters, and other maritime personnel. For example, the Iridium® Global Maritime Distress & Safety System (GMDSS) enhances safety at sea for mariners, offering a truly global SOS button for emergency situations. Iridium also supports organizations and individuals, including The Outlaw Ocean Project, a non-profit journalism organization that produces investigative stories about human rights, labor, and environmental concerns on the two thirds of the planet covered by water.
Learn more about Iridium's role in maritime safety and security.
Enabling Scientific Research
Iridium satellite connectivity supports scientific research by enabling real-time data transmission from remote oceanic locations. Scientists and researchers can collect crucial environmental data, monitor marine life, and study various oceanic processes with greater efficiency and accuracy. Iridium Connected™ devices help Uncrewed Surface Vessels (USVs) and Uncrewed Underwater Vehicles (UUVs) provide a safe, cost-effective, and environmentally sound means of gathering essential data from our planet's oceans. USVs and UUVs are efficient methods for seabed mapping (bathymetry), subsea asset integrity inspection, fish stock analysis, environmental monitoring, and data collection sent over the Iridium Network.
Promoting Sustainable Fishing Practices
Overfishing and Illegal, Unreported, and Unregulated (IUU) fishing pose significant threats to marine ecosystems. Iridium and Iridium Connected solutions enable the tracking and monitoring of fishing vessels, helping combat IUU fishing and promoting sustainable fishing practices. By providing real-time location data, these solutions empower authorities to enforce regulations effectively and ensure responsible fishing. Iridium provides Vessel Monitoring System (VMS) solutions that provide critical information including fishing quotas and requirements for regulatory authorities to prevent overfishing, catch reporting, and more. An example of this is Iridium partner Viettel's S-Tracking VMS, which provides up-to-date critical information that supports marine life sustainability in addition to increasing crew member safety. Iridium is also working in close coordination with our partners and regulatory authorities to advance sustainable fishing practices and help ensure marine protected areas remain untouched.
Supporting Marine Conservation Initiatives
Iridium satellite connectivity is invaluable for marine conservation organizations and initiatives worldwide. Conservationists can leverage real-time data transmission to track endangered species, monitor marine protected areas, and develop comprehensive strategies for protecting fragile ecosystems. For example, The Ocean Cleanup is using the Iridium network to support its ambitious goal to rid the world's oceans of plastic garbage and perform the largest ocean cleanup in history. Iridium connectivity also facilitates communication among researchers, environmental organizations, and policymakers, fostering collaboration and knowledge sharing anywhere in the world.
Facilitating Oceanographic and Weather Monitoring
Understanding ocean currents, temperatures, and weather patterns is vital for predicting and mitigating natural disasters, such as hurricanes and tsunamis. Iridium's satellite network enables oceanographic and weather monitoring systems to gather critical data, contributing to more accurate forecasts and timely warnings. This capability enhances emergency preparedness and helps coastal communities minimize the impact of these natural events. An example of this is Saildrone and its fleet of Iridium Connected USVs, which provided video footage from inside a hurricane. Along with that footage, the Iridium network transmitted wind speed, direction, temperature, and other critical information that will help meteorologists create more predictive models and better understand the impacts of climate change.
These are just a few examples of how Iridium plays a vital role in supporting the world's oceans, empowering maritime industries, scientific research, and marine conservation initiatives. With its truly global coverage, reliability, and innovative solutions, Iridium looks forward to expanding efforts to protect and preserve our fragile marine ecosystems. On World Ocean Day and every day, Iridium is committed to ensuring a sustainable future for our oceans and the life they sustain.
Related Products & Services