An Intelligent, Secure, and Maintenance-Free
Solar-Powered Remote Asset Manager
By harvesting the sun's energy, Iridium Edge Solar enables long-term deployment of asset tracking, monitoring and management solutions.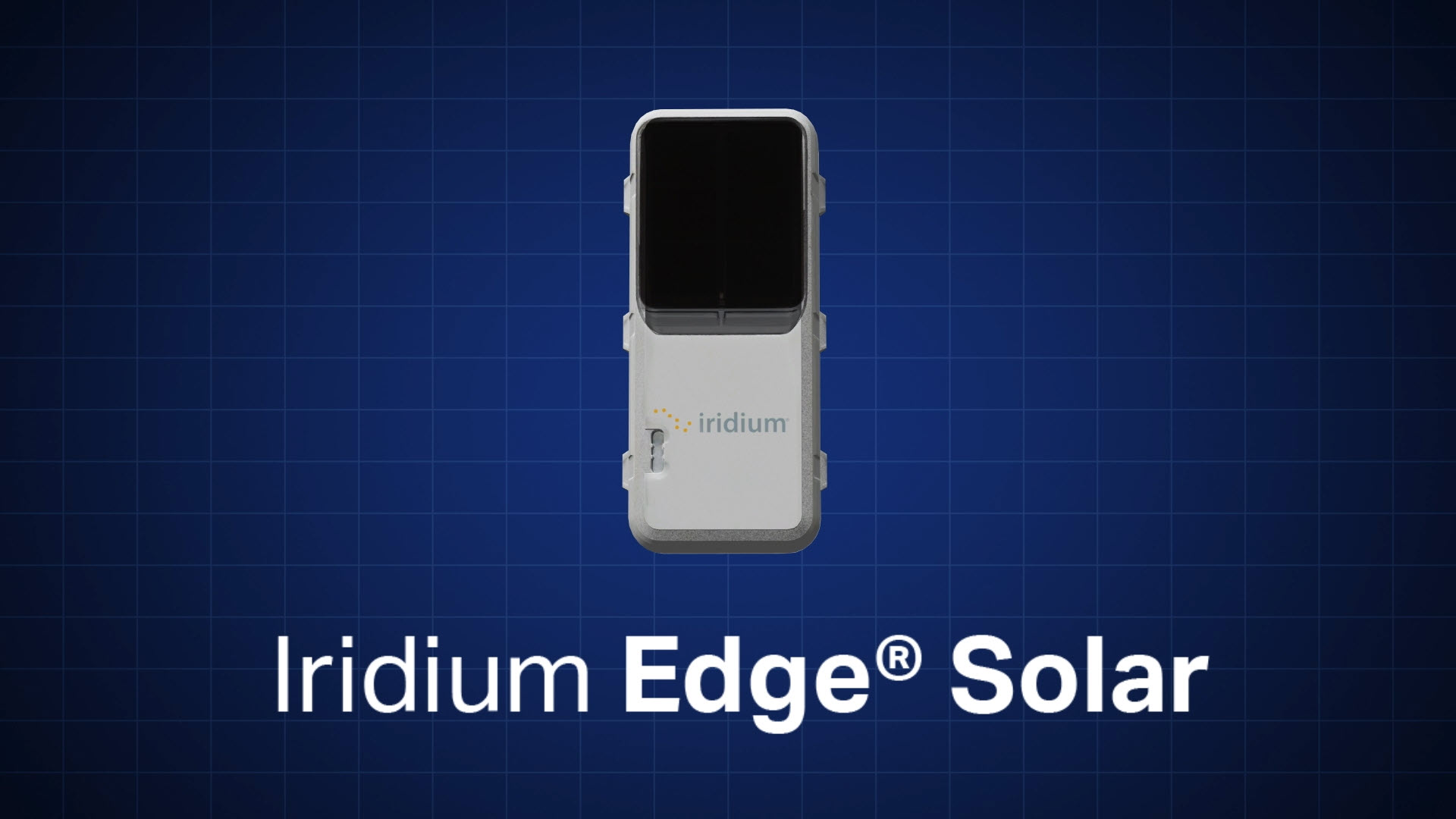 The Iridium® satellite constellation is the only network with truly global coverage.
Iridium Edge Solar's ruggedized design, and up to 10-year deployable lifespan, two-way communications with remote configuration capability and military-grade packaging make it the ideal solution for:
Fleet Management
Vessel Monitoring Systems & Fisheries
SCADA
Shipping Container & Freight Tracking
Oil and Gas Machinery & Cathodic Line Monitoring
Heavy Machinery & Construction Equipment Telematics Data
Optimize your day-to-day operations with:
Two-Way Communications with Over-the-Air Configuration
Easily Integrates into Your Back-Office Solutions
Bluetooth Capability for Wireless Sensor Integration & Local Device Connectivity
The Iridium Edge Solar is a standalone and programmable, solar-powered Short Burst Data® (SBD®) device that offers real-time GPS tracking and local wireless sensor and communication capabilities over Bluetooth.
The product's self-charging, low-maintenance, long field life and over-the-air configuration allow Iridium Value-Added Resellers to create distinct tracking applications that can also be implemented to create even more complex solutions.
Bluetooth Capability for Wireless Sensor Integration & Local Device Connectivity
Over-the-Air Configuration Changes
Interval and Scheduled Reporting Modes
Start/Stop Reporting/In Motion Reporting
Fully Encapsulated, No External Connectors & Water Ingress Protected
LED Status Indicator
Open Message Protocols & Message Parsing ICDs
Extremely Rugged, Proven & Reliable
Technical Specifications
Mechanical Specifications
| | |
| --- | --- |
| Dimensions | 164.2 x 71.2 x 32.9 mm (L x W x H) |
| Weight | ~470 g |
Environmental Specifications
| | |
| --- | --- |
| Operating Temperature | -40 C to 85 C |
| High Temperature Resistance | MIL-STD-810G:501.5, IEC60068-2-2 to 85°C |
| Low Temperature Resistance | MIL-STD-810G:502.5, IEC60068-2-1 to -50°C |
| Recommended Storage Temperature | Store Below 32°C for Best Results |
| Combined Thermal & Humidity Exposure | MIL-STD-810G:507.5, 20-95%RH Up to 60°C |
| Solar Radiation Exposure | UL746C F1, ASTM-G154 to 1.0 Yr |
| Salt Fog Exposure | MIL-STD-810G:509.5 IEC60068-2-11 to 1000 Hrs |
| Combined Operational Temperature & Altitude | MIL-STD-810G:500.6 to 15000 Ft |
| Thermal Shock | MIL-STD-810G:503.5, 20 Cycles Between -40°C to 85°C < 1-Min Transition |
| Impact Resistance | ASTM D3763 |
| Operational Vibration | MIL-STD-810G:514.7, IEC60068-2-80 to 7.5Grms Random (5Hz-2000Hz) |
| HALT | Qualmark HALT Testing Guideline 993-0336, Rev 4 to 50Grms (5Hz – 10000Hz, -40°C to 85°C) |
| Mechanical Shock | MIL-STD-810G:516.7 to 300Gpk |
| Reliability | IPC9592a |
| Ingress Protection | IP68 |
For additional information on product availability, development or purchasing, please contact us: