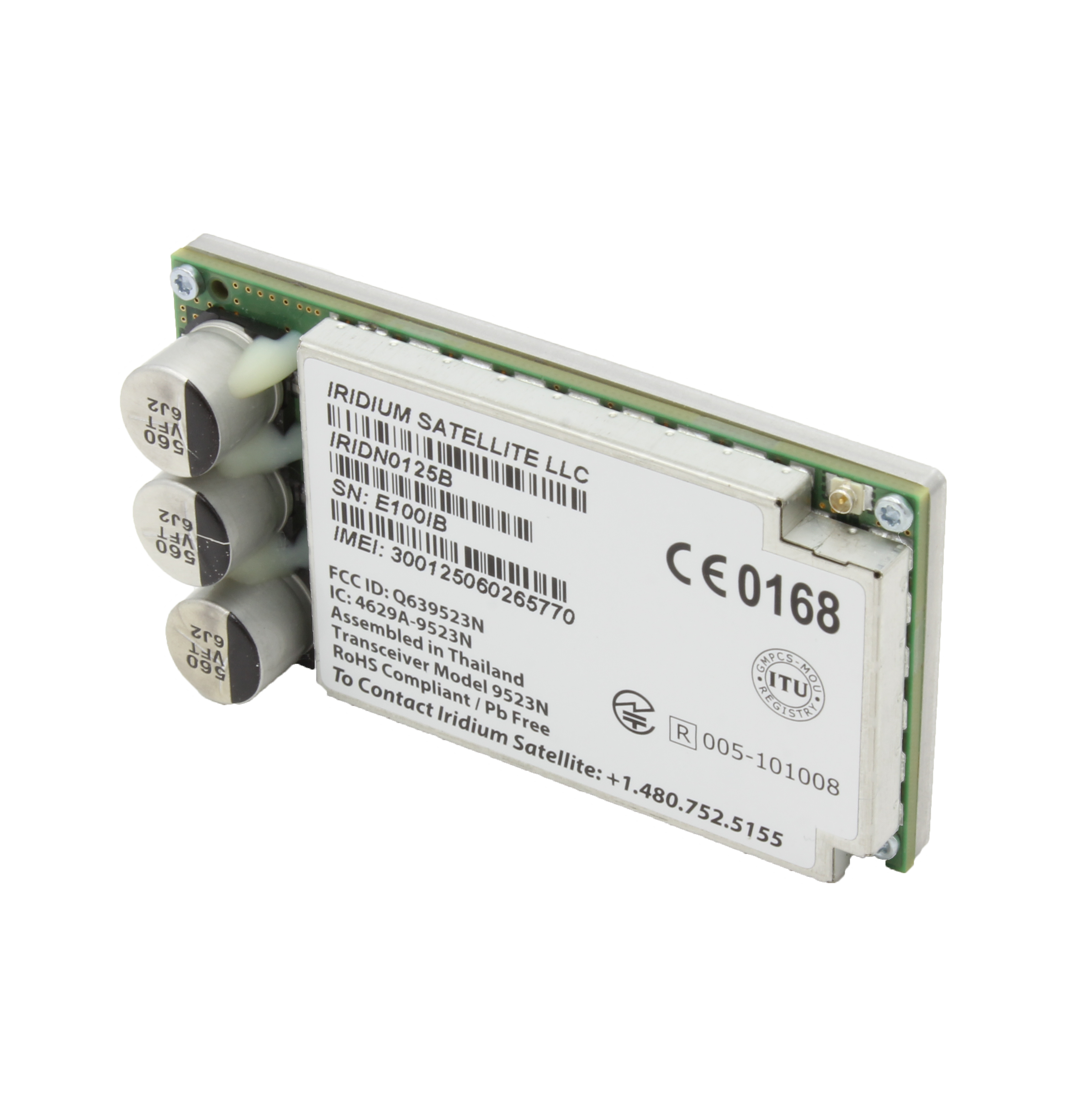 Overview
Iridium Core 9523 is Iridium's smallest, lightest and most advanced voice and data satellite transceiver module ever, enabling simplified global voice and data connectivity through the world's furthest reaching network.
Over 90% more compact than our previous model and featuring standardized connectors, it easily integrates into new partner products to reach previously under-served consumer and vertical markets – and drive global communications in ways never thought possible.
Technical Specifications & Features
Features
Pole-to-pole global coverage
Ultra compact form factor
Single-board transceiver
Standardized connectors
Voice, Circuit Switched Data and RUDICS
Short Burst Data (SBD) capable
Direct PCB integration
FCC, Industry Canada, and CE approval*
* For applications using an antenna with a gain of up to 3dbi.
Capabilities
Iridium Voice, SMS, Circuit Switched Data and RUDICS
Maximum mobile originated SBD message size 1960
Maximum mobile terminated SBD message size 1890
Mechanical
Length 70.44 mm
Width 36.04 mm
Height 14.6 mm (reservoir capacitors) 8.9 mm (screen can)
Weight 32g
Environmental
Operating Temp. -30ºC to + 70ºC
Operating Humidity ≤ 75% RH
Storage Temp. -40ºC to + 85ºC
Storage Humidity ≤ 93 % RH
RF Parameters
Frequency Range 1616 MHz to 1626.5 MHz
Duplexing Method TDD (Time Domain Duplex)
Input/Output Impedance 50 Ω
Multiplexing Method TDMA/FDMA
DC Power Input
VBAT Power Input Specifications
Nominal Voltage +3.7 V
Voltage Limits +3.2 V to +6 V
Maximal Current 500 mA
VBAT Typical Current at Nominal +3.7 V
Standby Current 70 mA
Peak Current during Call 300 mA
Average Current during Call 110 mA
VBOOST Power Input
Nominal Voltage +27 V
Absolute Maximal Voltage +35 V
Maximal Recommended Voltage +32 V
Minimal Voltage during Call Transmit Burst +10.5 V
Maximal Current 1 A
VBOOST Power Consumption
Typical Average Power during Call 2.3 W
Maximal Average Power during Call 3.1 W
Resources
Brochure
Last Updated
Size
Iridium Core 9523 – Brochure (ENG)
Feb 19, 2019
1.16 MB
Iridium Core 9523 – Brochure (RUS)
Feb 19, 2019
776.04 KB
Iridium SBD – Brochure (CHN)
Feb 19, 2019
8.74 MB
Iridium SBD – Brochure (ENG)
Feb 19, 2019
2.21 MB
Iridium SBD – Brochure (RUS)
Feb 19, 2019
654.11 KB
Iridium IoT – Brochure
Feb 19, 2019
2.65 MB
Case Study
Case Study: Iridium Polar Research Solutions (FEB17)
Feb 19, 2019
16.5 MB
Case Study: Keeping Fishing Vessels in Compliance
Feb 19, 2019
342.54 KB
Case Study: Iridium Enables Positive Train Control
Feb 19, 2019
1000.33 KB
Case Study: Iridium Connected Drones Deliver Vaccines in Remote Parts of the World
Jun 20, 2019
798.9 KB
Certification - Regulatory
Iridium Parts List with ECCN HTS and Origin
Mar 12, 2019
73.58 KB
Iridium Core 9523 – Declaration of Conformity (NOV11)
Apr 19, 2019
29.32 KB
Iridium Core 9523 – FCC Part 25 Grant (NOV11)
Apr 19, 2019
15.52 KB
Iridium Core 9523 – ITU GMPCS-MoU Receipt (NOV11)
Apr 19, 2019
166.64 KB
Iridium Core 9523 – Industry Canada Certification (NOV11)
Apr 19, 2019
31.38 KB
Iridium Core 9523 – Manufacturer's Affidavit (OCT12)
Apr 19, 2019
33.39 KB
Iridium Core 9523 – RoHS Certificate of Compliance (JUN14)
Apr 19, 2019
91.43 KB
Iridium Core 9523N – Declaration of Conformity (SEP17)
Apr 19, 2019
217.89 KB
Iridium Core 9523N – FCC Part 15B Grant (APR16)
Apr 19, 2019
134.32 KB
Iridium Core 9523N – FCC Part 25 Grant (APR16)
Apr 19, 2019
196.81 KB
Iridium Core 9523N – Homologation Certificate Anatel Brazil (DEC16)
Apr 19, 2019
229.22 KB
Iridium Core 9523N – Industry Canada Certification (APR16)
Apr 19, 2019
581.34 KB
Iridium Core 9523N – REACH 169 Declaration (SEP16)
Apr 19, 2019
1.48 MB
Iridium Core 9523N – RoHS Certificate of Compliance (JUL16)
Apr 19, 2019
77 KB
Comparison Chart
Iridium IoT – Comparison Chart
Feb 19, 2019
162.88 KB
End of Life
Iridium – Subscriber Equipment – End of Life Policy
Jun 12, 2019
61.3 KB
Legal Notice
Iridium – Product Sales Terms & Conditions
Mar 13, 2019
128.54 KB
Iridium – Satellite Subscriber – Service Policy
Mar 13, 2019
48.95 KB
Video
Iridium IoT – Video – "Are You Connected?"
Mar 07, 2019
161.96 MB