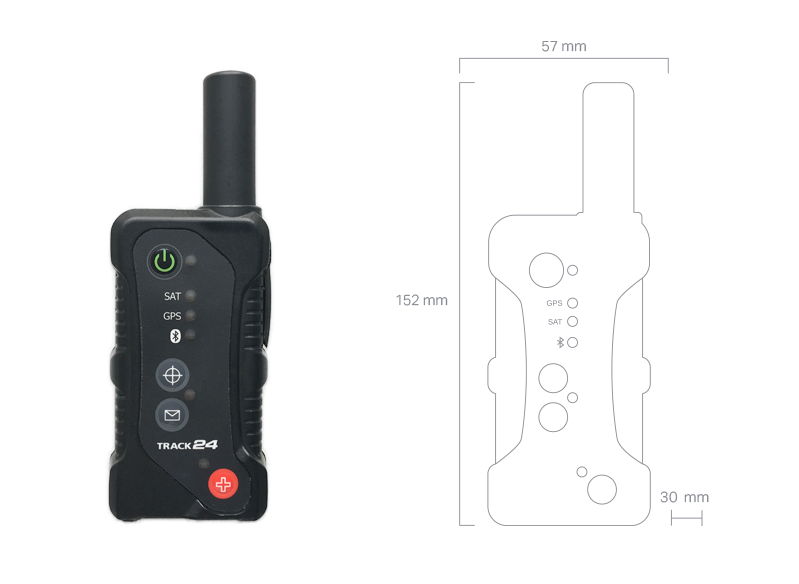 Working over Iridium's global data network, the Echo offers real-time tracking, satellite messaging and a panic alarm in one small handheld device. It is ruggedized and certified IP68 for protection against dust and water ingress, making it ideal for personnel working in remote and harsh conditions.
The secure Nortac web platform is used to visualize the location and status of Echo units on digital mapping. A rich array of onscreen tools allow users to manage alarms, send messages and perform GIS functions such as geofencing and data mapping. The device can be quick-fitted into vehicles, providing a versatile solution for situation awareness that operates completely independently of terrestrial networks and guarantees backup communications for drivers and passengers.
How it Works
Security Tracking:  The Echo operates via the Iridium network, ensuring global coverage and the option of data encryption AES-256. The reporting rate starts from 30 second intervals and can be changed remotely.
Monitoring Platform:  The Echo is combined with Nortac's monitoring and incident alert platform to enable organizations to view and communicate with their personnel and assets on a common operating picture.
Versatility:  An optional vehicle kit enables the device to be used as both a personal and vehicle tracker.
Panic Alarm:  When the panic button is pressed, audible and visual alerts are generated on the Nortac web platform. Notifications are also automatically forwarded by SMS and email to nominated security personnel.
Communication:The Echo enables you to rapidly communicate your security status, exact location and send a check in message at only the push of a button.
Echo Touch:  The Echo Touch app provides two-way satellite text messaging, live GPS readings and 'Settings' options for the Echo device. The app can link to the Echo device via Bluetooth and is available on Android smartphones.
Technical Specifications & Features
IP Rating: IP68
Security: AES-256 encryption
Dimensions: H108mm (152mm at antenna) x W57mm x D25mm
Weight: 150g (158.5g with belt clip)
Operating Temperature: < 20c to +55c
Operating Humidity: < 95% RH
Battery Consumption: 1 minute reporting time – 14 hours; 15 minutes reporting time – 4 days