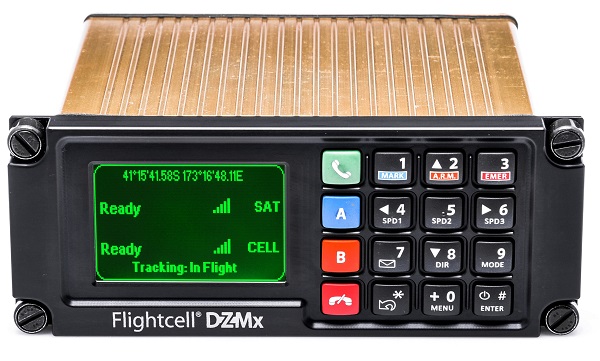 Overview
The Flightcell DZMx is an all-in-one purpose-built product for the transportation industry and with an emphasis on aviation. It transmits and receives voice and data via the global Iridium network and/or a cellular network and has in-built GPS tracking functionality.
Single or dual Iridium transceivers can be fitted, providing global voice and data and uninterrupted GPS tracking to third party tracking services. Third-party control systems interface with DZMx to provide automated transmission and reporting for firefighting, agriculture, air medical and search and rescue operations.
Design
The DZMx is MILSPEC and DO160G compliant and has a simple 16 keypad interface with emergency calling. It is small and light, measuring 4.96″ (110mm) wide x 2.13″ (54mm) high and weighing 1.21lbs (580g) and it interfaces with the Iridium 9505A and Iridium 9555 handsets installed in Flightcell satphone cradles, allowing the crew to communicate outside of the aircraft. The DZMx is night vision goggle compliant (NVIS A/B) and remote heads extend functionality and support multiple simultaneous calls.
Technical Specifications & Features
Equipped with Iridium® Push-To-Talk (PTT) for Global One-to-many Call Capabilities
Uninterrupted Tracking Between Phone and PTT Modes.
Remote Head Measures only 22.2mm (0.87 inches) Deep, Perfect Crowded Avionics Spaces.
External SIM Card Support
Input Voltage: 12-32VDC
Power Supply Current: Approx 1A @ 28VDC
ICS to DZM Audio Input Level: 20mVrms to 1.1Vrms (Adjustable)
Audio Input Impedance: 600ohms
Operating Temperature: -40 Degrees Celsius to 70 degrees celsius
Data Interfaces: RS232, RS-485/422, USB-Micro AB, USB Via D25 or D38999, Ethernet (10/100), (5) General Purpose Inputs, (2) General Purpose Outputs