« Back
How the Iridium® Network is Used to Support Environmental Protection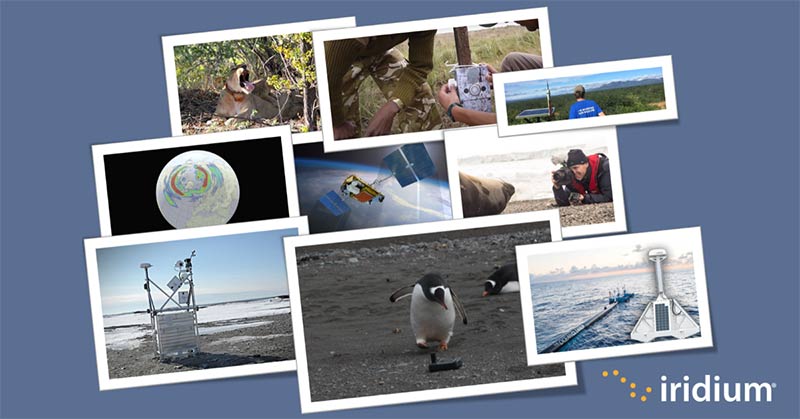 Today Iridium celebrates the 50th annual Earth Day and wanted to share some of the innovative ways that our network is being used to help support the planet we all call home. As the world's only truly global satellite communications network, Iridium connects people, enterprises, governments, and things, while enabling unique solutions to solve challenges in ways never thought possible.
Iridium leverages our 450+ partners' specialized knowledge and resources to deliver innovative solutions to users across a diverse set of industries around the globe. From scientific research buoys in the ocean, to animal tracking collars, our partners have utilized the Iridium network to solve problems with forward-thinking ingenuity.
Here are just a few examples of the dozens of unique applications the Iridium network is enabling:
Wildlife Protection
The Zoological Society of London (ZSL) is transforming the study and protection of endangered species around the globe through its innovative Instant Wild program, enabled by the Iridium global network. Using Iridium technology, they developed their Instant Detect system that can capture data remotely and transmit it in near real time from any part of the world to monitor rare species and help prevent poaching.
The South Rift Association of Landowners (SORALO) in Kenya use Iridium Push-To-Talk (PTT) radios so rangers are able to monitor wildlife predators and share information on their movements with local livestock herders. This way, the rangers can guide herders to safe places to graze, for the benefit of everyone involved, including the wild animals, the livestock and the herders. The use of Iridium PTT has improved the management of natural resources and coordination of anti-poaching work in the region.
Animal tracking collars enabled by the Iridium network are used to remotely obtain location and other data from terrestrial animals anywhere in the world. At Scotia Wildlife Sanctuary in western New South Wales, The Australia Wildlife Conservancy uses this technology to study the behavior of feral cats.
Remote Monitoring
The Ocean Cleanup utilizes the Iridium network to help rid the oceans of plastic. The effort uses a system of 600-meter-long floating plastic collectors, each equipped with two Iridium broadband terminals that relay critical systems data including compartment flood detection, position and location information, pictures, 360-degree video and system performance information.
Marine Instruments helps prevent shark attacks with baited buoys that immediately communicate a shark's position via the Iridium satellite network so that environmentalists capture the shark and humanely transport it away from the shore. Previous anti-shark buoys have deployed mesh nets when a shark appears, but nets are not selective and often end up hurting sea turtles and other protected wildlife. The Marine Instruments buoys provide scientists with key information about shark behavior to aid in their efforts to reduce attacks."
Reducing Greenhouse Gas Emissions
Iridium's hosted payload allows the Aireon® system to provide complete real-time surveillance of all Automatic Dependent Surveillance-Broadcast (ADS-B) equipped aircraft in their airspace, enabling airlines to optimize flight paths, routes and tracks anywhere in the world. This not only improves operational efficiency, but also reduces fuel consumption and lowers greenhouse gas emissions.
Weather Monitoring
The Active Magnetosphere and Planetary Electrodynamics Response Experiment, also known as AMPERE, provides real-time magnetic field measurements using Iridium satellites to monitor Earth's space environment.
Sustainable Fishing
Iridium partner ZUNIBAL created a buoy using Iridium technology that allows captains to gain invaluable information on the best tuna fishing locations, reducing fuel costs for the owner and the number of days at sea for the crew. The buoys are certified in eco design, highlighting our partner's commitment to sustainable fishing and to reducing the environmental impact of the buoys on our oceans.
Related Products & Services