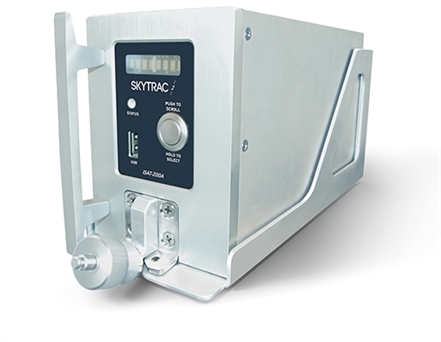 Track global fleet positioning, automatically detect in-flight distress events, and capture robust data to feed your FOQA, MOQA and SMS systems. The SKYTRAC ISAT-200A is a full-featured GPS and Iridium transceiver that facilitates real-time fleet awareness, group communications, and systems performance trending & analysis.
The ISAT-200A is fully integrated with SKYTRAC's signature SkyWeb cloud-based data management portal. The go-to tool of choice for over 6500 global users, SkyWeb extends access to remote hardware configuration tools and feature-rich interactive reports. You'll gain unprecedented insight into fleet activities at all times, from anywhere on globe.
The ISAT-200A is certified for use with Iridium Push-to-Talk.
Supports Flight Operational Quality Assurance (FOQA), Flight Data Monitoring (FDM) programs and Safety Management Systems
Internal hardened memory module records flight data and cockpit voice
Embedded accelerometer
Exceedance configuration and detection
Supports POTS/DPL handsets for cabin voice connectivity Increased connectivity to various aircraft systems (ARINC-429, RS-232/485/422) SMS messaging
"Wake-Up" battery operation allows users to make handset phone calls without aircraft power
Expanded options for collecting data via flexible analog/ digital/ discrete inputs (i.e., load cell, fuel gauge, altimeter)
Historical flight data and parameters automatically sent to SkyWeb when an event occurs
System Benefits
Global flight following, voice, messaging and data transfer
Data access – easily integrated with on-board equipment
Automatic operation – no pilot interaction required
Technical Specifications & Features
Features:
Single TSO GPS and Iridium dual antenna
Smart tray installation with field replaceable transceiver
Internal field replaceable battery
SD card interface
Two-way voice
Supports Wi-Fi or Bluetooth interface
ARINC – 404 (7 pins)
Internal memory module
Embedded MEMS chip (accelerometer / gyrometer)
Wake-up battery switch(es)
USB host
Enhanced microcontroller
DO311 certification for lithium ion battery
Analog (4) and discrete (8) inputs, plus a wakeup switch
DO160G environmental qualification (lightning)
Event triggered responses
DAQ capability
Iridium 9523 modem
System Specifications:
Iridium Services: SBD, Dial-Up data, SMS, DAV and RUDICS
Operating Frequency: 1616 MHz to 1626.5 MHz
Power Requirements: 10 Vdc to 32 Vdc
Power Consumption: 28V power: 0.5 A typical, 1.5 A in transmission
Audio Output: 150 mW min. into 600 or 300 Ohms
Audio Inputs: MIC Audio Input – 0.007 to 0.7Vrms @ 500 Ohms impedance, Panel Audio Input – 0.1 to 5Vrms @ 500 Ohms impedance, Cockpit Audio Recorder Input – 3.5 or 14Vrms max
Operating Temperature: -20°C to +55°C
Short Term Operating Temperature: -40°C to +70°C
Dimensions: H x W x D = 5.24" x 3.90" x 13.30" (133.1mm x 99.1mm x 337.8mm) mounted in ITRAY-200A
Weight: 5 lbs including tray
Mounting: Tray (with ARINC 404 Connectors)
Cooling: Normal air circulation
Environmental Tests: DO-160 Revision G
For more information, visit www.skytrac.ca