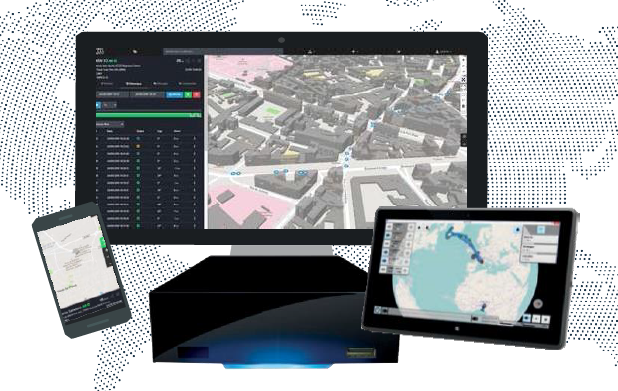 By : Photospace SARL | Model : SIRI
Standalone Server
Mobile & Embedded Software
Offline & Online Mapping
Integration of Silex & SIRI Tags
Compatibility with the Radio Case
Real-time Positioning
Secure Connection
The Photospace SILEX Server is a geolocation platform allowing to configure and manage a fleet of Silex and SIRI beacons. Online and offline mapping allows track all categories of Silex tags in real time or view its history. The operation can be adapted to each user by opening accounts in visualization until configuration.
The integration of offline mapping will allow the display of each position and this even if there is no internet connection. The online cartography will update, if necessary, on-board mapping. Server available as a whole or in software version for local installation. The server remotely tracks, in real time or later, the movement of mobiles and people. It is based on GPS location and SMS, GPRS, Sigfox and Iridium transmission. The complete operation of the beacons can be done from the Silex server, from their configuration, to the configuration of the alerts or redirections. Users access the data and functionalities adapted to their activity, according to the personalized profile that has been assigned to them.
The platform records all events related to beacons (history, commands, messages) as well as users (logs of connections and actions).
Features
Real-time or Ex-post Target Tracking
Equipment Configuration
Fleet Management
User Administration
Alerts Creation
Optimized Mobile Version
User & Group Administration:

Simplified Implementation & Modification of Groups & Subgroups
Creating Users with Personalized Access to Data & Functionalities
Saving Logs of Connections & Actions
Exploitation of the Beacons:
Creating, Editing & Assigning Beacons
Send Commands (Predefined, Simple or Saved) Manually or Automatically (On Zone)
Replay of the History & PDF or CSV Export
Share Position & Beacon History
Redirection of Positions by Email or SMS
Creation of Objects & Events:
Creating & Viewing POIs & Zones
Set Up Email or SMS Alerts Related to Zones or Beacons (Startup, Low Battery, Inactivity)
Tools:
Distance Measurement (ruler)
Display of User Position
Navigation Mode
Use Cases
Low-enforcement
Military
Customs
Blue Force Tracking
Red Force Tracking
Technical Specifications
Technologies:
| | |
| --- | --- |
| Location | GPS, CellID, Iridium, Sigfox |
| Transmission | GPRS, SMS, Iridium, Sigfox |
| Cartography | 3D, Satellite, Night |

Characteristics
| | |
| --- | --- |
| Operating System | Debian |
| Delivery | Physical or Virtual Format (VMWare or Hyper-v) |
| Possibility of Hosting | Yes |
| Available in Lightened Version (50 Beacons Max) on Intel NUC | Yes |

Compatibility
| | |
| --- | --- |
| Software | Silex Mobile, Silex Track, Silex Manager |
| Hardware | Silex Beacons, Radio Case, SHOUT nano, Iridium Extreme |