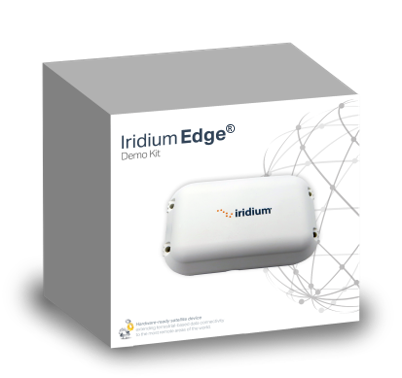 After following our IoT customers to some of the most remote areas in the world, we created Iridium Edge®, a rugged, hardware-ready satellite add-on that complements terrestrial-based solutions to extend data connectivity everywhere. We know our customers. We understand the critical need for fleets and assets to maintain reliable connectivity. Through our newest ready-to-install device, Iridium® delivers the dependable solutions your customers need, without a complicated integration and development process.
Are you looking for ways to reach remote markets? Are you wondering if satellite communications can offer the scalability and reliability that you need for business operations? Then test drive Iridium IoT! Purchase an Iridium Edge Demo Kit today and you will get a first-hand look at the value that Iridium Edge and the related Iridium services can deliver. The kit will allow you to quickly evaluate the simple and robust design of the product, while benefiting from the low latency that is enabled through Iridium's Short Burst Data® service.
The Iridium Edge demonstration kit is sold at an affordable $499. It provides users with free airtime for six months, with a data allowance of 25kB per month. After the demonstration period is over, the Iridium Edge device will be automatically deactivated. If you love the device, contact Iridium before the demonstration expires to continue taking advantage of the global connectivity enabled through Iridium Edge.
Learn more about the Iridium Edge device, including key features and the benefits that can only be enabled through the Iridium satellite network.
Ready to Test Drive Iridium IoT? Here is what you need:
Note: The Iridium Edge Demo Kit requires an iPhone5 with minimum of iOS version 10.0
Questions?
For more information, read the Iridium Edge Demo Kit Quick Installation Guide or email: sales@iridium.com.
Provisioning Issues: Contact Iridium at datasupport@iridium.comiot_sales@iridium.com.
Resources
Certification - Regulatory
Last Updated
Size

Jul 01, 2020
181.64 KB

Size:
181.64 KB
File Name:
CRT_Iridium+Edge_REACH+Declaration_EDGE1601_060320.pdf
Vendor:
Iridium
File Type:
PDF
Description:

REACH 201 Declaration for the Iridium Edge
PN: EDGE1601
Dated: June 03, 2020

Products:
Iridium Edge®, Iridium Edge® Demo Kit

Jan 17, 2018
68.62 KB

| | |
| --- | --- |
| Size: | 68.62 KB |
| File Name: | CRT_Iridium Edge_RoHS Certificate_(AUG17).pdf |
| Vendor: | Iridium |
| File Type: | PDF |
| Description: | RoHS Certificate for Iridium Edge. |
| Products: | Iridium Edge®, Iridium Edge® Demo Kit |

Jul 01, 2020
192.63 KB

Size:
192.63 KB
File Name:
CRT_Iridium+Edge_RoHS+Compliance+Certificate_EDGE1601_060320.pdf
Vendor:
Iridium
File Type:
PDF
Description:

RoHS Certificate of Compliance for Iridium Edg.
PN EDGE1601
Updated June 03, 2020

Products:
Iridium Edge®, Iridium Edge® Demo Kit

Fact Sheet

Jan 07, 2021
530.06 KB

Size:
530.06 KB
File Name:
FS_Iridium+Edge_Fact+Sheet_ENG_010721.pdf
Vendor:
Iridium
File Type:
PDF
Description:

Fact Sheet for Iridium Edge in English.
Dated: January 07, 2021

Products:
Iridium 9602, Iridium Edge®, Iridium Edge® Demo Kit
Services:
Iridium Short Burst Data (SBD)
Verticals:
IoT
Applications:
Asset Tracking, Fleet Management, Remote Monitoring, SCADA, SCADA

Jan 07, 2021
535.83 KB

Size:
535.83 KB
File Name:
FS_Iridium+Edge_Fact+Sheet_POR_010721.pdf
Vendor:
Iridium
File Type:
PDF
Description:

Fact Sheet for Iridium Edge in Portuguese.
Dated: January 07, 2021

Products:
Iridium 9602, Iridium Edge®, Iridium Edge® Demo Kit
Services:
Iridium Short Burst Data (SBD)
Verticals:
IoT, Land Mobile, Maritime
Applications:
Asset Tracking, Fleet Management, Remote Monitoring, SCADA, SCADA

Jan 17, 2018
601.84 KB

| | |
| --- | --- |
| Size: | 601.84 KB |
| File Name: | FS_Iridium Edge_Fact Sheet_SPA_(AUG17).pdf |
| Vendor: | Iridium |
| File Type: | PDF |
| Description: | Fact Sheet for Iridium Edge in Spanish. |
| Products: | Iridium Edge®, Iridium Edge® Demo Kit |
| Services: | Iridium Short Burst Data (SBD) |
| Verticals: | IoT |

Legal Notice

Jan 17, 2018
48.95 KB

| | |
| --- | --- |
| Size: | 48.95 KB |
| File Name: | LGL_Iridium_Satellite Subscriber Service Policy_r1.0_SEP09.pdf |
| Vendor: | Iridium |
| File Type: | PDF |
| Description: | Iridium's satellite subscriber service policy. |
| Verticals: | Corporate |

Product & Service Manuals

Jan 17, 2018
1.26 MB

| | |
| --- | --- |
| Size: | 1.26 MB |
| File Name: | QIG_Iridium+Edge_Quick+Installation+Guide_DEC18.pdf |
| Vendor: | Iridium |
| File Type: | PDF |
| Description: | Quick installation Guide for the Iridium Edge. |
| Products: | Iridium Edge®, Iridium Edge® Demo Kit |

Jan 17, 2018
1.53 MB

| | |
| --- | --- |
| Size: | 1.53 MB |
| File Name: | UM_Iridium Edge_User Manual_(JUN17).pdf |
| Vendor: | Iridium |
| File Type: | PDF |
| Description: | User Manual for Iridium Edge. |
| Products: | Iridium Edge®, Iridium Edge® Demo Kit |
| Services: | Iridium Short Burst Data (SBD) |
| Verticals: | IoT |

Jan 17, 2018
1.7 MB

| | |
| --- | --- |
| Size: | 1.7 MB |
| File Name: | QIG_Iridium+Edge+Demo+Kit_Quick+Start+Guide_DEC18.pdf |
| Vendor: | Iridium |
| File Type: | PDF |
| Description: | Quick Installation Guide for Iridium Edge Demo Kit. |
| Products: | Iridium Edge®, Iridium Edge® Demo Kit |
| Services: | Iridium Short Burst Data (SBD) |
| Verticals: | IoT |

Video

Apr 03, 2018
161.96 MB

| | |
| --- | --- |
| Size: | 161.96 MB |
| File Name: | VID_Iridium+IoT_Are+You+Connected+Video_MAR18.zip |
| Vendor: | Iridium |
| File Type: | ZIP |
| Description: | Video published on March 30th, 2018 covering Iridium's IoT connectivity features and ecosystem of service support. |
| Products: | Iridium Edge®, Iridium Edge® Demo Kit |
| Verticals: | IoT |