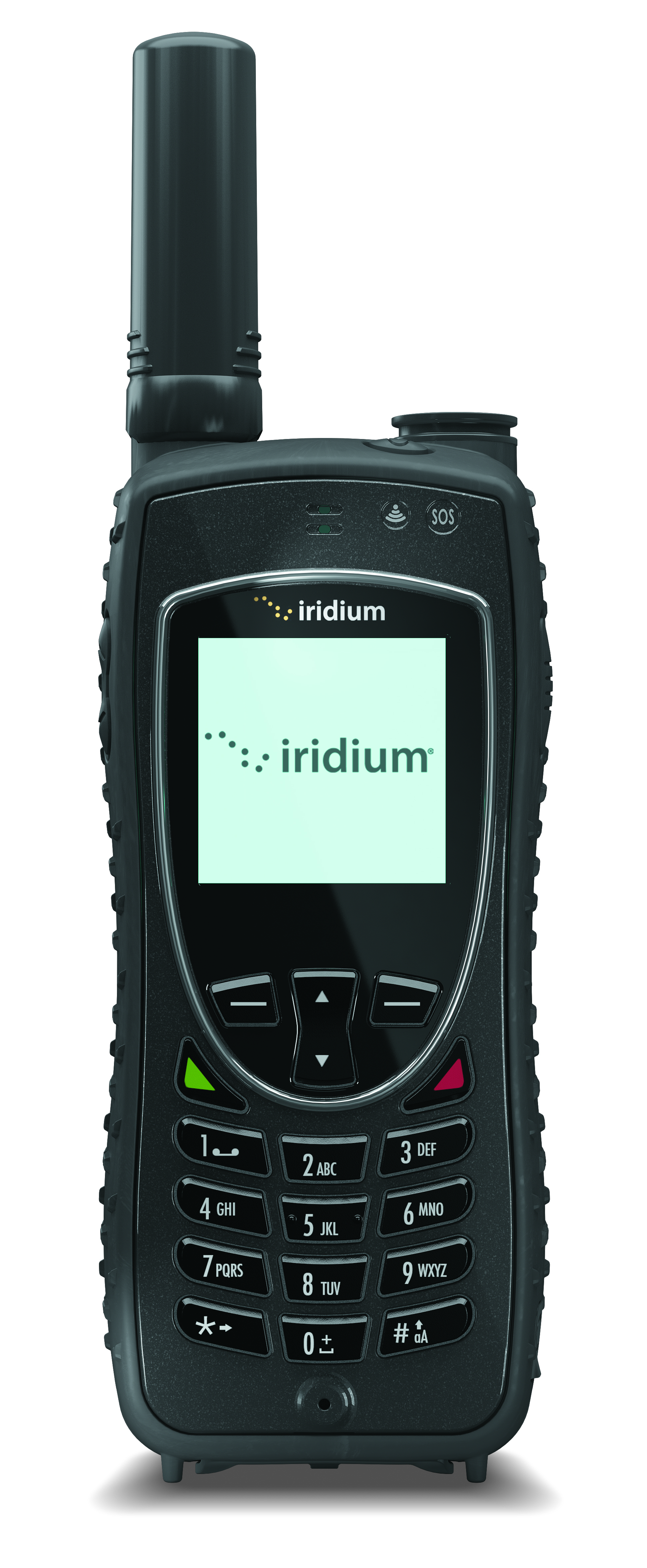 Iridium 9575A (U.S. Government Only)
Overview
The 9575A Satellite Phone offers proven reliability and industrial-grade design for use throughout the globe by the most demanding government customers.
The phone features diamond tread, tapered grip design for superior in-hand ergonomics for use in the toughest environments.
Government customers can order Iridium 9575A and activate services, by contacting EMSS Customer Account Manager or calling 301-225-2800 at the Defense Information Systems Agency (DISA). Learn more about the Enhanced Mobile Satellite Services (EMSS) contract between Iridium and DISA here.
Technical Specifications & Features
Mechanical Specifications
Tough, Military Grade Design
Size: 5.5" (L) x 2.4" (W) x 1.6" (D)
Operating Temperature Range: 14°F to 131°F
Weight: 8.7 Ounces
Battery Duration
Standby Time: Up to 24 Hours
Talk Time: Up to 5 Hours
Display
200-character, Daylight-readable Display
Integrated Backlight for Nighttime Viewing
Illuminated Keypad
Calling Features
Integrated Speakerphone
(21) Supported Menu Languages
Pre-programmable International Access Code (00 or +)
Selectable Ring and Alert Tones (8 Choices)
Memory
100-entry Internal Phonebook, with Capacity for Multiple Phone Numbers and Notes
Call History Retains Received, Missed and Dialed Calls
Usage Control Features
User-configurable call timers
Keypad lock and PIN lock for additional security
Programmable SOS Button
Program SOS number to contact when SOS initiated
Resources
Login to access additional resources
Advertising
Last Updated
Size
Document Name
Iridium Government - Postcard - Network Advantage
File Name
ADV_Iridium Government_Postcard_Network Advantage_061720.pdf
Description
Advertising postcard showing Iridium's network advantage for government work. Updated June 17, 2020.
Date
June 17, 2020 09:00 AM EST
Related Products
Iridium 9575A (U.S. Government Only), Iridium 9505A
Related Services
Netted Iridium®
Verticals
U.S. Government
Certification - Regulatory
Document Name
Iridium 9575A - BAT61701 (Rechargeable High Capacity Lithium Ion Battery) - Material Safety Data Sheet
File Name
CRT_Iridium 9575A_Safety Data Sheet_SDS_6308_QX_R03_BAT61701_010920.pdf
Description
Safety Data Sheet for the Iridium 9575A Rechargeable High Capacity Lithium Ion Battery
PN: BAT61701
File Number: SDS_6308_QX_R03
Dated: January 09, 2020
Date
January 09, 2020 03:38 PM EST
Related Products
Iridium 9575A (U.S. Government Only)
Document Name
Iridium 9575A Kit – REACH 209 Declaration (PN GPKT1901X)
File Name
CRT_Iridium 9575A Kit_REACH 25 Declaration_GPKT1901X_080420.pdf
Description
REACH 209 Declaration for the Iridium 9575A Kit
PN GPKT1901X
Dated: August 04, 2020
Date
August 04, 2020 03:28 PM EST
Related Products
Iridium 9575A (U.S. Government Only)
Document Name
Iridium Extreme 9575A - EU Declaration of Conformity
File Name
CRT_Iridium Extreme 9575A_EU Declaration of Conformity_IRIDA0415_P2689-REGA-008_040420.pdf
Description
EU Declaration of Conformity for Iridium Extreme 9575A (PN IRIDA0415)
Type Examination Certificate No: DK-RED000446 i01
Dated: April 04, 2020
Date
April 04, 2020 09:00 AM EST
Related Products
Iridium 9575A (U.S. Government Only)
Document Name
Iridium Extreme 9575A - EU Type Examination Certification
File Name
CRT_Iridium Extreme 9575A_EU Type Certificate_IRIDA0415_DK-RED000446 i01_040820.pdf
Description
EU Type Examination Certification for Iridium Extreme 9575A (PN IRIDA0415)
Type Examination Certificate No: DK-RED000446 i01
Dated: April 08, 2020
Date
April 08, 2020 09:00 AM EST
Related Products
Iridium 9575A (U.S. Government Only)
Document Name
Iridium Subscriber Equipment - TSCA Declaration
File Name
Iridium TSCA Letter - 2021-05-19 executed.pdf
Date
May 21, 2021 12:00 AM EST
Related Products
Iridium 9505A - AC/DC Converter, Iridium 9505A - Accessories Bundle, Iridium 9505A - Antenna Adapter, Iridium 9505A - Data Kit, Iridium 9505A - High-Capacity Lithium Ion Battery, Iridium 9505A - Leather Holster with Lanyard, Iridium 9505A - Phone Stand, Iridium 9505A - Rechargeable Li-ion Battery, Iridium 9505A - RS232 Data Adapter, Iridium 9505A - USB to Serial Cable, Iridium 9505A / Iridium 9555 - AC Travel Charger, Iridium 9505A / Iridium 9555 - Auto Accessory Adaptor, Iridium 9505A / Iridium 9555 - International Plug Kit, Iridium 9505A / Iridium 9555 - Portable Auxiliary Antenna, Iridium 9505A / Iridium 9555 - Retractable Hands-Free Headset, Iridium 9522B (End of Life NOV19), Iridium 9555, Iridium 9555 - High Capacity Battery, Iridium 9555 - Leather Holster, Iridium 9555 - Rechargeable Li-on Battery, Iridium 9555 - SatStation Desktop Dock, Iridium 9555 - USB-Mini Cable, Iridium 9575A (U.S. Government Only), Iridium 9602, Iridium 9603, Iridium AxcessPoint (DISCONTINUED), Iridium AxcessPoint Connect, Iridium CertusTM 9770, Iridium CertusTM 9810, Iridium Core 9523, Iridium Edge®, Iridium Edge® Demo Kit, Iridium Edge® Pro, Iridium Edge® Pro Development Kit, Iridium Edge® Solar, Iridium Edge® Solar Demo Kit, Iridium Extreme®, Iridium Extreme® - Rechargeable Li-ion Battery, Iridium Extreme® - High Capacity Battery, Iridium Extreme® PTT, Iridium GO!® - 1.2m USB Cable, Iridium GO!®, Iridium GO!® - AC Charger with International Adapters, Iridium GO!® - Antenna Adapter Cable, Iridium GO! - Auto Charger - USB Output, Iridium GO!® - Carry Bag, Iridium GO!® - Outdoor USB Charging Cable, Iridium GO!® - Protective Cover, Iridium GO!® - Rechargeable Li-ion Battery, Iridium GO!® - Wall-Mount Bracket Kit , Iridium GO!® + Text & Call Voucher, Iridium GO!® App, Iridium GO!® Fixed Installation Kit, Iridium Mail & Web App, Iridium OpenPort®, Iridium Pilot®, Iridium Pilot® Land Station, Iridium Pilot Land Station - DC Power Cable, Iridium Pilot Land Station - Low Profile Mount, Iridium Pilot Land Station - Magnet Kit for Low Profile Mount, Iridium Pilot Land Station - Pole Mount, L10-780 Iridium Antenna, L10-787 Iridium Antenna
Fact Sheet
Document Name
Iridium EMSS - Airtime Contract - Fact Sheet
File Name
FS_Iridium EMSS_Fact Sheet_123120.pdf
Description
Fact Sheet of Iridium Enhanced Mobile Satellite Services (EMSS) contract.
Dated: December 31, 2020
Date
December 31, 2020 06:28 PM EST
Related Products
Iridium 9505A, Iridium 9575A (U.S. Government Only)
Verticals
U.S. Government
Product & Service Manuals
Document Name
Iridium 9575A - User Manual
File Name
UM_Iridium 9575A_User Manual_060121.pdf
Description
User Manual for the Iridium 9575A Satellite Phone
Date
June 01, 2021 12:00 AM EST
Related Products
Iridium 9575A (U.S. Government Only)
Product Details
Document Name
Iridium 9575A - BAT61601 (2860 mAh Battery Pack) - Datasheet
File Name
DS_Iridium 9575A_BAT61601_2860 mAh Battery Pack_Datasheet_v1.0_070717.pdf
Description
Datasheet for Iridium 9575A's BAT61601 (2860 mAh Battery Pack)
Dated: July 07, 2017
Date
July 07, 2017 04:55 PM EST
Related Products
Iridium 9575A (U.S. Government Only)