« Back
ZOLEO Introduces Progressive SOS Feature & Expands Distribution to Europe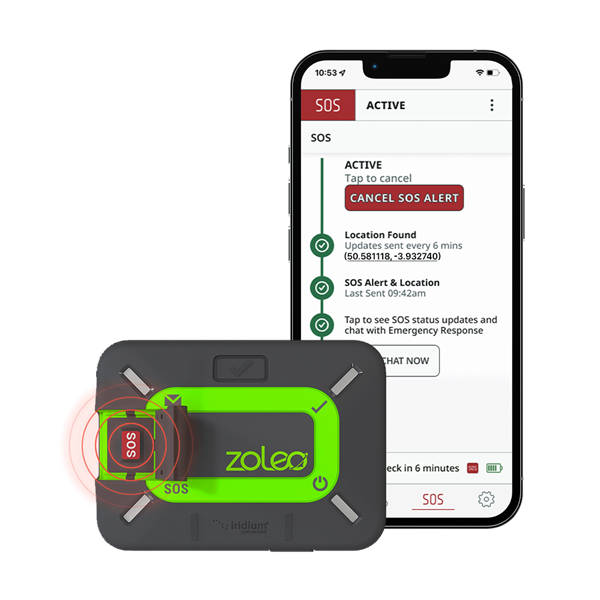 MCLEAN, VA., June 17, 2022 – Iridium Communications Inc. (Nasdaq: IRDM) is proud to share that the award-winning ZOLEO® global satellite communicator, a joint venture between Iridium partners Beam Communications Pty. Ltd. and Roadpost Inc., has expanded distribution into Europe and added a first-of-its-kind progressive SOS feature.
The new availability in Europe follows the ZOLEO's notable market success in Canada, the United States, Australia and New Zealand. The device, featuring the first consumer-focused messaging solution of its kind that transitions between cellular, Wi-Fi, and Iridium® satellite network connectivity, is now available in Norway, Finland, Sweden, Denmark and the United Kingdom, with plans for continued expansion in Europe.
Ideal for those who live on the fringe of mobile coverage or travel beyond its reach for work or recreation, the ZOLEO extends a user's smartphone connectivity to everywhere on Earth. The device's new progressive SOS feature provides users with an additional measure of reassurance in an emergency, with continuous updates displayed via the ZOLEO app as an SOS incident progresses. Upon activating an SOS alert, ZOLEO users receive ongoing status updates and can exchange messages with the emergency response coordination center.
"While emergency situations can be frightening, ZOLEO users have the peace of mind knowing they can send out an SOS, communicate in real-time with rescue agencies and receive constant updates, no matter where they are," says Bryan Hartin, Executive Vice President, Iridium. "ZOLEO offers an innovative, reliable, and affordable way for people to stay connected. It's no surprise there's an increased demand for the device around the world, and we look forward to watching it grow."
Read ZOLEO's announcements here:
About Iridium Communications Inc.
Iridium® is the only mobile voice and data satellite communications network that spans the entire globe. Iridium enables connections between people, organizations and assets to and from anywhere, in real time. Together with its ecosystem of partner companies, Iridium delivers an innovative and rich portfolio of reliable solutions for markets that require truly global communications. In 2019, the company completed a generational upgrade of its satellite network and launched its new specialty broadband service, Iridium Certus®. Iridium Communications Inc. is headquartered in McLean, Va., U.S.A., and its common stock trades on the Nasdaq Global Select Market under the ticker symbol IRDM. For more information about Iridium products, services and partner solutions, visit www.iridium.com.
Press Contact:
Jordan Hassin
Iridium Communications Inc.
Jordan.Hassin@iridium.com
+1 (703) 287-7421
Investor Contact:
Kenneth Levy
Iridium Communications Inc.
Ken.Levy@Iridium.com
+1 (703) 287-7570
Twitter: @Iridiumcomm
Related Products & Services