« Back
Iridium Partner SKYTRAC Satcom Chosen for the Joint Light Helicopter French Armed Forces Programme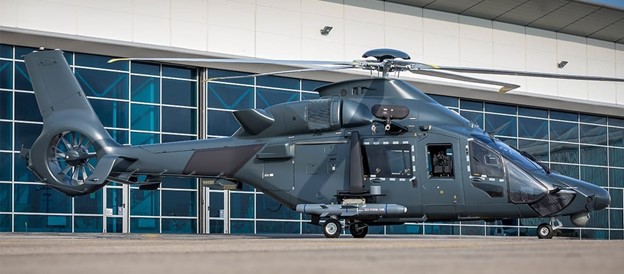 MCLEAN, VA., August 4, 2022 – Iridium Communications Inc. (Nasdaq: IRDM) is proud to share that Airbus Helicopters is providing the Joint Light Helicopter French Armed Forces Programme (Hélicoptère Interarmées Léger – HIL) with H160Ms that will be factory-equipped with Iridium partner SKYTRAC's Iridium Certus Connected® SDL-700.
A multifunctional system, the SDL-700 is a satellite communication terminal, data acquisition, and onboard server system that utilizes Iridium Certus broadband connectivity to provide up to 704 Kbps of bandwidth to enable mission-critical capabilities onboard the H160M's. The SDL-700 is the latest iteration of SKYTRAC's flagship broadband satcom terminal, the SDL-350™.
"The SKYTRAC's SDL-700 being factory installed on H160M helicopters is a testament to the capabilities of both the Iridium Certus service and SKYTRAC's engineering and development prowess. This system will provide the French Armed Forces with truly global, weather-resilient and reliable connectivity for their operations," said Bryan Hartin, Executive Vice President, Iridium. "Whether it's live video, image or file transfer, voice, text, Push-to-Talk (PTT), or Electronic Flight Bag (EFB) automation, the SDL-700 can provide a wide array of connectivity options for HIL's mission-critical connectivity needs."
Read the full announcement from SKYTRAC.
About Iridium Communications Inc.
Iridium® is the only mobile voice and data satellite communications network that spans the entire globe. Iridium enables connections between people, organizations and assets to and from anywhere, in real time. Together with its ecosystem of partner companies, Iridium delivers an innovative and rich portfolio of reliable solutions for markets that require truly global communications. In 2019, the company completed a generational upgrade of its satellite network and launched its new specialty broadband service, Iridium Certus®. Iridium Communications Inc. is headquartered in McLean, Va., U.S.A., and its common stock trades on the Nasdaq Global Select Market under the ticker symbol IRDM. For more information about Iridium products, services and partner solutions, visit www.iridium.com.
Press Contact:
Jordan Hassin
Iridium Communications Inc.
Jordan.Hassin@iridium.com
+1 (703) 287-7421
Investor Contact:
Kenneth Levy
Iridium Communications Inc.
Ken.Levy@Iridium.com
+1 (703) 287-7570
Twitter: @Iridiumcomm
Related Products & Services