« Back
Defining Satellite Push-To-Talk (PTT): What Is Interoperability? Explaining & Showcasing Notable Use Cases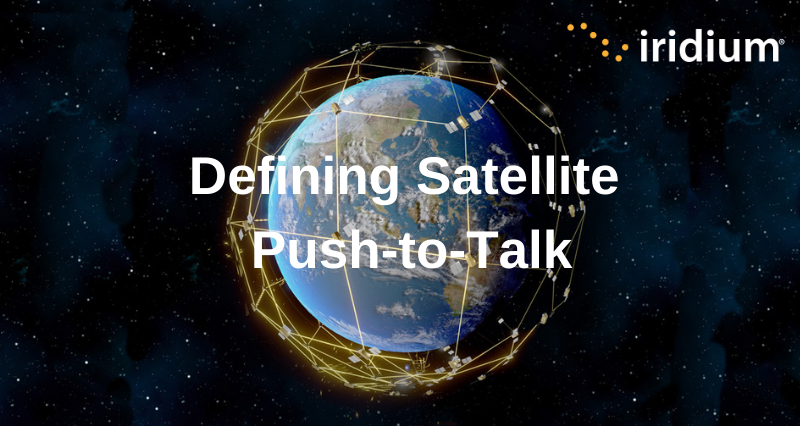 In this article, we highlight a key component of Iridium® PTT – interoperability – and show real-life examples of Iridium PTT in action. For an Iridium PTT overview check out this post.
Interoperating with Land Mobile Radio (LMR) Networks
Interoperability is the ability to bridge, or interoperate, between disparate communications systems. This is uniquely important for radio users, as there are numerous radio systems that may need to communicate with each other. Iridium's satellite PTT services can enhance traditional Land Mobile Radio (LMR) systems by allowing different radio systems to be cross-banded over a common talkgroup through the use of a third-party interoperability gateway. This offers added flexibility to organizations that rely on LMR networks and need a solution to extend their range. It also ensures that no matter where teams are deployed, communications networks will remain intact and connected via Iridium.
For example, fire departments typically use analog and digital radios to support their operations in urban environments. When natural disasters occur, teams may be called from different regions to support operations in environments not covered by their radio systems or local networks may be down. By leveraging Iridium PTT and interoperability gateways created by Iridium Value-Added Manufacturers (VAMs), these users can link different radio systems to support their operations.
Iridium Satellite PTT in Action
Today, Iridium PTT is deployed across multiple industries and organizations worldwide. One example involves a large utilities company that is currently relying on Iridium PTT to connect its teams for an extensive project in a remote region in Canada. Due to the location of this project, tower-based coverage is not available and building out a terrestrial network would have been environmentally harmful and extremely costly. To solve this coverage issue, the company equipped its team members with Iridium Extreme® PTT and IC-SAT100 devices which accelerated their project timeline and significantly reduced the program's cost. Both devices are connected to the Iridium satellite network, which offers truly global, weather-resilient connectivity, making it ideal for remote projects.
Additionally, the Republic of Indonesia's government adopted Iridium PTT devices to support communication efforts across the country. The government fully deployed 500 Iridium PTT handsets to help support real-time communications across its diverse island landscapes, which makes building and maintaining terrestrial infrastructure costly and impractical. By deploying Iridium PTT, the Indonesian government now has access to a "grab-and-go" satellite communications solution, to help enable reliable communications during emergencies and natural disasters, such as earthquakes, volcanic eruptions, and tsunamis, which impact this region of the world.
These are just a few examples of the many deployed Iridium PTT solutions around the world. Iridium's network of industry-leading partners are constantly innovating and adding new technologies to their comprehensive portfolio of satellite solutions. Many of these partners have built Iridium's technology into purpose-built products designed for use with handheld radios or installed radios that can operate within vehicles, buildings, helicopters, and aircraft. This uniquely enables satellite PTT users to communicate reliably anywhere people operate to support their mission requirements.
For puns, Iridium news, puns, partner news, dad jokes, industry trends, and also puns, follow us on Facebook, LinkedIn, and Twitter.
Related Products & Services