« Back
Q&A with Iridium CEO, Matt Desch – 15 Questions to Celebrate 15 Years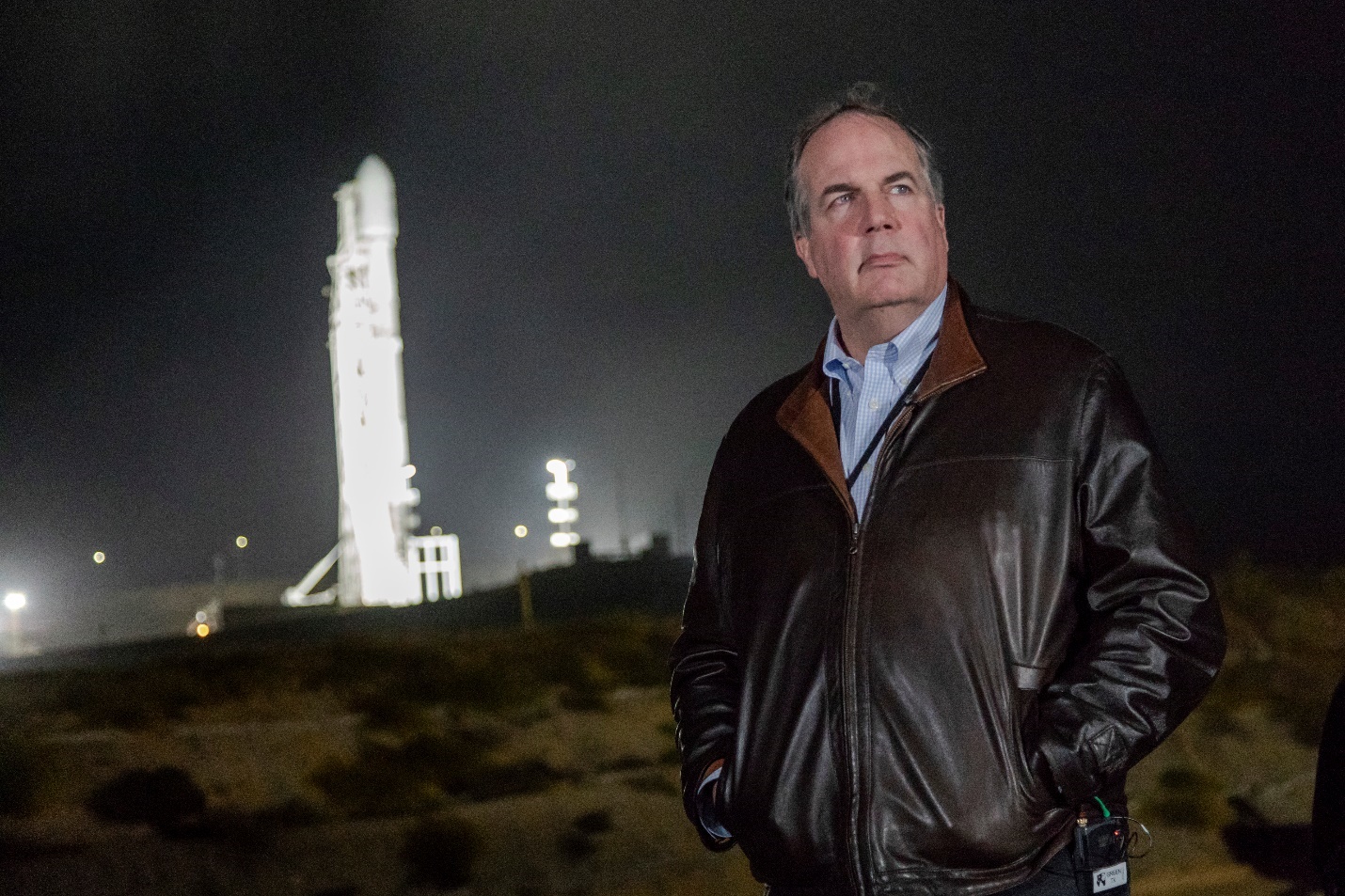 15 years ago, on September 21, 2006, Matt Desch became Iridium's Chief Executive Officer. After cycling though five CEOs in five years, Iridium welcomed Matt, who proceeded to lead Iridium through its Initial Public Offering, the Iridium NEXT constellation replacement campaign, the launch of Iridium Certus®, Iridium GMDSS recognition, and many more accomplishments. To celebrate this momentous anniversary, we asked Matt 15 questions about his 15 years so far as our @IridiumBoss.
Congratulations on 15 Years as our CEO! We're sure this is a time of great reflection. How does it feel?


Well, I definitely feel older! I certainly feel a lot of pride in what we've all accomplished over that time, the state of our company within the industry and our incredible growth and success.  While I can't help looking back over the changes of the last 15 years, I'm still really excited to get up every morning and work on the future of Iridium too!

We know there's an interesting story behind how you joined iridium and that process. What is your fondest memory?


Joining the company only 6 years after emerging from bankruptcy, I was already the 6th CEO selected over that time, so wasn't so sure how long I'd be around! In the beginning, the board at the time was debating over the future of the company. I had very solid instincts about the potential of the company coming from my early involvement in the wireless industry and knowing the potential of our amazing network. It took several months for the board to make their decision, and I was considering other opportunities, but I really wanted to join Iridium as I felt I could make a difference here.

You have accomplished so much over the years and played a major role in Iridium's "phoenix rising from the ashes" success story. Coming into the company, how did you strategize and implement changes?


Our success over the years has been a team effort, and my job as CEO was always to assemble the right team and create an environment where we could work together and be successful. It's always been a creative and innovative place to work and having been through bankruptcy and early challenges made us resilient and pragmatic. I had some instincts about our direction but am fortunate to have worked with a lot of other very smart people – direct reports, board members, external advisors, and many others throughout the company. Our culture of respect for each other and transparency in communication has been what's made it possible to survive and thrive, making the changes needed in our business and developing the products that are propelling our growth today.

When preparing for Iridium's second-generation constellation, you had a lot of difficult decisions to make, ranging from receiving funding to choosing a satellite developer and launch provider. Can you share more insights into that time?


It was evident to me upon joining 15 years ago that growing wouldn't be our biggest challenge – it would be funding and building a second-generation system to take us into the future. The year I joined we had just generated about $50 million in OEBITDA the previous year, so knew we would require a lot of external money to build a new network. Money wasn't the only challenge we faced. Would the Block 1 network that was built to last 7-10 years, last the 20 or so years we'd need to complete a new network?

In my first internal meeting about the challenges we faced, our satellite operations team told me they had started to develop a plan to design and manage the building of the new satellites. They said it would likely cost $4 billion and could be completed in 2014. I told them the budget was $2.7B, and we needed to create a competitive process to find an outside supplier to build the system. Shortly after in 2007 we held a forum at a Tempe hotel to explain our ambitious project to interested satellite suppliers. Only six suppliers showed up, and several dropped out quickly when they realized just how ambitious our plans were. Some also had decided on their own that we wouldn't be successful in raising the necessary capital to pay them, or that we'd even survive long enough for the project to be completed.

We announced our final plan for Iridium® NEXT to the public in mid-2010 and said the system would cost $3B (up from my initial $2.7B target), would be completed in 2017 (versus the 2014 plan I had hoped to achieve in 2006), and that we'd use $1.8B in financing backed by the French government (rather than the $1B I had expected we'd need to raise). In the end we held to the final cost target, though the launch plan slipped several years due to satellite manufacturing, schedules, and other issues.

Photo: Matt Desch with SpaceX founder, Elon Musk. SpaceX's Falcon 9 launch vehicle carried multiple second-generation Iridium satellites per vehicle, inserting the satellites into a Low-Earth Orbit (LEO) as Iridium replaced its first-generation satellite constellation

Can you explain how Iridium's joint venture, Aireon was created? How is Aireon doing now?


Aireon was the product of necessity. We knew we didn't have all the capital needed to complete Iridium NEXT and would need to find a customer to "share the space" on our satellites in return for hosting fees to help close the funding gap. After years of pursuing a deal, time was running out. Thales Alenia was well into the design of the satellites, and while we'd reserved space and power for a payload, we needed to finalize a partner for technical, financing and schedule considerations.

Fortunately, Don Thoma, Iridium's Executive Vice President of Marketing at the time, and his small business development team had heard of a European science project to test ADS-B payloads on balloons to see if they could pick up the aircraft signals from the upper atmosphere – and we realized the Iridium NEXT system could be perfect for the application – and maybe the only network that could pull off the feat.

We talked to the FAA who encouraged us, found our first investment partner and customer in NAV CANADA, and then we were off to the races. We really had to build a new business completely from scratch, with no blueprint or example to follow, and I'm very proud of what Don and his team have since accomplished at Aireon – both for the value it's created for Iridium, but also for the way they've transformed aviation safety and efficiency.

Photo: Iridium and NAV CANADA Announce Joint Venture Aireon

You've played a huge role in Iridium subscriber growth, which surpassed 1 million and counting. What would you attribute this growth to?


We're closing in on 1.7 million subscribers, which is a lot more than the 150,000 we had when I joined. A lot of that growth is due to our success in IoT, which had just launched shortly before I joined with the first Short Burst Data® (SBD®) 9601 transceiver. Today we're embedded in so many industries and applications, thanks to a partner ecosystem of more than 450 companies, that we've attracted to adapt our services to solve their customer's problems.

Another reason for our amazing growth is the many innovative products we've created – from the Iridium 9555 and Iridium Extreme® satellite devices, to the 9603 module, to the Iridium GO!® and Iridium OpenPort® and now a variety of Iridium Certus® midband and broadband products to meet every need in maritime, land mobile, and aviation. We have the best network, the best services, and best devices for customers to connect their assets and themselves to anywhere in the world!

Photo: Iridium Introduces a Midband Service Class on the Iridium Certus Platform

Iridium's partner network has also grown over the last 15 years to over 450 partners. Can you share more about the uniqueness of Iridium's business model?


When Iridium emerged from bankruptcy in 2000, the first thing we did was consolidate to a single gateway in Tempe (from the 15 or so that were active before) and signed up our first partners to distribute our satellite phones. As we expanded our product range, more and more companies wanted to embed our L-band transceivers or new SBD modems in their products, as we had better coverage, smaller antennas, and other advantages over other satellite companies. We have committed to the industry that we would not compete with our partners. They appreciate our approach, and our partner base continues to expand even today, as more and more companies see the potential for Iridium connections in their products.

You also supported Iridium through its emergence as a public company via a special-purpose acquisition company, or SPAC. Can you share more about that experience and how it feels to have the company be in the successful place it is now?


We started the process of raising equity shortly after I arrived, and through 2007 and much of 2008 I met with countless potential investors. We initially thought we'd attract a private equity investor who would buy us and eventually help take us public in a "traditional" way.  Unfortunately, the world's economic system collapsed in 2008 with the housing bubble, and private equity companies were distracted with that. At the same time, SPACs became popular again, though no SPACs had been attempted in the space and satellite industry. The most famous one to date at the time had been Jamba Juice. 

I thought the SPAC route might be a good path (maybe our only path) to raise money and looked for one with a lot of experience. Greenhill was an investment bank with a lot of industry expertise that had recently created a SPAC, and we quickly agreed it was the quality we were looking for. It took us almost a year to complete the deal on September 29, 2009 – the day we went public on Nasdaq as IRDM. Those were long, challenging months with a lot of work, but we ended up a public company with $400M, and our previous shareholders were happy that their initial investment out of bankruptcy had finally paid off and the company was on solid footing for the future.

Photo: Iridium Rings the Bell to Open Trading on Nasdaq

Iridium originally set out to be a satellite phone company but has shifted to the Internet of Things (IoT). Can you share more insights into this transformation?


Our network was built and optimized to handle voice traffic, compressed and fitting into very narrow channels to make the most use of our precious spectrum resources. These channels were quite slow at 2400bps, and it took some technical wizardry to make voice calls sound good at that rate. Our engineering team introduced circuit switched data early on using those small pipes – we call that service "RUDICS" today, and soon realized that they could also send packets of data very efficiently as well.

Short Burst Data (SBD) was invented and was a perfect fit for sending information between machines or other assets, and small, lower-cost modules started becoming successful in the early satellite M2M industry. As our modules became smaller and less expensive and our business development teams found new companies who needed to make important connections to their assets in the field, our business really started to take off.

What are some of the biggest challenges you've faced as CEO?


There have been so many challenges over the years we've faced as a team, but one by one we've worked our way through them. The 2008 economic downturn, 2009 collision of SV-33, going public and raising financing for Iridium NEXT. We've had many challenges over the years, but together, working through them as a team, we've overcome each and every one. There were whole years in which I took home a lot of the stress, but I have never been more confident of our future than I am today.

What are some of your favorite memories over the past 15 years?


Watching the successful launch of our 75 Iridium NEXT satellites into space will be forever etched in my mind – particularly that glorious first launch. All my favorite memories are more of the people at Iridium I've shared them with. From ringing the bell at Nasdaq to opening up new gateways, they are all indelible memories. But, it's the faces and feelings of the friends I've made across the company and with partners or others in the industry that I'll treasure most.

Photo: Matt Watching the Second Iridium NEXT Launch

You were quoted at SATELLITE 2021 saying "I'm not the hot CEO anymore. We're just generating cash and making money." How does it feel to go from the new CEO with many challenges ahead to seeing 15 years of hard work pay off?


I had just read Via Satellite's list of hot companies and hot CEOs to watch that morning and was making a joke about how Iridium and I weren't on their list anymore, despite being one of the fastest growing and most valuable companies in the satellite sector. Personally, I think Iridium is the real "hot" company to watch right now – me, not so much.

Photo: Matt became the first 2x winner of Via Satellite's Executive of the Year, winning for 2012 and 2018. Pictured here with Editorial Director of Via Satellite, Mark Holmes. Credit: Access Intelligence

Where do you see the next 15 years going for Iridium? How are you preparing to continue the company's success?


We're still in the early days of truly exploiting our unique and powerful new network, and I can't wait to see all the innovation and expansion our growing partner base will do with it. I'm particularly excited about our new midband products that will drive a new round of innovation and growth. Further embedding Iridium into personal communication devices and autonomous vehicles and systems of all types is also really exciting. I'm spending a lot of my time making sure Iridium is well positioned for our third-generation constellation when the time comes. With our growing cash balances and value, we have the potential to write our own future, and are spending a lot of time thinking about how to navigate through the possibilities to keep Iridium growing and create new opportunities for all.

Photo: Matt with Captain Moin Ahmed, Director General of IMSO Receiving the Letter of Compliance to Provide Global Maritime Distress and Safety System Service 

What advice do you have for the next generation of leaders in the space and satellite industry?


A lot of entrepreneurs in our industry start with technology, and then try to build a business around it. However, their future success really depends on a balance of the two. I've also learned over the last 15 years how hard and unforgiving space is – everything costs more, takes longer, and the problems are more challenging than those of terrestrial businesses. That means leaders need to be resilient, they need to be transparent and honest about the future problems they will face and plan for them. They also need to create organizations that "do the right thing" through collaboration and experience since they can't do it all themselves. I encourage them to surround themselves with a great team, with people far smarter than themselves, and create an environment where everyone is working together toward a common mission rather than their personal agendas.

Any last thoughts you'd like to share?


I really can't believe it's been 15 years! It's been the most exciting and satisfying 15 years of my 41 years in business, and I'm really excited about our future. Thanks for sharing this personal milestone with me, I think the next 15 will be just as transformational for us.