« Back
Iridium's Collaborative Efforts with Arizona State University's Engineering Projects in Community Service Program (EPICS)
The Engineering Projects in Community Service program, known as EPICS, is a national award-winning social entrepreneurship program that enables ASU students to design, build and deploy systems to solve engineering-based problems for charities, schools, and other not-for-profit organizations. These ASU students seek to solve problems on a global scale and explore ways they can solve technical challenges to make the world a better place. Iridium and the team at the Iridium Technical Support Center (TSC) in Chandler, Arizona have been working closely with the EPICS team to support their various projects. There are currently about 300-400 students in 50 different EPICS teams with a variety of goals, with each project focusing on using technology to improve lives.
Learn more about a few of the EPICS projects Iridium is directly supporting:
The ASU EPICS 33Buckets team provides clean drinking water to people in Peru, led by Dr. Mark Huerta, a chemical engineer who designed the purification process. After learning more about the initiative, Iridium knew it could lend support to help the project. Iridium gave the team an Iridium Edge® Pro IoT device, and are providing the test account, provisioning and tech support for the project. With the dedicated IP address, a team member on their phone with the Graphical User Interface (GUI) can monitor the purification process, ensuring the water stays clean.
Bridge2Africa, another EPICS teams, discovered a school for the visually impaired in Johannesburg, South Africa that previously didn't have access to the internet. The team worked to design and protype a Braille keyboard that enables the students to read the text, send information and utilize audio transcriptions. This has given them access to the internet for both education and entertainment, helping to remove the stigma of being visually impaired, and even inspiring them to pursue a career in programming.
The Wheels2Africa EPICS team is also working to improve lives in South Africa by designing, prototyping, and testing a ruggedized wheelchair for those who are mobility impaired. They are working to create a cost-effective reusable, and portable battery for its designs to replace expensive and bulky batteries that require frequent replacements and/or maintenance. 
Another EPIC team Iridium is supporting first-hand is Stardust. The Stardust team is designing and prototyping a measurement device to determine the reusability of solar panels for renewable energy. Stardust has two missions: diverting landfill waste by providing free or low-cost supply removal and contributing to economic development of low-income communities.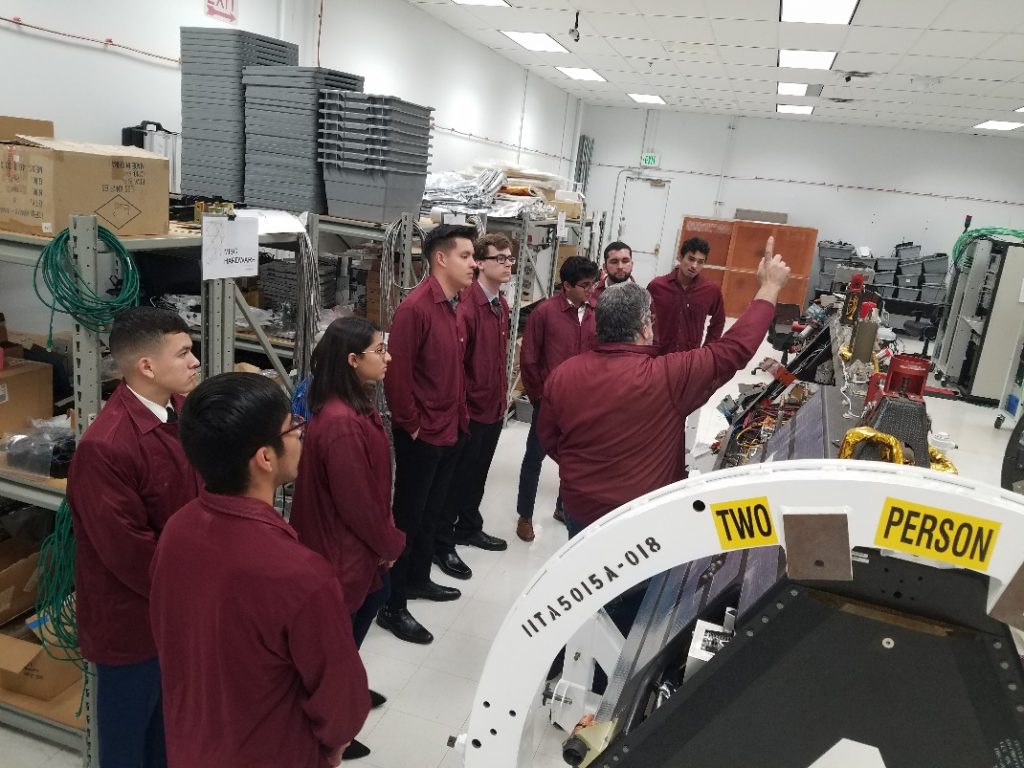 Photo: TSC Director Pete Fardelos shows ASU EPICS students around Iridium's Technical Support Center in Chandler, AZ
Iridium employees from the TSC, including Paul Courville have used their extensive knowledge to provide guidance to the EPICS teams including finding vendors to support projects, completing circuit designs and analysis, and mentoring. "EPICS gives ASU students a way to apply what they're learning in the classroom to the real world, preparing them to join the workforce," says Paul. "Iridium is proud to offer mentorship and technological assistance to these projects, supporting the students who are creating solutions that give back to the global community."
To learn more about EPICS, please visit: https://epics.engineering.asu.edu/
Related Products & Services