« Back
Iridium & Thales in Conversation with IMOCA Skipper Jérémie Beyou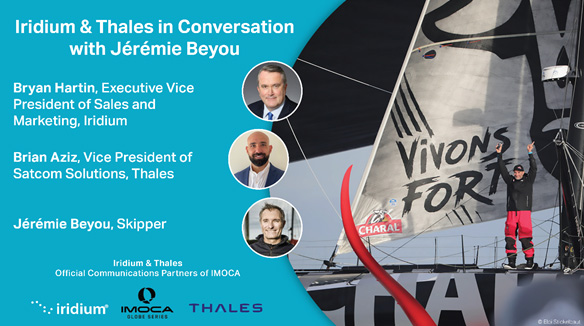 Iridium and our partner Thales are proud to the be official communications sponsors of IMOCA, a series of monohull open class yacht races. Since announcing our partnership in July 2019, Iridium and Thales have provided satcom connectivity for several high-profile IMOCA events that attract a global audience, including the upcoming Vendée Globe race.
IMOCA skippers endure weeks on end at sea and rely on the Thales VesseLINK™ powered by Iridium Certus® to keep them connected no matter where they sail. As the skippers endure physical and technical challenges, the success or failure of a race can depend on reliable ship-to-shore and shore-to-ship connectivity. The Iridium Certus L-band broadband service delivers the foundation for all of these elements, providing dependable high-speed connectivity globally regardless of sailing conditions.
Bryan Hartin, EVP of Sales & Marketing at Iridium and Brian Aziz, VP of Satcom Solutions at Thales joined skipper Jérémie Beyou, winner of the Défi Azimut and Vendée-Arctique-Les Sables d'Olonne to catch up with him before he races in the Vendée Globe.
Tune in to learn about Jérémie's journey to becoming a skipper, his challenges and most rewarding moments, and his thoughts on the importance of staying connected at sea.
Related Products & Services