« Back
Iridium, American Aerospace, Blue Sky Network Receive Air Traffic Management Award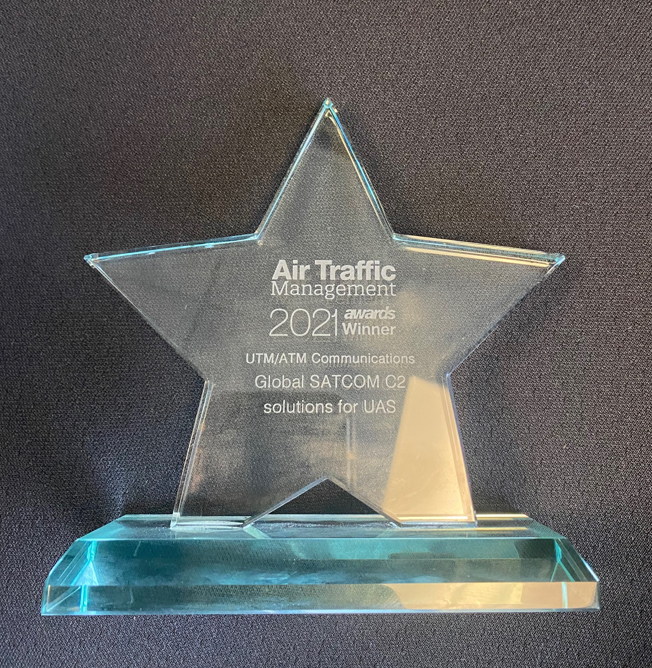 MCLEAN, VA., June 27, 2022 – Iridium Communications Inc. (Nasdaq: IRDM) is proud to share it has been honored with the 2021 Air Traffic Management (ATM) Award for Unmanned Aircraft System Traffic Management (UTM) Communications along with partners American Aerospace Technologies, Inc., (AATI) and Blue Sky Network. The award highlights the companies working together to create and deploy an innovative global satellite communications based Command and Control (C2) solution for Unmanned Aircraft Systems (UAS) in the National Airspace System (NAS).
The small size, light weight and low power SkyLink by Blue Sky Network uses the Iridium Certus® 100 service to enable versatility for both crewed and uncrewed airborne applications, including C2, through Global Line of Sight® (GLOS®) service for Beyond Visual Line of Sight (BVLOS) or Over-the-Horizon (OTH) connectivity. Deployed on AATI's UAS, the AiRanger, SkyLink is transforming the way infrastructure inspections and aerial surveillance are performed. SkyLink's C2 and BVLOS capabilities combined with AiRanger's unique design and embedded technology are helping to scale UAS operations in the NAS.
"Iridium is incredibly proud of the collaboration between our partners American Aerospace Technologies and Blue Sky Network, and to be recognized with this award for our unique capabilities in UTM and ATM communications," says Iridium Executive Vice President, Bryan Hartin. "Iridium's Global Line of Sight service has become the gold standard for C2 and connectivity services supporting UAVs, USVs, and more broadly for all autonomous vehicles and systems. Combined with the innovation of our partners, we look forward to continuing to add new capabilities to this award-winning service."
About Iridium Communications Inc.
Iridium® is the only mobile voice and data satellite communications network that spans the entire globe. Iridium enables connections between people, organizations and assets to and from anywhere, in real time. Together with its ecosystem of partner companies, Iridium delivers an innovative and rich portfolio of reliable solutions for markets that require truly global communications. In 2019, the company completed a generational upgrade of its satellite network and launched its new specialty broadband service, Iridium Certus®. Iridium Communications Inc. is headquartered in McLean, Va., U.S.A., and its common stock trades on the Nasdaq Global Select Market under the ticker symbol IRDM. For more information about Iridium products, services and partner solutions, visit www.iridium.com.
Press Contact:
Jordan Hassin
Iridium Communications Inc.
Jordan.Hassin@iridium.com
+1 (703) 287-7421
Investor Contact:
Kenneth Levy
Iridium Communications Inc.
Ken.Levy@Iridium.com
+1 (703) 287-7570
Twitter: @Iridiumcomm
Related Products & Services