Twenty years ago, Iridium announced to the world that its innovative satellite network was available for commercial use! Initially launched to service satellite phones and pagers, the Iridium network would allow anyone to communicate from anywhere.
Since November 1, 1998, the world has changed – and so has Iridium.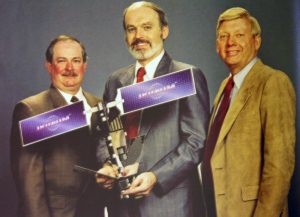 Iridium was first envisioned in the 1980s by a few bold thinkers who wanted to revolutionize communications. Bary Bertiger, Ray Leopold, and Kenneth Peterson began work on a space-based system that would allow people to connect to each other anywhere on the planet.
Ten years later, Iridium announced that the world's first global handheld satellite phone and paging system was commercially available. Commercial service began on November 1, 1998 with the ceremonial first call by then-U.S. Vice President Al Gore to Gilbert Grosvenor, the great-grandson of Alexander Graham Bell and chairman of the National Geographic Society.
In the ten years it had taken to build, finance, and launch the Iridium network, however, cell phone usage had exploded – everyone had them, they worked well, and costs continued to fall. This put a lot of pressure on Iridium's business case. Eventually the decision was made by Motorola to shut down the Iridium network.
Fortunately, just a few days before the Iridium constellation was scheduled to be deorbited, the company found a lifeline: the U.S. government.
A new, smaller team, led by Dan Colussy, took over and got to work on a new strategy starting with the U.S. Department of Defense and rapidly expanding to other markets. The company began identifying new ways to leverage the Iridium® network and saw great opportunities in a number of markets including aviation, maritime, land mobile, and governments, while also developing innovative machine-to-machine applications, now more commonly known as the Internet of Things (IoT).
Iridium also realized that to be successful, they needed help from companies that were experts in their respective fields with the technology, know-how, and relationships to capitalize on the Iridium network. These Partners recognized what Iridium could do for their customers. We supplied them with the devices and technology to access our network, and they began using Iridium in amazing ways to provide connectivity to users anywhere in the world.
The strategy worked! When Iridium formally re-opened for business and was signing up new subscribers in 2001, the network served 20,000 U.S. government users. Since then, Iridium has continued to grow to a network now serving over 1 million active subscribers in many markets and locations.
As our company grew and saw continued success, we knew we'd soon face a challenge: the original Block 1 satellites were growing old, having already outlived their five-to-seven year expected lifespans. In 2007, we announced our planned $3 billion investment in Iridium NEXT. This mission would be a complete replacement of the Iridium constellation and the largest technology refresh in history.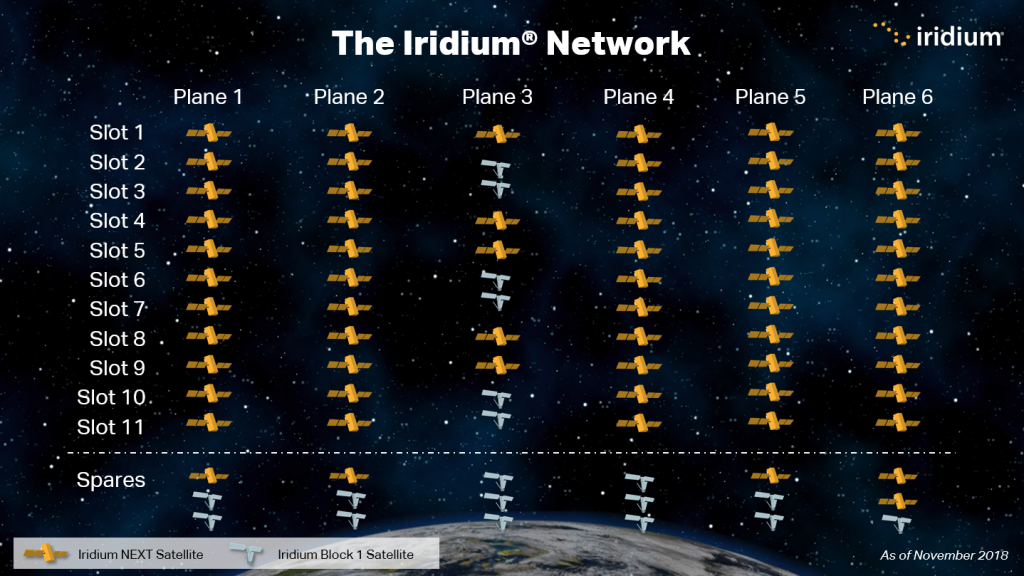 Now, with 65 Iridium NEXT satellites in orbit (60 active and 5 in-orbit spares), we are just one launch away from completing our network upgrade. As we near the end of the Iridium NEXT launch mission and say #flarewell to our Block 1 satellites, we are so excited about the new possibilities that the network will enable. Unlike the original network, which was designed with a focus on voice communications, the Iridium NEXT network will carry innovative hosted-payloads like the Aireon aircraft surveillance and tracking system, and enable connectivity for voice and data, allowing for stronger IoT capabilities, critical safety communications, and reliable, enterprise-grade broadband through Iridium CertusSM!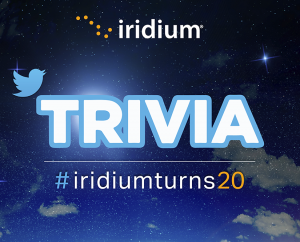 We hope you'll join us in celebrating today's milestone with Iridium trivia on Twitter, and follow along as our team shares their favorite memories at Iridium using #IridiumTurns20!