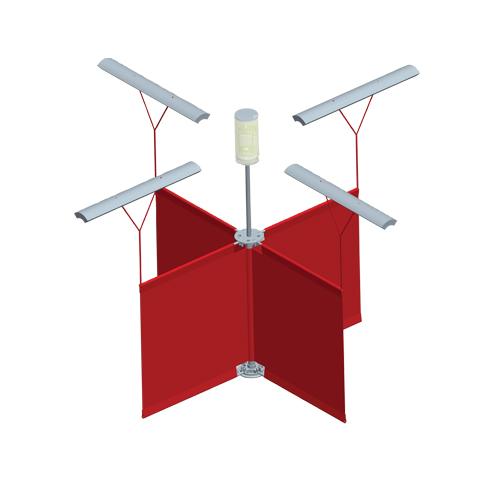 Overview
The iSLDMB (Iridium Self Locating Datum Marker Buoy) is designed to specifically meet the stringent performance requirements of coast guards for Search and Rescue (SAR) operations in the open ocean. Based on the reliable CODE/Davis style oceanographic surface drifters, the iSLDMB is an inexpensive expendable drifter which is equipped with a bi-directional Iridium satellite transceiver and a GPS receiver.
Due to the urgency of SAR situations, the SLDMB is able to communicate critical data within real-time to the end-user. The onboard electronics provide Global Positioning System (GPS) positioning, sea surface temperature (SST) and battery voltage. Iridium Satellite telemetry is used to send data to customers via e-mail. Robustly designed, the SLDMB is air certified and can be deployed with ease from helicopters, ships, fixed wing and rotary wing aircraft.
This 3rd generation SLDMB comes in two configurations; ship deployable and aircraft deployable. The ship deployable configuration is easily accessed from its minimal packaging while the air deployable configuration's packaging conforms to NATO A-Size restrictions. Data is sampled in Rapid SAR Mode for 24 hours, then Standard SAR Mode for the next 48 hours and finally in Scientific Mode thereafter. Once deployed, the iSLDMB will begin sampling and transmitting data immediately During an SAR operation, iSLDMBs are deployed via aircraft or boat to mark critical cargo (human or otherwise). As the cargo drifts away from the originating location of the incident, the iSLDMB will move with it providing real-time information to the Coast Guard/Navy so the cargo can be rescued.