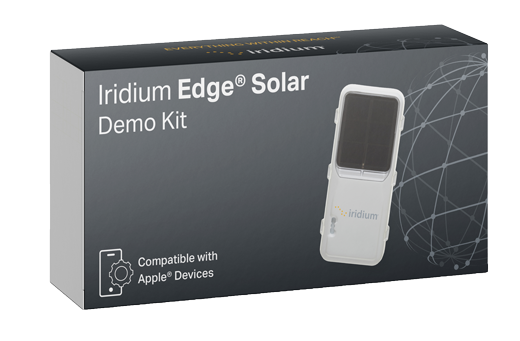 Iridium Edge® Solar Demo Kit
Continuing to follow our customers in some of the most remote parts of the world, we created Iridium Edge® Solar, a ruggedized and efficient asset-tracking tag that is extremely adaptable and can be used in a variety of applications including heavy equipment, transportation and logistics, government, agriculture, maritime and renewable energy. We know our customers. We understand the critical need for fleets and assets to maintain reliable connectivity. Through our newest product from the Iridium Edge Family, Iridium allows you to deploy long-term asset management and monitoring solutions in the harshest environments on earth.
Are you looking for ways to reach remote markets? Are you wondering if satellite communications can offer the scalability and reliability that you need for business operations? Then evaluate Iridium® IoT!
Purchase an Iridium Edge Solar Demo Kit today and unleash all the powerful features of the Iridium Edge Solar. The kit will allow you to quickly evaluate the device's two-way communications and wireless integration capabilities via BLE for sensor and smartphone applications from the world's only truly global satellite IoT network.
Harnessing the energy of the sun, Iridium Edge Solar's self-charging battery is long-lasting and virtually maintenance free. Ready to use out of the box, Iridium Edge Solar is easily affixed with no need for hard-wired connections. Simply remove the device from the box, stick it onto the asset you wish to monitor and quickly activate the device on an especially dedicated web portal. You can also use your own back-office applications and mobile apps to securely configure Iridium Edge Solar over the air.
The Iridium Edge Solar demonstration kit is sold at an affordable $350. It provides users with free airtime for six months, mounting hardware and data allowance of 25kB per month. After the demonstration period is over, the Iridium Edge Solar device will be automatically deactivated. If you love the device, contact Iridium before the demonstration expires to continue taking advantage of the global connectivity enabled through Iridium Edge Solar.
Learn more about the Iridium Edge Solar product, including key features and the benefits that can only be enabled through the Iridium satellite network.
Ready to evaluate Iridium IoT? Here is what you need:
Purchase Iridium Edge Solar Demo Kit
Activate Iridium Edge Solar on the Iridium Edge Family Demo Portal
Choose installation method for your device*
Go outside and install Iridium Edge Solar on the asset or vehicle you wish to track
Remove the magnetic tab from device to begin service






*For mounting instructions, please read the Iridium Edge Solar user manual
For more information, read the Iridium Edge Solar Quick Start Guide or email: sales@iridium.com.
Provisioning Issues: Contact Iridium at datasupport@iridium.com.
Resources
Comparison Chart
Last Updated
Size

Mar 31, 2021
234.3 KB

Size:
234.3 KB
File Name:
CC_Iridium+Edge+Family+Products_Comparison+Chart_033121.pdf
Vendor:
Iridium
File Type:
PDF
Description:

Chart comparing the differences between the Iridium Edge Family's line of products, which include the Iridium Edge, Iridium Edge Pro and the Iridium Edge Solar.
Dated: March 31, 2021

Products:
Iridium Edge®, Iridium Edge® Demo Kit, Iridium Edge® Pro, Iridium Edge® Solar, Iridium Edge® Solar Demo Kit
Verticals:
IoT

Product Details

Nov 19, 2020
371.45 KB

Size:
371.45 KB
File Name:
DS_Iridium+Edge+Solar_Datasheet_111920.pdf
Vendor:
Iridium
File Type:
PDF
Description:

Product Datasheet for Iridium Edge Solar
Dated: November 19,2020

Products:
Iridium Edge® Solar, Iridium Edge® Solar Demo Kit
Verticals:
IoT

Use Cases & Infographics

Mar 30, 2021
212.86 KB

| | |
| --- | --- |
| Size: | 212.86 KB |
| File Name: | UC_Iridium+Edge+Solar_Use+Case_Connected+Boat_091620.pdf |
| Vendor: | Iridium |
| File Type: | PDF |
| Description: | Use Case describing how the Iridium Edge Solar can be utilized within a Connected Boat |
| Products: | Iridium Edge® Solar, Iridium Edge® Solar Demo Kit |
| Verticals: | Maritime |
| Applications: | Connected Ship |

Mar 30, 2021
238.37 KB

| | |
| --- | --- |
| Size: | 238.37 KB |
| File Name: | UC_Iridium+Edge+Solar_Use+Case_Heavy+Equipment_091620.pdf |
| Vendor: | Iridium |
| File Type: | PDF |
| Description: | Use Case describing how the Iridium Edge Solar can be utilized in Heavy Equipment |
| Products: | Iridium Edge® Solar, Iridium Edge® Solar Demo Kit |
| Verticals: | Land Mobile |
| Applications: | Heavy Equipment |