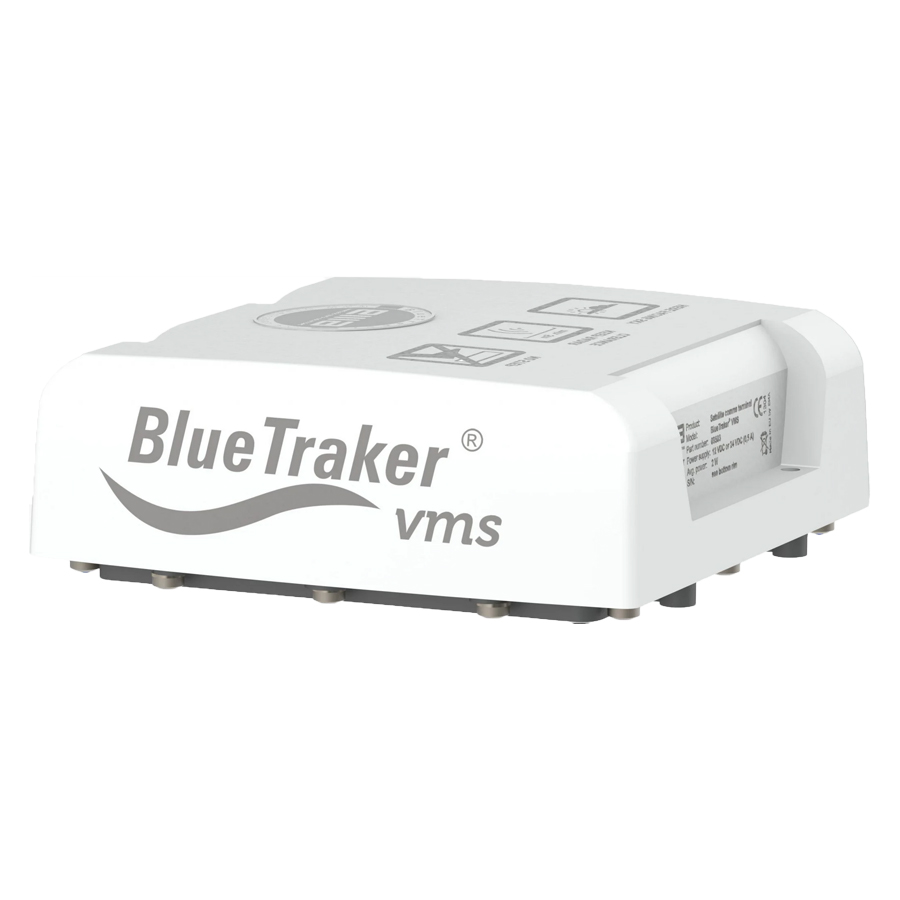 BlueTraker® VMS

Manufacturer : EMA D.O.O.
Tracking, Monitoring, Control, and Surveillance of Fishing Vessels

72 Hour Operating Autonomy on Built-in Backup Battery

Dual Communication Channel (Satellite and GSM/GPRS)

eLogbook Ready

Simple, User-Friendly VMS Combination of Devices and Services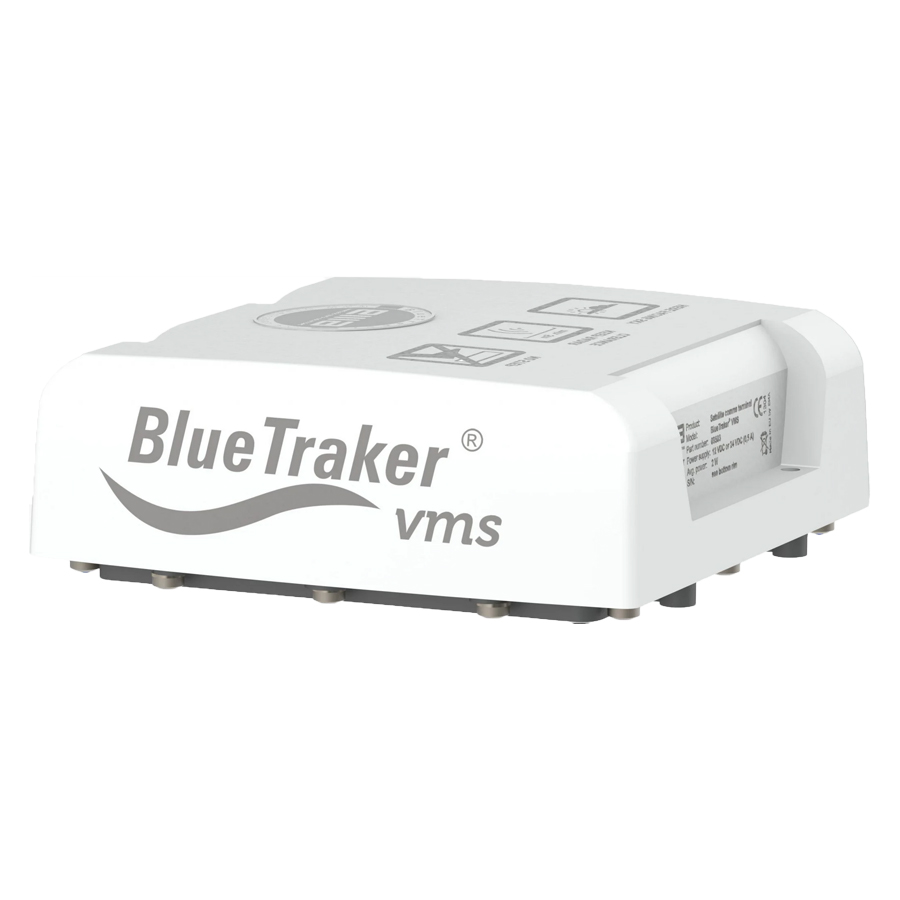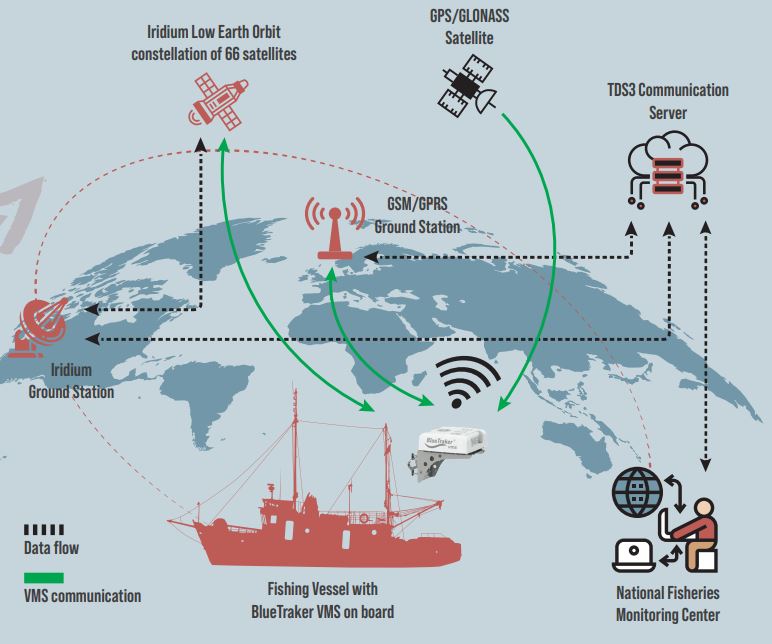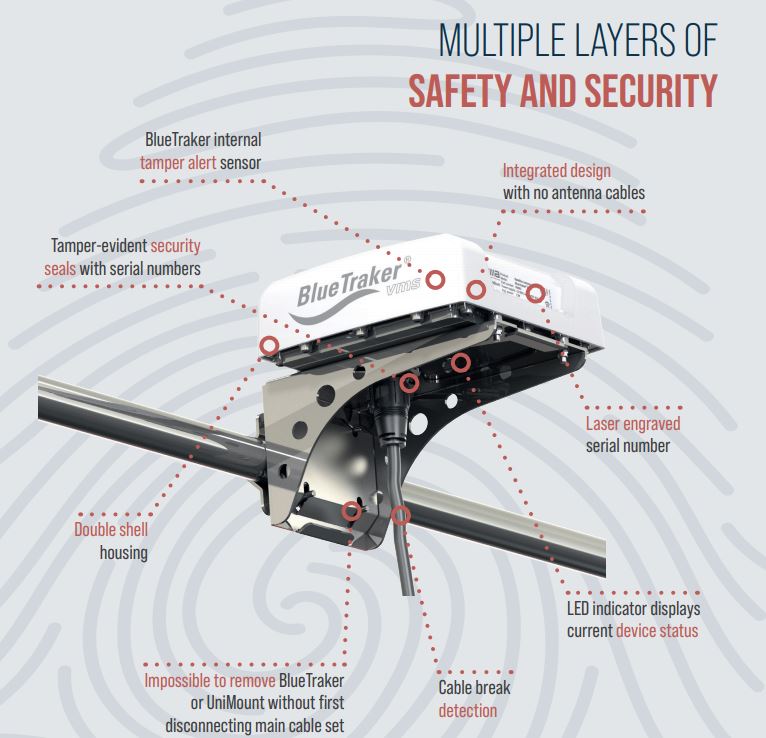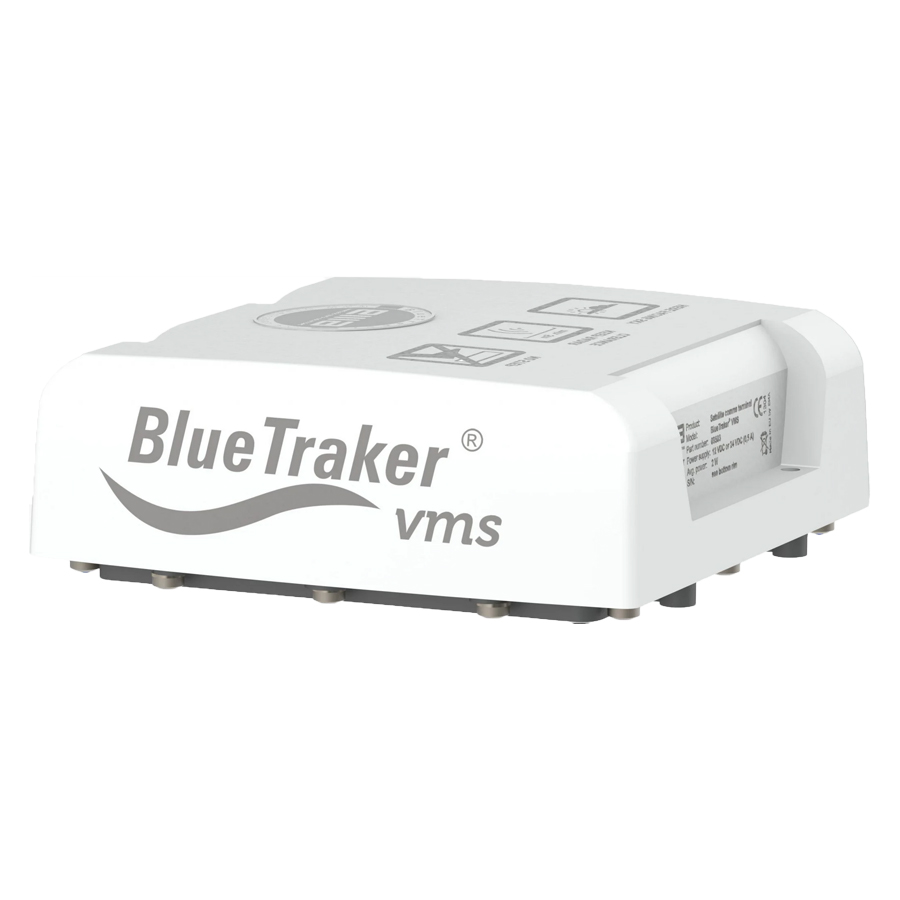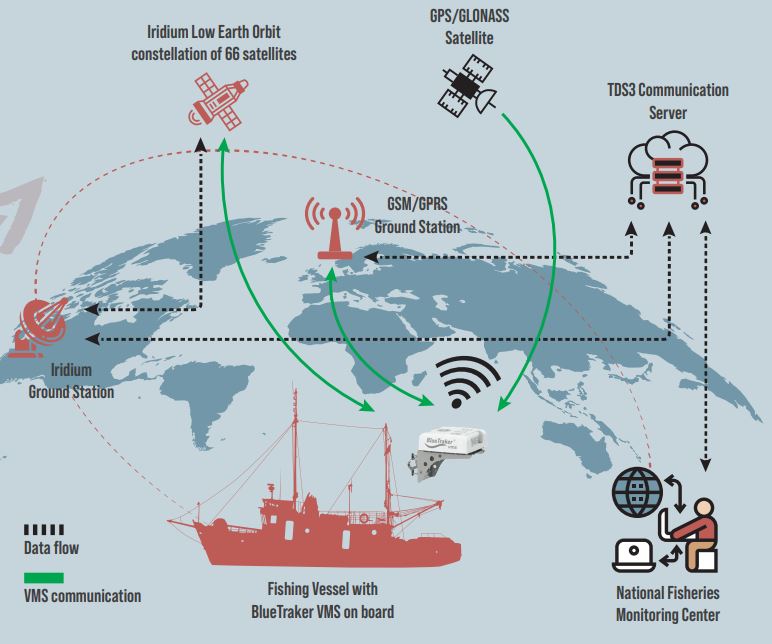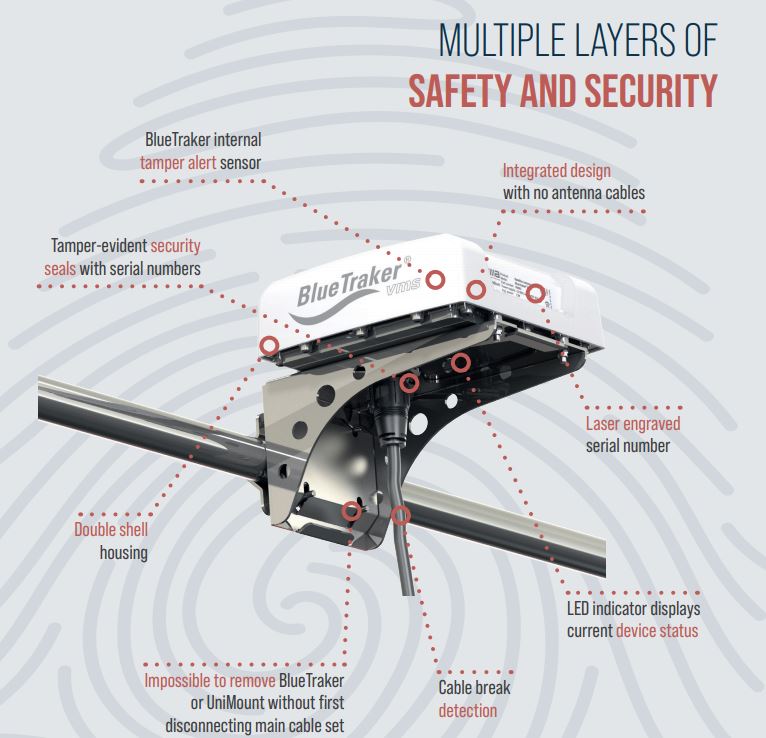 BlueTraker® VMS
---
Tracking, Monitoring, Control, and Surveillance of Fishing Vessels

72 Hour Operating Autonomy on Built-in Backup Battery

Dual Communication Channel (Satellite and GSM/GPRS)

eLogbook Ready

Simple, User-Friendly VMS Combination of Devices and Services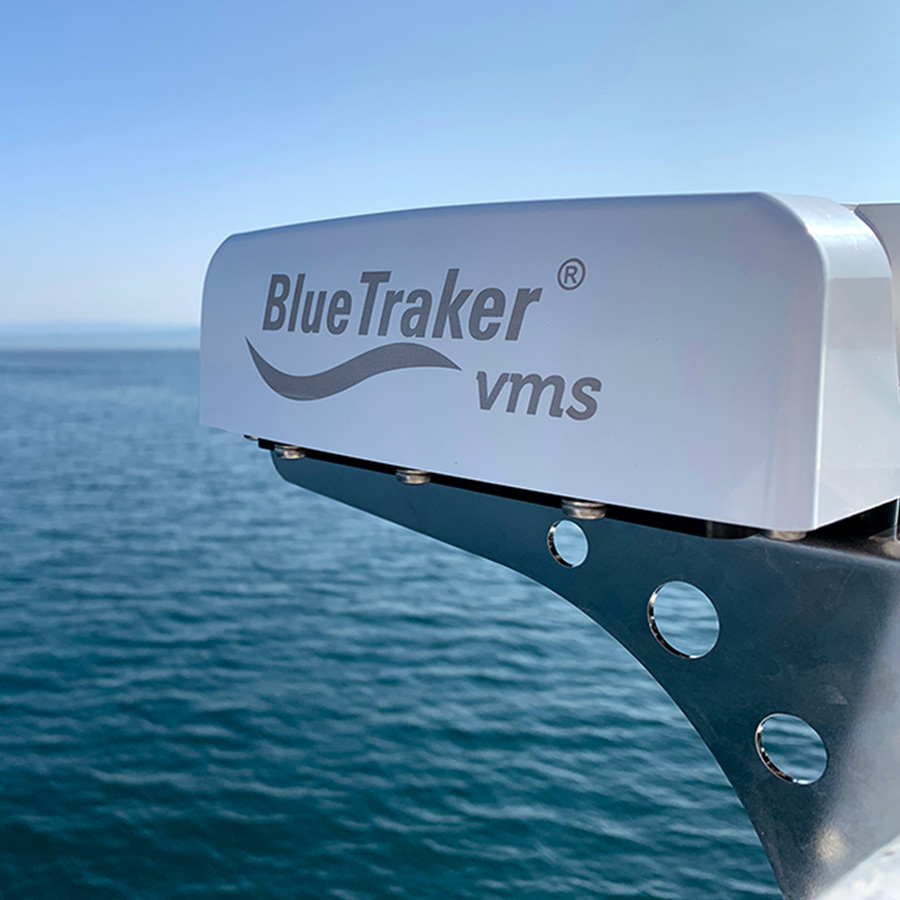 Tailored for 21st Century Vessels
BlueTraker® VMS transponder is a communication terminal specifically developed to monitor fishing vessels globally. It uses hybrid satellite and GSM/GPRS communication channels to transmit position, speed and heading in real-time to the fisheries management authority. BlueTraker VMS transponder can also send catch reports as well as fishing effort data from our BlueSenz range of sensors. Moreover, the BlueTraker VMS transponder offers bidirectional communication between vessel and Fisheries Monitoring Center via Bluetooth using our smartphone application (BTApp) or through ConBox 2018 LCD device.
Truly Global GPS Tracking
The onboard BlueTraker VMS device collects vessel positions using GPS satellite signals and sends them together with speed, heading and sensor data to the telematic data server.
All-in-One Integrated Terminal
All electronics inside a single terminal housing: Central Processing Board, GPS/GLONASS receiver, GPRS modem, Iridium modem, backup rechargeable battery
Iridium enables tracking fishing vessels with the BlueTracker VMS wherever they might be, including Sea Area A4, for truly global tracking of even dispersed fleets
Two-way communication is available in real-time, allowing information to be relayed once every 15 minutes
Hybrid Communication Channel
Can be configured according to several reporting schemes with economic option to use satellite communication channel while navigating high seas and GPRS in coastal or GPRS covered waters
Integrated mechanical, electrical and electromagnetic safety and security features to avoid tampering/fraud and providing mariner safety, including IN-PORT and ALERT buttons
Data Encryption & Authentication
Prevents unauthorized data modification, by using asymmetric 256bit key authentication; Checks authorization rights assigned to all periphery prevents to avoid sending unauthenticated external data
Minimum (100), geographical areas (polygons and associated rules) in the form of geofences can be remotely uploaded, edited, activated and deactivated for each terminal
Flexible Options, Fixed Monthly Costs
A solution for vessels at sea needing global communications at an affordable price
Variety of connectivity and integration possibilities offers a virtually unlimited number of onboard gear sensors to be monitored directly from the customer's site
Over-The-Air Software Upgrades (OTA)
Upgrade software wherever and whenever to constantly keep the VMS running at its full capacity
Related Case Studies
A tracking device by Iridium provides dependable and continuous monitoring of several hundred vessels simultaneously.
Product Specifications and Certifications
| | |
| --- | --- |
| Mechanical | |
| Dimensions (L x W x H) | 67mm x 198mm x 198mm |
| Weight | 1140 g |
| Environmental | |
| Operating Temperature Range | -25 to +60 (Standard); -40 to +60 (Arctic) ℃ |
| Operating Humidity Range | 10 to 100 (Including Condensation) % RH |
| Storage Temperature Range | -25 to +70 ℃ |
| Durability Standard | MIL-STD-810G |
| Ingress Protection | IP68 (Depth 6m, Duration 30 min) |
| Vibration Standard | IEC 60945:2002, 5 Hz - 13.2 Hz Sweep Sine, Displacement 0.001 m, Sweep Rate 0.5 oct/min; 13.2 - 100 Hz Sweep Sine, Acceleration Amplitude 7 m/s-2, Sweep Rate 0.5 oct/min |
| Antenna | |
| Antenna Design | Custom |
| Type | Integrated, Low Profile, Low Elevation, Optimized, High Gain |
| RF Interface | |
| Frequency Range | 1616 to 1626.5 MHz |
| GPS | |
| Accuracy, Positional | 5 m |
| GPS TTFF | Cold start 28 s, Hot start < 1 s, sensitivity -167 dBm @ tracking s |
| Battery | |
| Capacity | 5300 mAh |
| Battery Type | Li-Ion Rechargeable Battery |
| Power | |
| Input Voltage Range | 9 V DC to 36 V DC |
| Network | |
| Additional Networks | GSM/GPRS Channel: Quad Band 850/900/1800/1900 MHz, Global SIM, supplied with the transponder |
Fully Approved and Certified
The BlueTraker VMS terminal is fully compliant with the laws and regulations covering vessel monitoring systems based on the experience gained from the fisheries industry. All BlueTraker terminals are IEC 60945 certified and comply with IP68/IP69K. The terminals have been designed to comply with the highest security & safety requirements expected of the customers, making the installation as tamper-proof as possible.
Compliance Approvals, Certifications, & Standards
IEC 60529/IP68 – Water and dust ingress protection; European product safety CE mark
IEC 60945 – Maritime electronic navigation and communication equipment and systems
MIL-STD-810G – Operating temperature test
ISO 7367-2:2004 – Electrical transients along supply lines
ISO 16750-2 – Environmental conditions and testing for electrical and electronic equipment – part two; electrical loads – load dump
ICE 60068-2-1 – Low temperature functional test
Germanischer Lloyd Type Approved
Russian Maritime Register of Shipping Type Approved
U.S. Coast Guard Certified
DNV GL Type Approved
VTU Type Approved
Login to access additional resources
Resources
Case Study
Last Updated
Size
Document Name
Case Study: Keeping Fishing Vessels in Compliance
File Name
CS_Keeping Fishing Vessels in Compliance_061121.pdf
Description
Case Study - Iridium Connected vessel monitoring system provides monitoring and control of fishing vessels.
Version Date
June 11, 2021
Applications
Tracking, Vessel Monitoring System
Related Products
Iridium 9602 Module, BlueTraker® VMS
Related Services
Iridium Short Burst Data® (SBD®)