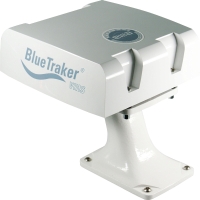 Vessel Monitoring Systems (VMS) have greatly increased the potential efficiency of monitoring, control and surveillance of fishing vessels. In the last few years several countries have introduced VMS to enable the activities of fishing vessels to be monitored and for these vessels to actively report on catches to the fisheries management authority.
Most common VMS transponders communicate telematic data only through satellite networks, leaving customers – especially smaller independent operators – paying high-position reporting costs.
The key to an advanced VMS solution is the BlueTraker® VMS transponder. It is a mechanically and electrically fully-integrated device, avoiding any need to connect additional external components for tracking and monitoring. All its components are packed inside a very robust, double shell housing. This level of integration combined with 'open detect' seals, protects from the theft or mis-application to which "cable rich" modular devices are vulnerable.
EMA's VMS tracks your vessels wherever they might be. You will cut costs automatically and effectively by choosing BlueTraker® VMS – an intelligent hybrid tracking transponder. With our VMS, position reporting can be more frequent, expenses and costs lower.
How it Works
Fleet monitoring is managed through connectivity of three key elements:
BlueTraker® VMS Transponder
BlueTraker® VMS is a wireless gateway with an embedded GPS receiver and antennas. BlueTraker® VMS is used for transmission of geolocation and catch information via Iridium satellite or the GPRS network. This robust tracking device allows 72 hours of independent operation. It is installed above the deck as no climatic environment is too tough for the BlueTraker® VMS device.
Telematic Data Delivery
TDS: Telematic Data Server – collects data from the BlueTraker® VMS transponder. After processing, the server sends data to the VMS monitoring software. This mapping and reporting software application usually resides at FMC premises. Data is therefore sent using internet and Web Services Protocols. VMS: monitoring application – user-friendly fleet monitoring software which processes and displays your data on the map and generates reports for the FMC.
FMC – Fisheries Monitoring Centre
(Monitoring centers, controlled by maritime authorities.)
The onboard BlueTraker®VMS device collects vessel positions using GPS satellite signals and sends them together with speed, heading and sensor data to the telematic data server. BlueTraker®VMS sends data via the GSM (GPRS/SMS) network when the boat is a few miles from shore, and via the Iridium satellite network when on open seas. The Telematic Data Server (TDS) processes the received data and delivers it in the correct format to the VMS fisheries monitoring software. Every piece of important information about the monitored vessels is displayed on the map ready for fleet management decisions. The BlueTraker®VMS transponder offers bidirectional communication to and from the FMC and allows the monitoring authority to poll vessel information in real time.
Technical Specifications & Features
Hybrid VMS transponder for fisheries- Dual communication channel: satellite communication (Iridium SBD service) and terrestrial GSM (GPRS/SMS)
eLogbook ready
Tracking, monitoring control and surveillance of fishing vessels
Simple, user-friendly VMS combination of devices and services
High quality, cutting-edge technology, Fully integrated and robust design
An exceptional 72 hours of operating autonomy (embedded back-up batteries)
Over-the-air software upgrades (OTA)
Flexible options, fixed monthly costs
Data delivery to any third party VMS software application
Fixed airtime subscription for data delivery
No roaming costs
Worldwide coverage
Real time position reporting down to once every 15 minutes
External Power Supply: 9V – 36V DC / 0.5 A
CPU and Memory: Philips/ARM based; 90.000 messages storage memory
Battery Back-up: Li-Poly 3600 mAh for -25 °C to +55 °C; optional 7200 mAh / 72 hrs authonomy
Digital Inputs: 3 opto isolated digital inputs
Digital Outputs: 2 Relay outputs 100 V/ 0.8 A/ 30 W
Integrated Antennas: GPRS, RFID, Iridium, GPS
Installation: External-mast, Roll-bar, etc.
Mounting Accessories: UniMount, MastMount, TowerMount
Dimensions (w x h x l): 198 x 67 x 198 mm (7.80 x 2.64 x 7.0 in.)
Weight (incl. batteries): 1100 g (38.83 oz)