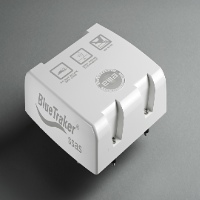 The BlueTraker® SSAS (Ship Security Alert System) terminal is a self-contained unit with pre-programmed tracking and security alerting functionalities. The system offers two or more safety buttons that are installed on on-board the vessel. The devices' unique double-shell housing with a ventilated layer between gives it an added protection against low and high temperatures and winds. All integrated design ensures the main terminal unit is away of harms reach in order to perform its function without interventions. It can be installed on the highest point of the vessel.
Two security buttons to sound the alarm in case of an emergency situation.
Pole-to-pole coverage through use of the Iridium Satellite network.
Ability to withstand the harsh maritime conditions.
Tracking and Alert Messaging
In addition to SOLAS security alert requirements, the BlueTraker ssas device is capable of position data report transmissions for day-to-day tracking purposes. The ship's position can be monitored on the service provider's web tracking site.
On board security alert systems are governed by various internationally agreed rules and regulations as promulgated by the IMO International Maritime Organization), as recommended by its' associated sub – committees, principally the Maritime Safety Committee (MSC).
Key Benefits:
True global coverage
Fully integrated design, easy to install
Various mounting and installation options
Low total lifecycle cost
Easy integration with application software
Provided web based GUI for device monitoring and configuration
Key Features:
Iridium Satellite network offering A4 Sea Area coverage
Rugged outdoor housing
Integrated GPS receiver
Positions logged to internal memory
Integrated backup battery
Low-power mode for extended life on backup battery
Inherent Safety and Security:
Mechanical, electrical and electromagnetic safety and security features
Unique serial number engraved on the housing
Tamper detection built-in
Antenna blockage detection
Security seals to prove unauthorized access
Main cable open loop and short circuit detection
External power failure tolerant due to back-up battery
System diagnostics reports
Complete SSAS Solution:
BlueTraker® SSAS terminal ConBox SSAS
Primary and secondary alert buttons
Mounting accessory (UniMount or RailMount)
Includes main cable and alert cables (various lengths)
Benefits to Ship Owners:
Web based management platform
Data service subscription available
Web-based fleet tracking application
Technical Specifications & Features
True Global Coverage:
Iridium satellite network
Sea Area A4 coverage
Engineered for Cold Environment:
Capable of surviving temperatures down to -50°C at polar regions
Double shell-ventilated housing combats accelerated cooling in windy environments
Smart thermostatic temperature control for "Cold State Power-up"
Special, arctic grade power supply cable
Simple Yet Comprehensive User Interface:
Primary SSAS alert button
One or more secondary SSAS alert buttons
Alert message indicates whether primary or secondary button was activated
Operation mode selector (test mode/normal mode)
Protection against unintentional alert triggering
Fully Approved and Certified:
SSAS Type Approval
IEC60945 certified
IP 68, IP 69K compliant
Iridium approved
CE Mark