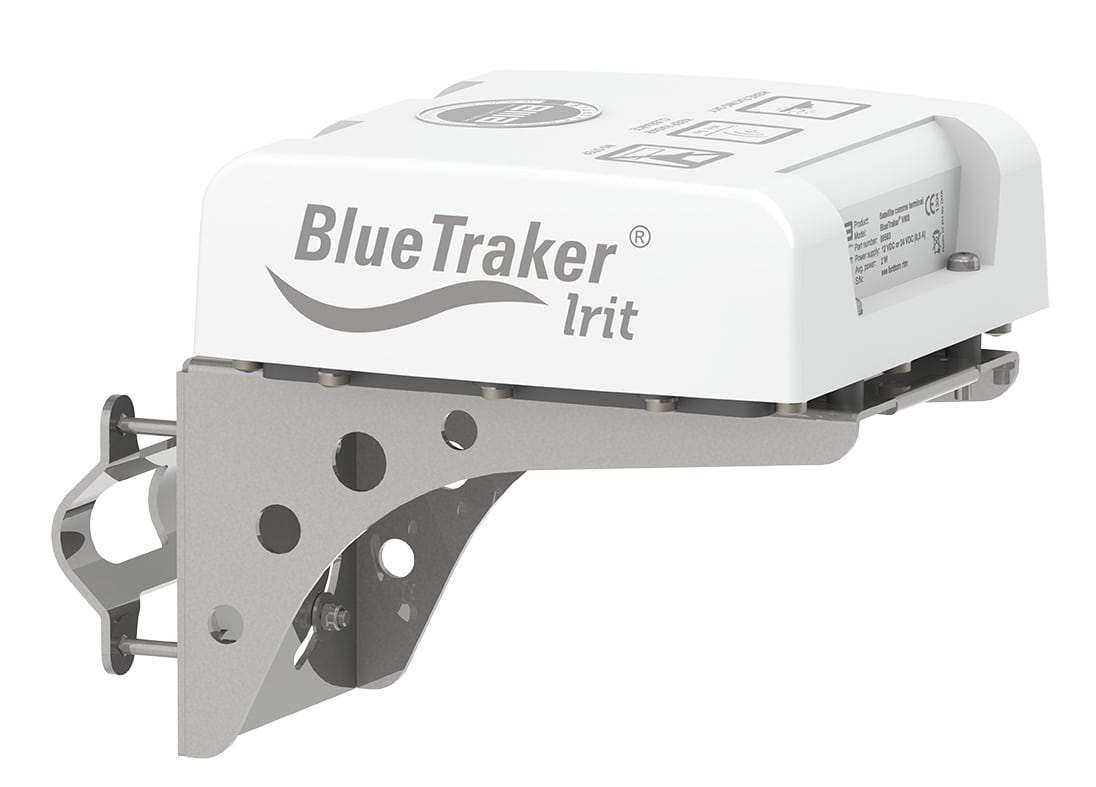 BlueTraker® LRIT improves maritime safety and security by monitoring the movement of cargo and passenger ships with the best cutting edge technology.
BlueTraker® LRIT is EMA's product that is considered the benchmark for sophisticated automatic track analysis in the maritime domain.
The key to an advanced LRIT solution is the BlueTraker® LRIT transponder. It is a mechanically and electrically fully integrated device, avoiding any need to connect additional external components for tracking and monitoring. All its components are packed inside a very robust, double shell housing. This level of integration combined with 'open detect' seals, protects from the theft or mis-application to which "cable rich" modular devices are vulnerable.
How it Works
Fleet monitoring is managed through connectivity of three key elements:
BlueTraker® LRIT Transponder for Ships
BlueTraker® LRIT is a wireless gateway with an embedded GPS receiver and antennas. BlueTraker® LRIT is used for transmission of Automatic Position Report via Iridium's truly global satellite network. This robust tracking device is installed above the deck as no climatic environment is too tough for the BlueTraker® LRIT.
Telematic Data Delivery Via Communication Service Provider (CSP)
After processing, the server sends data via international data exchange to LRIT monitoring software. This mapping and reporting software application resides at flag data center premises. Data is therefore sent using internet and Web Services Protocols.
Ship Monitoring at Data Centre (DC)
LRIT monitoring application: User-friendly fleet monitoring software which processes and displays data about your ship on the map and generates reports for the flag DC.
The onboard BlueTraker®LRIT device collects ship positions using GPS satellite signals and sends them together with the identity of the ship, date and time of the position to the collecting telematic data server via Iridium's truly global satellite network. The telematic data server processes the received data and delivers it in the correct format to the DC monitoring software. Every piece of important information about the monitored ship is displayed on the map ready for fleet management decisions. The BlueTraker®LRIT transponder offers bidirectional communication to and from the DC and allows the monitoring authority to poll ship information in real time.
For more information, visit our website.
Technical Specifications & Features
Complete coverage system for all Sea areas including polar Sea area above 70 degrees latitude.
100% Above the Deck installation
Power Supply load dump protected to 250 V DC
Extended Power Supply cable run up to 100 m
Ready to operate in ARCTIC areas with special (optional) functionality: the BlueTraker®LRIT ARCTIC is operable down to -55 degrees Centigrade
Tracking, monitoring control and surveillance of ships
Simple, user-friendly LRIT combination of devices and services
High-quality, cutting-edge technology
Flexible service options for optimized monthly costs
External power supply: 9V – 36 V DC / 0.5 A
CPU and memory: Philips/ARM based
Integrated antennas: Iridium, GPS
Installation: External-mast, roll-bar, etc.
Mounting accessories: UniMount, MastMount, TowerMount
Dimensions (w x h x l): 198 x 67 x 198 mm (7.80 x 2.64 x 7.80 in.)
Weight incl. batteries: 1100 g (38.83 oz)