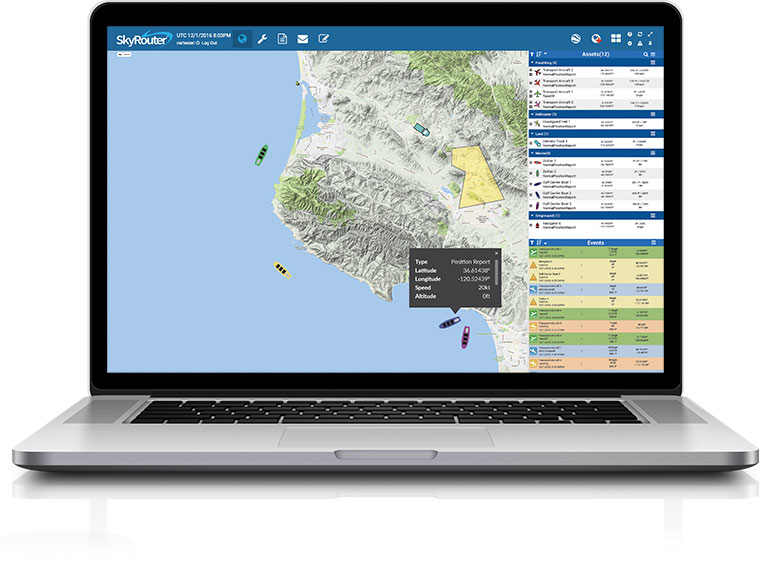 Blue Sky Network - SkyRouter
Overview
A Centralized, Secure Web Portal with Extensive Capabilities
Get the industry-leading fleet tracking and communication tool to manage your fleet, lower operating costs, and improve safety.
SkyRouter is Blue Sky Network's cloud-based fleet management solution that can track, monitor, and provide communications for all your assets, anywhere in the world, from one interface.
SkyRouter communicates with Blue Sky Network hardware to provide a secure web interface that displays positions on various overlay maps. It also handles two-way message traffic, events, alerts, and telematic data. SkyRouter lets you monitor, control, interact, and communicate with your assets in real-time, from anywhere.
SkyRouter In Action
Track, manage, and communicate with your aircraft, ships, vehicles, and personnel.
Through various satellite and GSM providers, Blue Sky Network tracking solutions bring mission-critical functions to your fingertips. Our portfolio of handheld, portable, and installed devices can meet the needs of any operation. Each device is compatible with SkyRouter, letting you choose the right solution for your needs.
Maps:

 Innovative overlays, geofencing, single and multi/screen views, and real-time updates

Security:

 Hosted on fully redundant servers controlled by a secure service gateway

Reporting:

 Automatic event triggers, customizable reporting intervals, extensive device usage, and invoice data reporting

Communication:

 Two-way messaging, emails, SMS, short codes, emergency, and custom event and alerting capabilities

Accessibility:

 Touch screen friendly on any Android or iOS device
Mobile Tracking App for SkyRouter
The SkyRouter App is available for all Android and iOS mobile devices. It allows any authorized user with an internet connection to access SkyRouter and manage their fleet from their smartphone or tablet.
In the event of an alert, the SkyRouter App instantly shows you information about your assets in the field and to communicate to your team while out of the office.
Technical Specifications & Features
Real-Time Tracking & Mapping