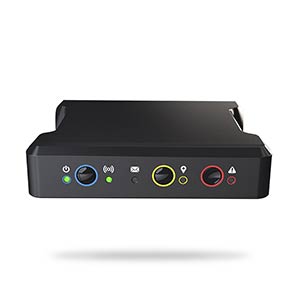 By : Blue Sky Network, LLC | Model : 300500
Real-time Asset Tracking, Mission Coordination, Analytics, & Situational Awareness
Vehicle Integration into Ignition, OBD, & Infotainment Systems without User Interaction
Cellular: Multiband (GSM, USMTS, LTE CAT)
Automatically Detect Trips, Identify Drivers & Passengers; Generate Analytics About Usage & Behavior
Up to 75 Geofences (Polygon & Circular) with User Accessible SIM, GPS & Bluetooth / RFIS
Customize: Update/ Upgrade / Configure Remotely with Bluetooth or Cellular
Security: Available AES-256 Encryption of All MO/MT Communication
The HawkEye 5500 (HE5500) is a dual-mode, real-time tracking and vehicle management solution. With full integration of on-board systems, support for both light and heavy-duty vehicles, two-way messaging, remote emergency switch, audible alerts, and customizable application integration, the HE5500 is in a class of its own.
The HE5500 utilizes 2G/3G/LTE and the Iridium satellite network in order to provide high bandwidth global always-on coverage with the best quality and highest resolution tracking and communication in the market.
Offload diagnostic, user, and other on-board system data over AES- 256 encrypted communications with your fleet operations center or via tailor-made Bluetooth connected application. Customize reporting rates based on movement or location and pro¬vide driver feedback when safety violations occur.
Features
Support for All Vehicles
RFID & Bluetooth for Driver & Cargo Identification
2-way Communications via Bluetooth
Real-time Driver Behavior Notifications
Advanced AVR 2.0 Geofencing
OBD/BUS Integration
Customizable Smart Events
Over-the-air Configuration
Accelerometer for Crash Detection & Harsh Driving
Customizable Speeding Alerts
Idling & Movement Notifications
Custom & Manual Waypoints
I/O Ports for a Multitude of Sensors
Satellite & Cellular (Dual-mode) Connection
Benefits
Improve Safety: The HE5500 offers automatic monitoring and alerting on driver safety and emergency situations, which improve driving habits, reduce accidents, and decrease the time to respond to emergencies.
Reduce Operating Costs: Get proactive monitoring of vehicle health via maintenance warnings, and excessive idling alerts for fuel usage. Saving even a few minutes of idling time across a fleet leads to huge fuel savings.
Streamline Compliance: Many fleets require telematics solutions to be integrated into their daily operations in order to be compliant with current or future contract providers. The HE5500 ticks every checkbox for most providers.
Gain Fleet Insights: Automatically detect trips and identify drivers, passengers, and cargo. Generate analytics about usage, performance, and behavior. Get notified when custom-defined boundaries are breached, and more.
Use Cases
Military, Law Enforcement, Private Security, VIP Transport, Trucking, Border Protection, Search and Rescue, Disaster Response, NGOs, Remote & Austere Operations, and more.
Technical Specifications
Hardware Features
Physical Specifications
| | |
| --- | --- |
| Dimensions | 140 x 110 x 32 mm (5.5 x 4.3 x 1.25 in.) |
| Weight | 450g (1lb) |
| IP54 | Rating |
Electrical
| | |
| --- | --- |
| External | 10-32 VDC (12 Watts Peak) |
| Internal Battery | 18650 Li-ON (PCB Protected) (3.7 v @ 3500 mAh) |
Power
| | |
| --- | --- |
| Charge | ~5 Watts |
| Transmit | ~3.4 Watts |
| High Power Run | ~2 Watts |
| Low Power Run | ~0.4 watts (~1 Year Standby) |
Environmental Specifications
| | |
| --- | --- |
| Operating Temperature | -40°C – +85°C |
| Storage Temperature | -40°C – +50°C |
| Battery Charging Temperature | 10°C – +45°C |
IO/Pins
(2x) Digital IN (Pull Pp, Max 35v)
(2x) Ddigital OUT (Pull Down)
(1x) Analog IN
(4x) Remote Emergency Switch w/ LED Indicator
(1x) Ignition Sense
(1x) 1-Wire
(1x) RS-232
Connectivity
| | |
| --- | --- |
| GSM (2G) Bands | 850, 900, 1800, 1900 (Quad Band) |
| UMTS (3G) Bands | 800, 850, 900, 1900, 2100 (Upon Request) |
| LTE CAT M1/NB1 Bands | 2-5, 8, 12, 13, 20, 25, 28 |
| Built-in Cellular Antenna with Optional External SMA | Yes |
| User Accessible SIM | Yes |
Certifications
FCC, CE, ISED, ITU, RCM, GITECKI, REACH ROHS, Iridium Approved, EC60945 (IEC 60945)
Maritime Navigation & Radio Communication Equipment (EMC) Emissions & Immunity Tested
Software Features
Reporting
Customizable Report Rate While Stationary & Moving
Turn Detection Reporting
Geofencing
Up to 75 Geofences (Polygon & Circular)
Audible Tone When Crossing Boundary
Advanced Variable Response Geofences

Change Report Rate When Inside (AVR 1.0)
Identify Geofence as No-go Zone (AVR 1.0)
Identify Geofence as No-report Zone (AVR 1.0)
Stacked Geofence Support (AVR 2.0)
Speed Limit Support (AVR 2.0)
Identify Geofences as Depot / Base (AVR 2.0
Speeding & Idling/Movement
Remotely Configurable Speed Limit, Geofence Specific Speed Limit, Configurable Local Audible Tone
Excessive Idling / Fuel Use Detection
Movement from Stationary Notification