« Back
Swoop Aero Integrates Iridium Certus® 100 into Kite™ UAV, Expanding Impact-Focused Operations Worldwide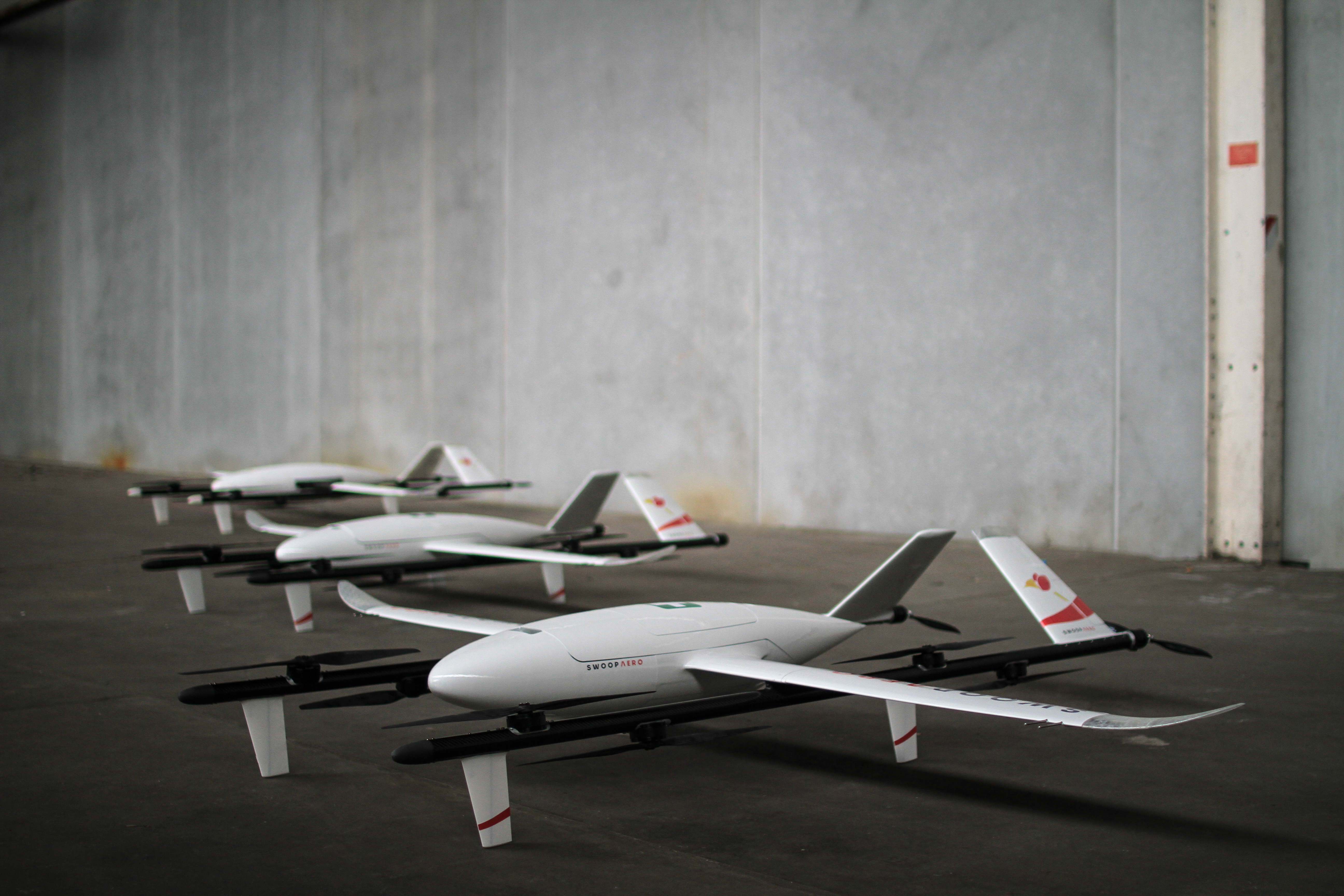 MCLEAN, VA., April 20, 2022 – Iridium Communications Inc. (Nasdaq: IRDM) is proud to share that Unmanned Aerial Vehicle (UAV) logistics company Swoop Aero has integrated the Iridium Certus® 100 "midband" service into Kite™, their most advanced aircraft to date. Integrating Iridium Certus 100 connectivity with Kite™ drones unlocks new opportunities for Swoop Aero to expand its sustainable UAV logistics and purpose-driven operations across the planet.
Dedicated to sustainable and scalable operations, Swoop Aero's Kite aircraft has Iridium Global Line of Sight® (GLOS®) connectivity to operate safely across the world and support a range of activities, including emergency disaster management, medical logistics, and search and rescue operations. The company recently supported COVID-19 operations via drone and continues to expand globally with the integration of Iridium® connectivity.
"Swoop Aero leads with an innovative approach to air logistics and delivering essential supplies and services to those that need it most," says Bryan Hartin, Executive Vice President, Iridium. "By integrating Iridium Certus technology into their operations, Swoop Aero is able to expand their UAV operations to support more missions, making a real difference, even in the farthest corners of the globe."
Optimized for solutions with strict size, weight, and power requirements, Iridium Certus 100 provides reliable, truly global connectivity for vehicles, vessels, and aircraft all over the world. With IP data speeds up to 88 Kbps and high-quality dual voice lines capability, Iridium Certus 100 is ideal for mobile, fixed, and portable operations like workforce communications, remote monitoring, and real-time asset control.
Read Swoop Aero's full announcement.
About Iridium Communications Inc.
Iridium® is the only mobile voice and data satellite communications network that spans the entire globe. Iridium enables connections between people, organizations and assets to and from anywhere, in real time. Together with its ecosystem of partner companies, Iridium delivers an innovative and rich portfolio of reliable solutions for markets that require truly global communications. In 2019, the company completed a generational upgrade of its satellite network and launched its new specialty broadband service, Iridium Certus®. Iridium Communications Inc. is headquartered in McLean, Va., U.S.A., and its common stock trades on the Nasdaq Global Select Market under the ticker symbol IRDM. For more information about Iridium products, services and partner solutions, visit www.iridium.com.
Press Contact:
Jordan Hassin
Iridium Communications Inc.
Jordan.Hassin@iridium.com
+1 (703) 287-7421
Investor Contact:
Kenneth Levy
Iridium Communications Inc.
Ken.Levy@Iridium.com
+1 (703) 287-7570
Twitter: @Iridiumcomm
Related Products & Services