« Back
Stand Out or Blend In with a Fresh Take on the Iridium Extreme®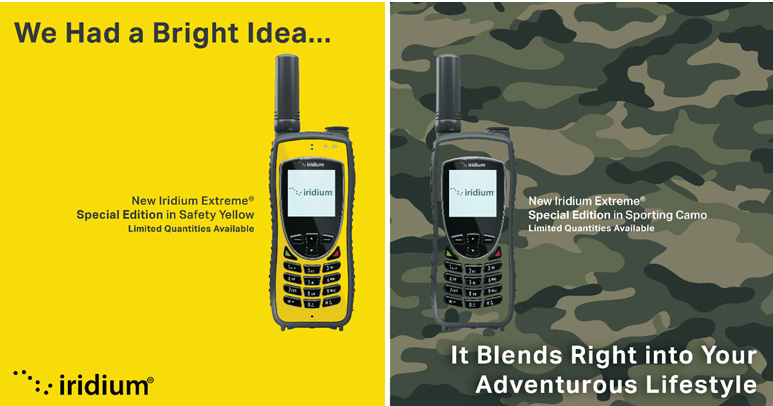 During these times, many of us have been making an effort to physically distance by exploring off-the-grid. While the way we do things has changed, the importance of staying connected remains. That's why governments, businesses, first responders and adventurers rely on Iridium® to be able to make phone calls and text message when they're outside of cell coverage.
When the Iridium Extreme first debuted in 2011, it was the first satellite phone with an integrated SOS emergency button, ensuring people stay safe and connected no matter where they explore. The phone features text messaging, text-to-email, GPS tracking capabilities and military-grade durability with an IP65 rating, making it the perfect companion when you're off the beaten path.
Iridium is excited to introduce our new special edition, limited quantity Iridium Extreme handsets in Safety Yellow and Sporting Camo, which can add some personalized style to your adventure. The special edition phones are available in limited quantities from select Iridium retailers around the world.
"Our special edition Iridium Extreme satellite phones are designed for those who either want to make sure they're seen and heard, with the Safety Yellow, or those who may want to stay hidden in the brush and communicate at the right time, with the Sporting Camo," says Josh Miner, vice president of Land Mobile at Iridium. "The Safety Yellow edition is meant to be easy to spot, like construction vests or an EPIRB device on a boat.  Whereas the Sporting Camo edition makes a lot of sense for those going off the beaten path during hunting season or looking for the right matching accessory to fit their lifestyle."
Like the standard model, Iridium Extreme Safety Yellow and Iridium Extreme Sporting Camo come with full accessory kits, but also a matching color lanyard.  Standard accessories include a travel charger with international adapters, magnetic vehicle mount external antenna, hands-free earpiece with microphone and more.
For more information about the new special edition Iridium Extreme satellite phones, visit: https://www.iridium.com/products/iridium-extreme/
Related Products & Services