« Back
A Risk that Paid Off – Looking Back a Year Later at the Success of Iridium® NEXT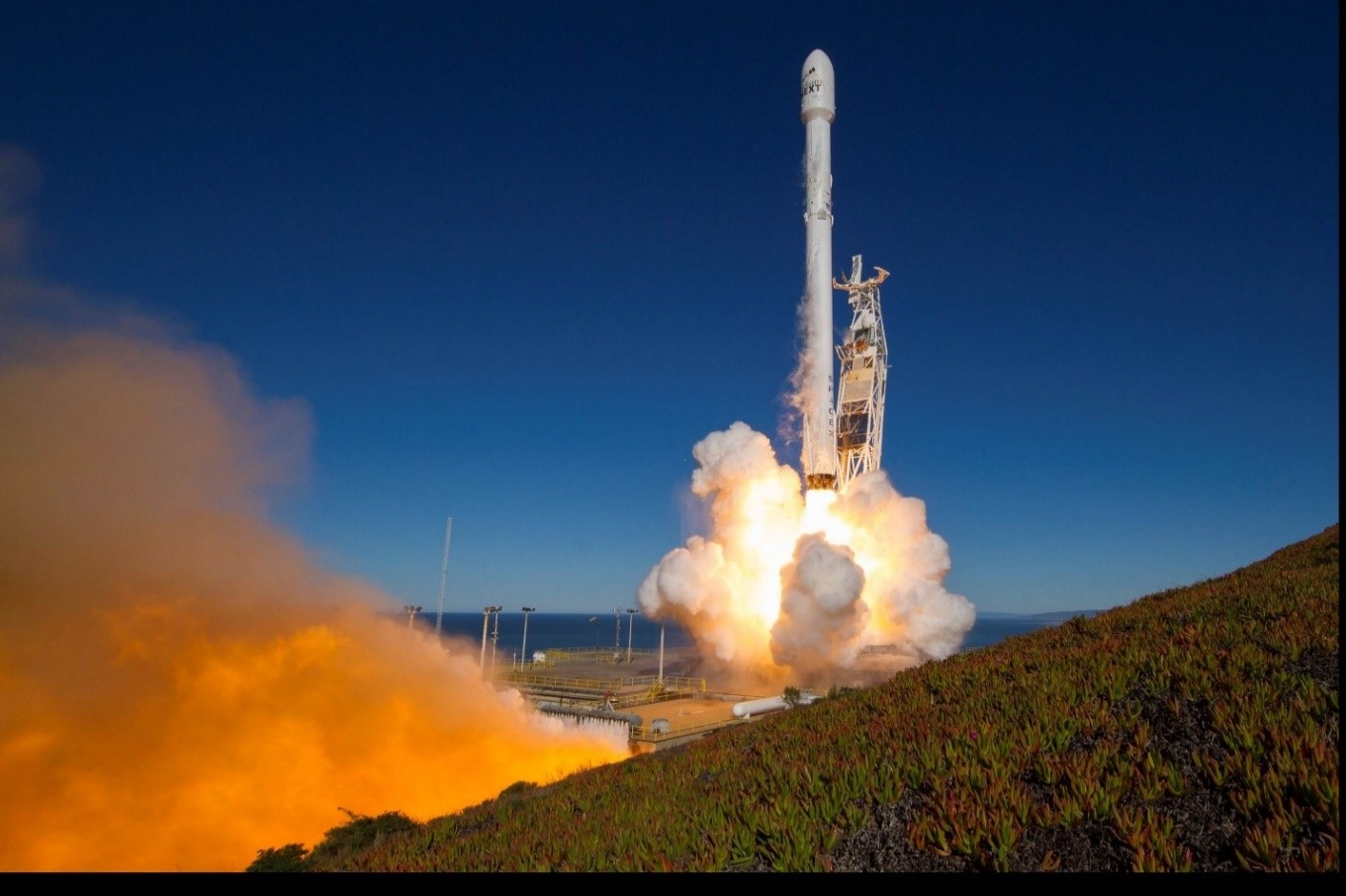 (Image: The first Iridium NEXT launch on January 14, 2017. Credit: Iridium)
One year ago today, Iridium declared victory and completed its $3 billion satellite constellation upgrade. It was a major achievement for Iridium, but the journey wasn't easy. Almost a decade of deliberations, development and hard work came down to eight adrenaline-inducing rocket launches that determined Iridium's fate. Had anything gone differently, the company's fortune could have changed.
The Iridium NEXT campaign was a technical, financial and commercial risk for the company. For any other business, success and failure is typically measured over a long period of time, and issues can be handled accordingly. With the Iridium NEXT campaign, after preparations were complete, there was a period of time when the outcome was out of the company's hands. When launching satellites, success or failure is at first measured in a roughly 9-minute window. Then for Iridium, add another 40 minutes to an hour for deployment and successful communication with the new satellites. The first launch was particularly traumatic. Would the satellites separate from their dispenser at the right time? Was all the development and testing enough to ensure the satellites would wake up in space and be fully functional? Could they call home?
Prior to the launches, Iridium had a comprehensive plan for funding, building and deploying its next-generation satellite constellation. This plan was no small feat. Iridium and its partners in the lending community all took extraordinary financial risks to get this project off the ground. In 2010, when the loan for the Iridium NEXT campaign was closed, Iridium's launch provider SpaceX was unproven, and there were no contracts even close to being in place for Iridium's hosted payloads, which it needed to help bring in new revenues. Iridium then doubled-down on itself and, finding some early customers and investors to partner with, developed the AireonSM service (through a joint venture) to provide space-based ADS-B for real-time, truly global surveillance of aircraft. With all of these financial risks taken, successfully executing the Iridium NEXT project was crucial.
As is typical with a project as complex as Iridium NEXT, everything did not go as planned. Manufacturing and launch delays caused the project to slip. The development of the satellites took longer than expected, and every detail from design criteria, to transportation of the satellites to the launch site was critical in determining success (Fun fact: There was an Iridium tracking device on the satellite shipping containers so that Iridium employees could track the satellites from the factory to the launch site at Vandenberg Air Force Base). The company also factored in potential launch failures and supplemented its insurance strategy by contracting Thales Alenia to build 15 extra satellites in addition to the 66 needed for operation.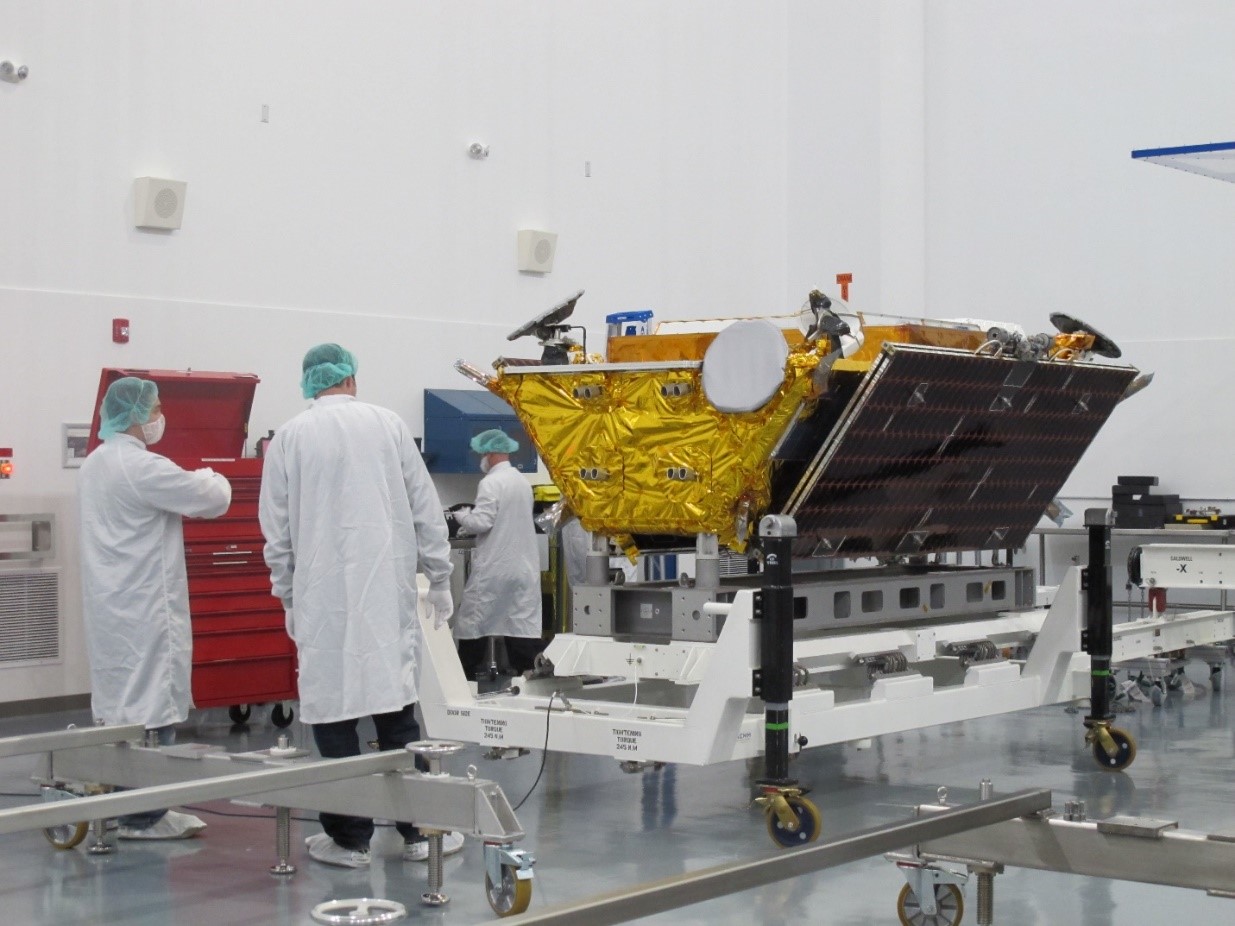 Image: Technicians work on an Iridium satellite. Credit: Iridium
Two years and eight successful launches later, Iridium completed the network refresh with a fully operational constellation. Using a "slot swap" technique, the company's satellite operation team then safely replaced and responsibly deorbited the original operational Block 1 satellites. On February 5, 2019, the final slot swap took place, completing the upgraded constellation. The process was so seamlessly executed, not one customer even noticed it was happening during the entire network changeout.
So, what's next one year after Iridium NEXT? Iridium employees who went through the adrenaline-inducing development and deployment years experienced a short-lived elation hangover in the immediate aftermath. For more than a decade, the Iridium NEXT campaign was the company's biggest priority, and everyone involved went through a unique experience together. Now everyone's attention has shifted to bringing the new services and capabilities enabled by the new satellites to life. All of the time and energy spent on refurbishing the constellation is now focused on utilizing the network to support Iridium partners and customers.
Iridium Certus®, the world's only truly global broadband service, was enabled by the new constellation and has now been providing service for over a year. The Aireon service, an Iridium hosted payload, is in operation making real-time truly global air traffic surveillance a reality.  L3Harris Technologies and exactEarth's Automatic Identification System (AIS) payload is monitoring ship movements in real time everywhere in the world. Iridium is also now formally authorized to provide Global Maritime Distress and Safety System (GMDSS) service, which to explain simply, provides the SOS button for a ship in distress at sea. In addition to these immediate successes, the company is now on a normalized operating path and able to cultivate its long term vision and strategy.
As Iridium CEO Matt Desch likens it, "Iridium's been a beast that has needed a large amount of feeding to stay alive since its inception. Now, the beast is self-sufficient, and we're growing our own food." After 20 years, Iridium's destiny is now in its own hands. With the success of the Iridium NEXT campaign, the company has finally achieved financial maturity. Iridium recently refinanced its credit facility, and the financial transformation that's underway allows the company to plan for potential shareholder-friendly actions and a much easier financial path for the successor to Iridium NEXT. "The financing of the successor network to Iridium NEXT around 2030 will be a layup compared to what was just accomplished," says Tom Fitzpatrick, CFO at Iridium.
The gamble was big, but now the reward is bigger. Iridium's upgraded network is providing a high quality of service to its partners and customers everywhere on the globe. The company is incredibly thankful to the entire Iridium team, its prime satellite manufacturer Thales Alenia Space and their suppliers, its launch provider SpaceX and everyone that was cheering and rooting for the success of the largest tech upgrade in space history.
Related Products & Services