« Back
A Historic Journey with Modern Technology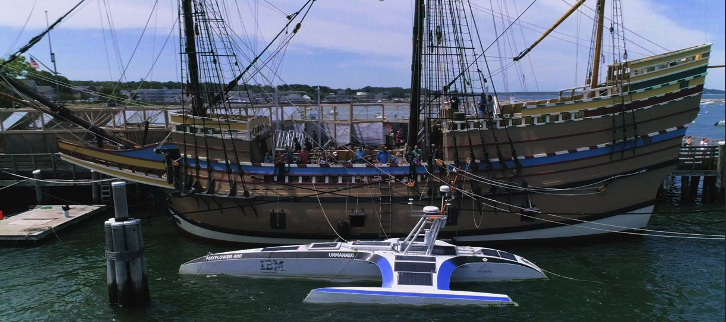 The Mayflower Autonomous Ship (MAS) began its journey on April 27, 2022, when it departed—like its 17th Century namesake–from Plymouth, England. The Uncrewed Surface Vessel (USV) then embarked on a 3,500 nautical mile journey across the Atlantic Ocean, with the aim of recreating the sailing ship's landing destination at Plymouth Rock in Plymouth, Massachusetts.
Despite several unscheduled stops due to ship operating technical issues, the MAS managed to successfully arrive at port on June 30, 2022.
AI Captain Steering The Ship
Developed by Promare and IBM, the MAS was packed with an array of scientific instrumentation designed to push the limits of possibility. One of the most popular and intriguing instruments was HyperTaste, an electronic tongue that "tastes" seawater to evaluate ocean health.
With a complex Artificial Intelligence (AI) capability powered by IBM's AI engine Watson—cleverly renamed AI Captain for the MAS voyage—the uncrewed vessel was designed to sail across the ocean without human intervention.
"We used a number of data sets to train the AI engine and make it self-sufficient," said Brett Phaneuf, CEO of Promare. "Despite having a human in the operational loop for MAS, AI Captain performed extremely well and rarely required the team's intervention. AI Captain would alert us if there was another vessel nearby or a significant event occurring. For example, we had several curious fishing vessels watching the MAS, plus the four full high-definition cameras observed a few dolphins. Otherwise, it was boring."
Remote Command & Control with Iridium Certus
The MAS was designed to sail without the need for any remote communications system; however, the Iridium Connected™ Thales VesseLINK 700 terminal, relying on Iridium Certus® 700 broadband service, enabled several important capabilities. These included:
Remote monitoring of the vessel's navigation, power, and propulsion systems
Human command andcontrol intervention (if required)
The Iridium® network operates globally, using weather resilient L-band technology. The robust Thales VesseLINK 700 antenna has maritime-engineered look angles and no moving parts, meaning even in the most difficult sailing conditions the MAS could stay connected and keep moving.
"We intended for the MAS to operate offline, thinking that we wouldn't have access to high-speed data. Therefore, we employed edge processing capabilities onboard to firstly perform decision making and secondly to significantly reduce the amount of data transferred over the air," said Don Scott, CTO of Promare. "Having the ability to push updates to the MAS over the air and manage both the software containers and computer resources gave a new dimension of remote management."
Enthralling MAS Viewers Globally
The success of the MAS depended on several companies across different sectors collaborating to find solutions. One of the most beloved features of the MAS voyage was the MAS400 video stream.
"The public loved to engage with the MAS, viewing both its cameras and telemetry. We had hundreds of thousands of views of the MAS cameras during the transatlantic voyage – the public felt part of this unique journey," Phaneuf said.
Typically, video streaming requires heavy bandwidth that quickly consumes lots of data, restricting its use to specific scenarios, but Iridium partner Videosoft managed to efficiently deliver the MAS400 video stream through its video compression software technology.
VideoSoft is a leading provider of advanced video compression technologies that enable efficient, high-quality video transmission over low-bandwidth networks. Their video compression engine can even operate on low-power, single-board computers, (e.g., Raspberry Pi or Jetson Nano) that are typically already installed onto uncrewed vessels. This reduces the data that need to be transmitted, freeing up bandwidth and reducing latency.
"The VideoSoft encoders were able to simultaneously transmit several real-time video streams over Iridium Certus," said Stewart McCone, CEO of VideoSoft. "Our highly efficient, real-time video compression provided a new level of situational awareness and allowed the public to view the MAS's journey." The server allowed the MAS team to focus on one video stream of interest, enabling significantly higher resolution and frame rates essential for operational decision making.
"There is a perception that high bandwidth is required for video transmision. The reality is that our compression engine will operate down to 4 Kbps per second link. Therefore, the 352 Kbps uplink from the [Thales] VesseLINK 700 was more than sufficient for our video requirements," McCone said.
The Maritime Autonomous Revolution
"We are just at the start of the autonomous and USV revolution," said Wouter Deknopper, Vice President & General Manager of Maritime for Iridium. "USVs are regularly performing automated tasks that were previously very labour intensive, reducing the time for project delivery and carbon impact on the environment. The MAS project has become the gold standard in USV operation, demonstrating that [Beyond Line of Sight] BLOS operation of an asset is enabled by Iridium Certus. Incorporating edge processing techniques and efficient video compression enables USV operators to push their boundaries beyond what they thought was possible."
Continued Contributions to Ocean Sciences
After completing its original purpose, the MAS continues to do important scientific work in the United States. The vessel has performed several research missions for multiple organizations including the Woods Hole Oceanographic Institute, providing critical information on the health of our oceans and the life within them. Promare and their sister company MSubs continue to build other USVs and autonomous vessels for multiple deployments.
"Our experience from the MAS continues to drive innovation both within M-SUBS and in the wider USV community," Phaneuf said. "Iridium Certus is a critical piece of our autonomous jigsaw, enabling BLOS operation for our future assets and allowing us to push the boundaries of what's possible."
Related Products & Services