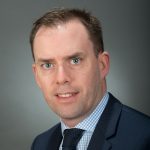 Guest Blogger: Wouter Deknopper, VP & GM Maritime Business
When Iridium entered the maritime market well over a decade ago, we understood that our success could only prevail if we built a network of trusted partners around the globe. The catalyst of our growth largely depends on our partner ecosystem: Value-Added Resellers, Value-Added Manufacturers, Value-Added Developers, and Service Providers. All of our partners "add value" to Iridium's core connectivity, driving entrepreneurship and innovation.
This is especially true within maritime, with many diverse sub-markets such as maritime transport, energy, fishing etc. As maritime is a global vertical, our partners are geographically spread over the continents, delivering local expertise with Iridium's global services.
More than ever, the power of partnerships will be the critical success factor. The Iridium CertusSM ecosystem is ready to drive another decade of innovation and deliver the solutions mariners always wanted.
Check out what Iridium Certus can offer you at www.IridiumCertus.com.