« Back
Iridium Devices Keep Blood Donors Connected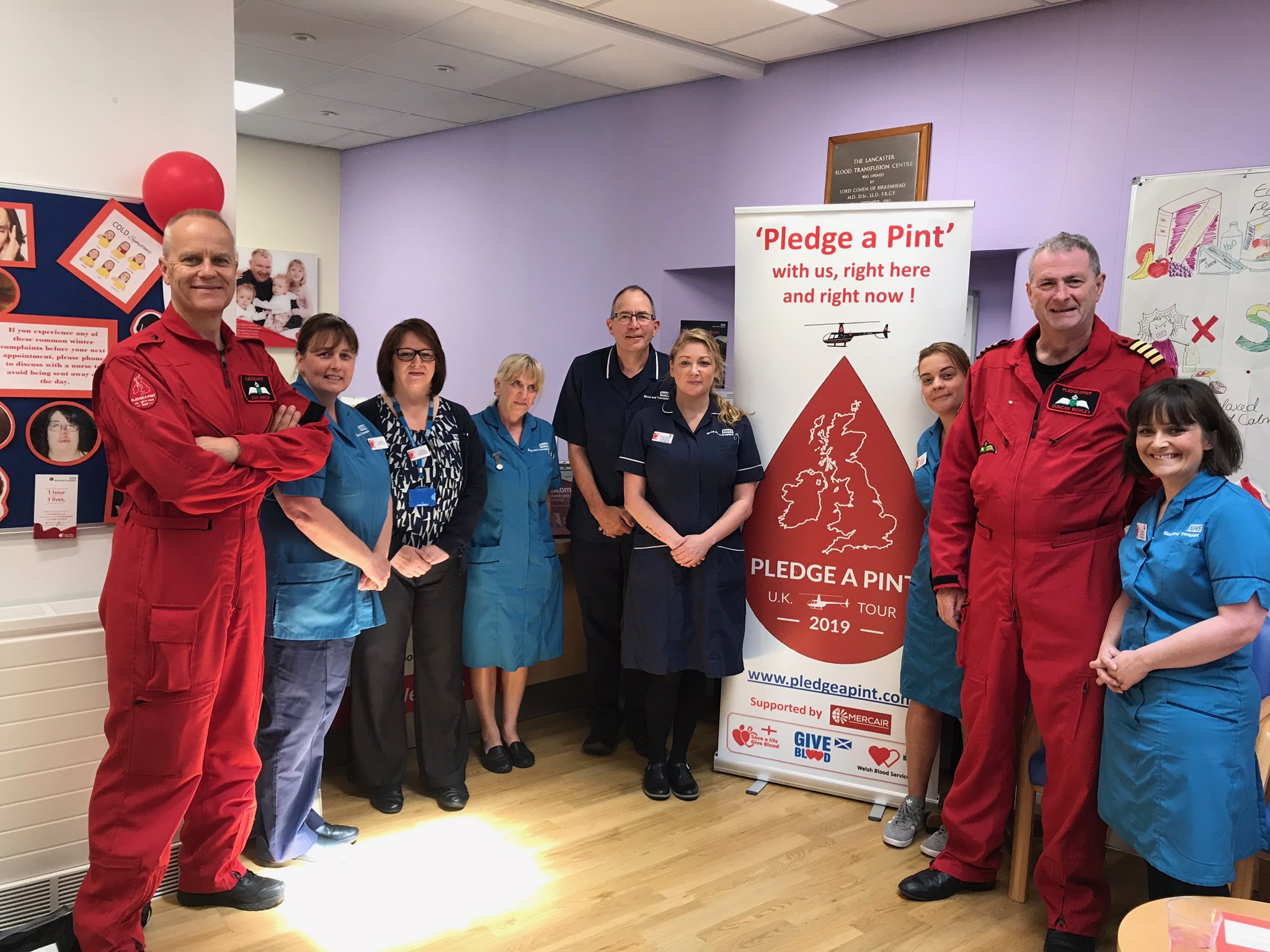 One of the simplest ways to help save a life is by donating blood! Dan Mercer, contracted as Iridium's Regional VP of Europe, the Middle East, Africa and Russia, knows this very personally. After his wife's life was saved by a blood transfusion, he learned the importance of this selfless deed, and was inspired to spread the message. He created a 10-day mission called Pledge a Pint to recruit new blood donors across Great Britain.
Dan, a pilot, along with his friend and fellow pilot Duncan Bickley, began flying around the coast of Great Britain visiting blood donation centers across the country. Making 21 stops in just 10 days (a total of 3000 miles and 30 flying hours!), they encouraged everyone who could to "pledge a pint" and support their life-saving campaign. With the first trip behind them, Pledge a Pint will continue towards its goal of reaching new donors each year to help keep the country's blood stocks at a safe level.
We sat down with Dan to learn more about his mission and how Iridium has supported his cause.
Q: What inspired you to embark on your Pledge a Pint mission?
A: Why I became a blood donor is very simple. I am one of many people wanting to donate blood regularly. In 2010, I learnt very quickly why a plentiful and safe supply of blood to hospitals is critical to saving lives. In short, as a result of a bleeding stomach ulcer caused by ibuprofen, my wife Susannah's low chances of surviving were turned around by a blood transfusion combined with the absolutely brilliant work of the doctors trying to stem the flow. Experiencing first-hand, the reality of just how quickly a blood transfusion can save someone's life, is probably the most enlightening and effective way of understanding the importance of blood donation, something almost any individual can do to help another human being survive in their hour of need. From that moment, I became a regular blood donor, a participant in the Cambridge University Interval Study (studying the effect of more frequent donations), and intrigued by the psychology of helping people to come to the same decision as me - that giving blood is important, life-saving, fascinating, personally fulfilling and probably the easiest and one of the most constructive things any person can try to do to help our fellow inhabitants of planet earth!
Shortly after that experience, I decided I was going to learn to fly, and commenced my private pilot's licence (helicopter). From the moment I started, I had the idea that it would be an amazing trip to fly the coastline of Great Britain – so many different landscapes, cliffs, beaches, castles, towns, mountains, etc. In fact, once you've been flying a while, it's always nice to have a reason to go flying – a mission, if you will. So, putting my two passions together – flying and blood donation – Pledge a Pint was born. I began flying the coastline of Great Britain, recruiting blood donors along the way. The various stop-offs en route at hospitals and blood centres was coordinated with NHS Blood and Transplant, Welsh Blood Service, and the Scottish National Blood Transfusion Service. I also arranged a variety of other stop offs at museums, castles, friends' homes, and airports all the way around. I flew the trip with my friend and fellow pilot Duncan [Bickley] who is also a passionate blood donor, given he received a transfusion himself at 1 day old.
Q: How did Iridium equipment help you during your travels?
A: Working with Iridium for as long as I have, it would have been rather remiss of me to not be one of the most prepared and connected pilots out there! I had the Robinson R44 helicopter fitted with a Spidertracks S6 – the beauty of the S6 system is that you don't even need to think about turning it on, because it is automatically on and tracking with the master switch on the aircraft and movement. I also had a Garmin InReach Explorer SE and a RockSTAR for messaging and flight following, along with an Iridium GO!® and an Iridium Extreme® for voice communications. My Bose Bluetooth aviation headset was connected (via Bluetooth) to my phone and my phone via Wi-Fi to my Iridium GO!, in order to enable in-flight calls when we were out of touch with Air Traffic Control, specifically in the Scottish Highlands. Of course, I also made calls to members of my team 'just because I could' with the coolest technology on the planet!
Q: Did any of your experiences working with Iridium influence the creation and development of Pledge a Pint?
A: I have supported so many expeditions over the years with Iridium and Iridium Connected equipment – from explorers running through the desert, to rowing the oceans, to flying around the world, all of the people my team and I have helped over the years definitely inspired me to actually go and have my own adventure, while also supporting a cause I am passionate about!
Q: How has Iridium supported Pledge a Pint?
A: Iridium supported the trip by providing me with equipment and airtime, for which I am extremely grateful. In addition, the trip was made with support from Spidertracks, my own company MERCAIR, my gym (Unique), and a national estate agents (Mullucks), who helped with the social media and video throughout the trip. All of these companies also supported the mission by sharing our plea for a pledge of a pint of blood with their own customer bases. The trip was organised with the support of NHS Blood and Transplant, Welsh Blood Service and the Scottish National Blood Transfusion Service.
Q: What experiences has Pledge a Pint allowed you to have?
A: When you set about putting a trip like this together, it's very exciting, but it's also unlikely that you realise just how amazing the trip is actually going to be, and even more so how many wonderful people that you will meet along the way. You wake up every morning, and whilst you have a master plan, you don't really know where you will end up that night, and who you will meet. We met so many great people in the hospitals, blood centres, and pubs, and that was certainly a highlight.
Q: What's next? Do you have any plans to expand or continue the Pledge a Pint mission?
A: Yes, the campaign at www.pledgeapint.com/ will continue – people are still pledging… in fact several of my colleagues from Iridium and customers from all around the world have all pledged too! To date, 115 people have signed up on the website, with about 30 of them already having made their first donations. We need this number to continue to grow, and whilst I realise it's not like asking someone to give $5 for a chosen charity, you need to genuinely put yourself out, take a couple of hours, have a needle stuck in your arm, and donate!
Q: What would you say to people who are thinking about donating blood for the first time?
A: In England alone, 135,000 a year, or 400 a day, new donors are needed. That's just to keep stocks at a safe level. What I would say is – don't be like me and let it be a personal tragedy or near-tragedy motivate you to give blood. Every donation will save three lives, and in the U.K., you can even get a text message within a few days with information as to where your blood was used. And, if that's not enough, you get a free chocolate biscuit and a cup of tea after your donation. I can see you all running out of the door to the donation centre right now!
Q: Anything else you would like to share?
A: We all have our passions and our dreams of one day being able to do something special, or interesting, or challenging, or all of the foregoing. I am so glad I was able to pursue one of mine. Life isn't a rehearsal – so enjoy every day as it comes!
Related Products & Services