« Back
Iridium® GMDSS Wins Top Connected Mobile Platform Innovation Award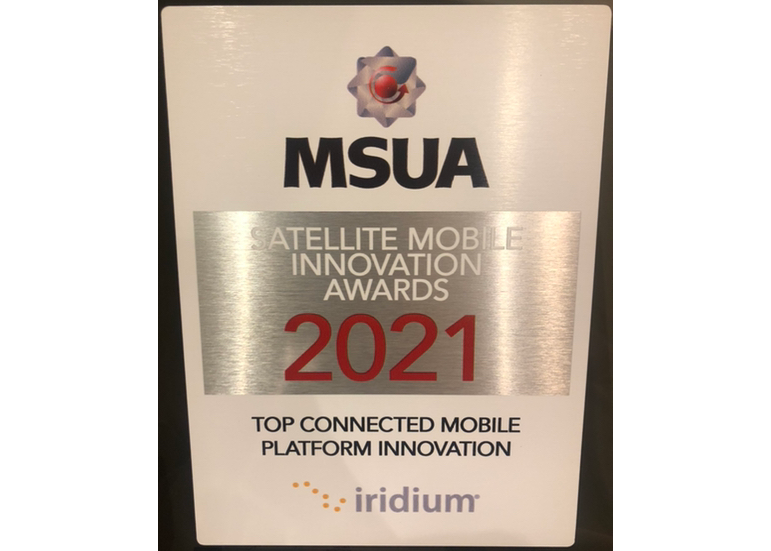 MCLEAN, Va., September 16, 2021 – Iridium Communications Inc. (Nasdaq: IRDM) is proud to share that it received the Mobile Satellite Users Association's (MSUA) 2021 Top Connected Mobile Platform Innovation Award for Iridium GMDSS. As the world's first and only maritime safety solution that covers the entire globe with real-time satellite connectivity, Iridium GMDSS offers a modern solution for enhancing safety at sea.  
The award for Top Connected Mobile Platform Innovation highlights forward-thinking satellite platforms that demonstrate innovation and disruption in the industry. The launch of Iridium GMDSS ended a decades-long monopoly held by another satellite company and enables mariners to access this life saving service anywhere they sail for the first time in history.
Iridium GMDSS offers the maritime industry a superior choice when it comes to safety services, in that it is more capable, cost effective and global than the legacy service, further positioning Iridium as a leader in this space. Unlike the historical option, Iridium Connected® GMDSS terminals include the functionality for all satellite GMDSS services and enable the initiation of both Distress Alert and Safety Voice quickly with the press of just one button. 
Bryan Hartin, Iridium's Executive Vice President, Sales & Marketing accepted the award at MSUA's award ceremony at SATELLITE 2021. "We are very proud to be receiving this award," he shared. "GMDSS is a huge responsibility because mariners depend on Iridium's GMDSS service for safety of life at sea. We take that very seriously." He continued, "Iridium GMDSS is a big change for the maritime industry, one for the better and one that will spark further safety innovation by Iridium and others."
MSUA is a non-profit organization dedicated to promoting satellite mobile innovation and development worldwide. To learn more about MSUA visit: www.msua.org
To learn more about Iridium GMDSS, visit: www.iridium.com/services/gmdss/ 
About Iridium Communications Inc.
Iridium® is the only mobile voice and data satellite communications network that spans the entire globe. Iridium enables connections between people, organizations and assets to and from anywhere, in real time. Together with its ecosystem of partner companies, Iridium delivers an innovative and rich portfolio of reliable solutions for markets that require truly global communications. In 2019, the company completed a generational upgrade of its satellite network and launched its new specialty broadband service, Iridium Certus®. Iridium Communications Inc. is headquartered in McLean, Va., U.S.A., and its common stock trades on the Nasdaq Global Select Market under the ticker symbol IRDM. For more information about Iridium products, services and partner solutions, visit www.iridium.com.  
Press Contact: 
Jordan Hassin                            
Iridium Communications Inc.                     
+1 (703) 287-7421              
Investor Contact: 
Kenneth Levy
Iridium Communications Inc. 
+1 (703) 287-7570
Twitter: @Iridiumcomm