« Back
Guess who's back…back again…The Iridium-9 Launch Playlist Revealed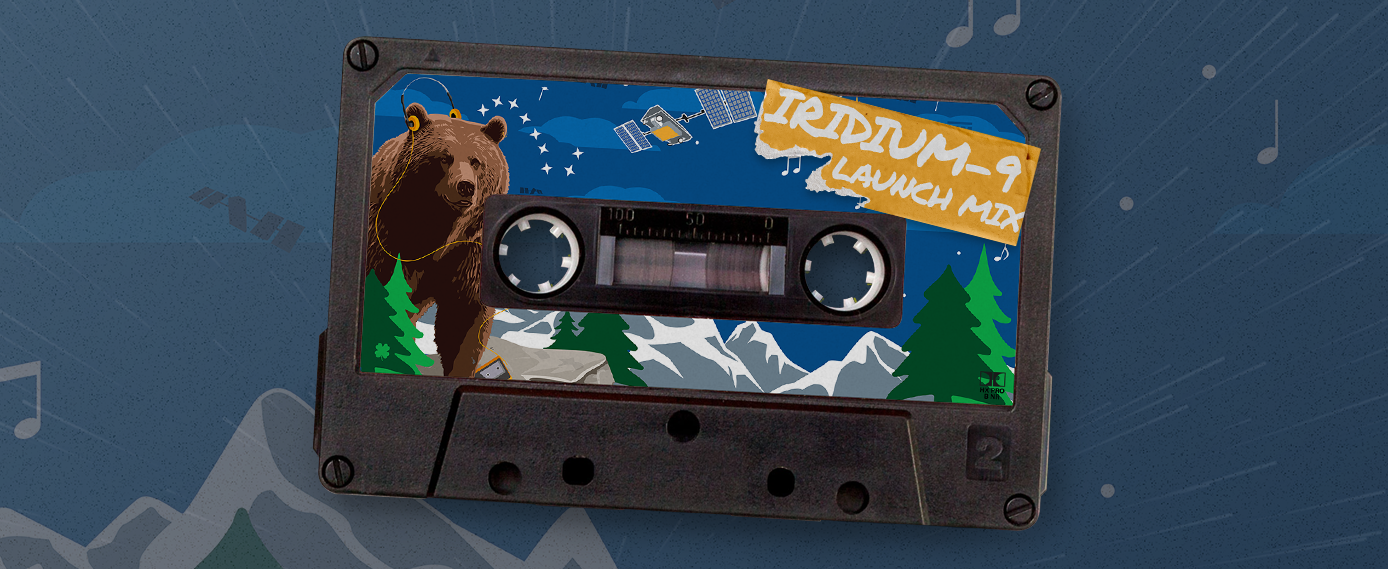 Hi again. It's been a while, and wow has a lot happened since the Iridium-8 launch (Ok fine, Iridium-8 wasn't exactly the last, last flight of this generation of satellites. In our defense, these are spares).
We kind of knew we'd get at least one more shot at a playlist, but YOU all voted to have "The Final Countdown" on the last playlist. We will accept half the blame. Deal? Ok, we'll accept 75%. Final offer.
For those of you who have no idea what we're talking about, see the following:
IRIDIUM-7 LAUNCH PLAYLIST
IRIDIUM-8 LAUNCH PLAYLIST
Playlist Strategy
Our playlist is designed to do a number of things:
It's Choreographed
Each song–its lyrics and timing–are very important to the experience.
Those of you who played along previously know, for example, that liftoff occurs at a very specific moment of "Thunderstruck" by AC/DC. That song is forever the liftoff song. #SorryNotSorry. After that, the songs change but the experience remains the same (i.e. when the satellites are separating from the dispenser, you'll get songs about "separating," "dancing away," or analogies thereof.)
There's Something For Everyone
A key goal is to ensure we have a diverse array of music, so a variety of artists and genres are included in hopes of having something for everyone. We think we've struck that balance again and hope you agree!
Live Tweets
On launch day, make sure to pay attention to our Twitter account, where we'll be tweeting out updates, timing to press play if you're joining late and a quick bit about why each song was chosen.
How It Works
The Iridium-9 Launch Playlist can be found on Spotify. Here's a step-by-step guide to help you join the fun.
Search for the Iridium Communications Inc. account on Spotify, and make sure it's the one that's verified! Or use this link to directly access the playlist.
Select the Iridium-9 Launch Soundtrack from the playlists section. You should now see all the songs in order.
Next, head over to the SpaceX webcast about 15 minutes before launch.
Once the SpaceX webcast begins, find the timer in the top right corner of the screen that shows a countdown to launch.
When the countdown timer reaches 6 minutes and 8 seconds, press play (THIS IS IMPORTANT!!!) on the first song of the playlist, and then just let it play. (We recommend keeping the volume low enough to hear the host clearly!)
5A. If you joined the show late, or had to pause the playlist, have no fear. We will be live tweeting at what point on the timer (that same one in the top right corner), each new song will start, giving you an opportunity to get back in the game! For example, you may see a tweet like this:
"To catch up with the playlist, press play on Iridium-9 Launch Soundtrack Song – [SONG NAME] at T+12 minutes 32 seconds #Iridium9"
After that, there's nothing left to do but watch, listen and enjoy. And yes, everything that happens–the timing, the words, the irony–has been painstakingly designed to create a unique viewing and listening experience.
WARNING: This will only work seamlessly for Spotify Premium users. (aka, no commercials)
But, we've got you covered. The playlist is included at the bottom of this post so everyone without Spotify Premium can build the list themselves. We just ask that you pay close attention to song lengths and versions, to make sure things line up as accurately as possible!
How We Picked The Songs
As Rob Gordon points out in High Fidelity: "The making of a great compilation tape…is hard to do and takes ages longer than it might seem."  The songs have to make sense, the length of the songs has to work out so the viewing experience is coordinated with the video feed and more.
The Criteria
• Avoid profanity, explicit lyrics or graphic language
• Avoid the same songs and the same band/artist (not inclusive of "feats.")
• Allow one exception to the Avoid The Same Songs Rule (c'mon, you can probably guess what this one is for!)
• Avoid clichés (no "Rocketman," sorry)
• Allow one exception to the Avoid Clichés" Rule
• Relate to either what is being viewed on screen, the Iridium story or our business
• Matt picked it (per tradition, our CEO, aka @Iridiumboss, selects one song)
• Represent a broad/diverse array of music/artists/bands
• Serve as an ode to a relevant person, place or event
• Represent some level of irony if the song doesn't fit in another category
We hope you join us on this musical journey!
Official Iridium-9 Launch Playlist
| | | | |
| --- | --- | --- | --- |
| | | | |
| Finale (feat. Nicholas Petricca) | | | |
| | | | |
| | | | |
| | | | |
| All I Do Is Win (feat. T-Pain, Ludacris, Snoop Dogg & Rick Ross) | | | |
| | | | |
| | | | |
| | | | |
| | | | |
| | | | |
| | | Oh, What a World 2.0 (Earth Day Edition) | |
| | | | |
| | | | |
| My Shot (feat. Busta Rhymes, Joelle Ortiz & Nate Ruess) | The Roots, Busta Rhymes, Joell Ortiz, Nate Ruess | | |
| | | This Is Acting (Deluxe Version) | |
| | | | |
| | | Bachman-Turner Overdrive II | |
| | | | |
| | | From The Screen To Your Stereo 3 | |
| | | | |
| | | | |
| | Nini, Rickey & E.J. Version | High School Musical: The Musical: The Series (Original Soundtrack) | |
| Drop It Like It's Hot – Radio Edit | Snoop Dogg, Pharrell Williams | | |
| | | | |
| | | | |
| | | | |
| | Martha Reeves & The Vandellas | | |
| | | | |