« Back
Now Available: Iridium GO! exec Premium Dual Mode and LITE Antenna Kits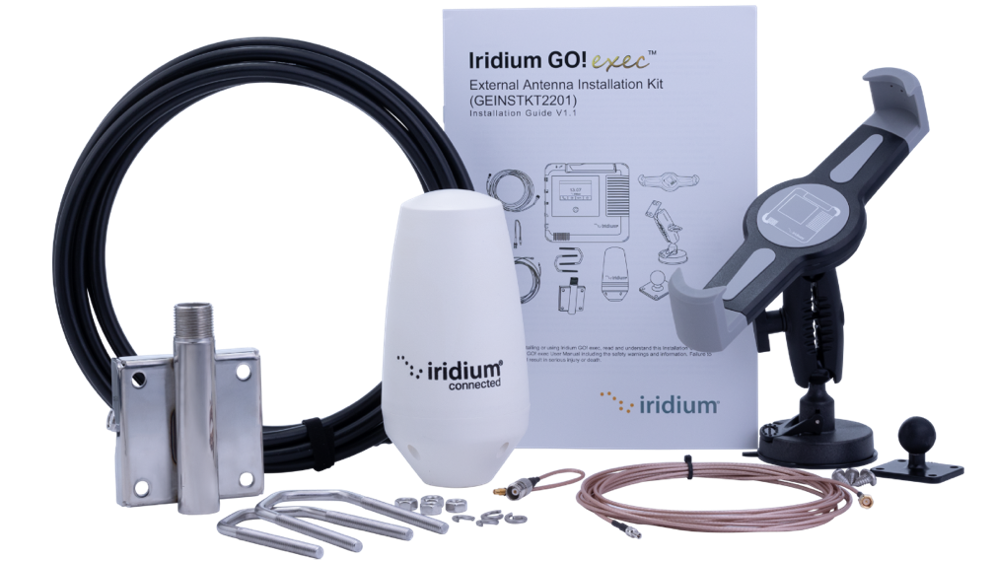 The Iridium GO! exec® external antenna kits are custom-designed to optimize a fixed-install connectivity experience for land and maritime applications.
MCLEAN, VA., August 22, 2023 – Iridium Communications Inc. (Nasdaq: IRDM) today announced the availability of the Iridium GO! exec Premium Dual Mode (With GNSS) and LITE Single Mode antenna kits for fixed-install applications. The new kits allow Iridium GO! exec users to enjoy all the features of the device while in-cabin, below deck, or in-vehicle on-the-move both on land and sea. It's easy to install and available for purchase worldwide from Iridium partners.
The Premium Dual Mode kit includes a combined GNSS and Iridium® antenna, Iridium approved antenna cables, and a variety of device mounts for boats, vehicles, and fixed locations like cabins. The LITE kit offers a dedicated Iridium omnidirectional antenna, extended cable, and a fixed rail mount.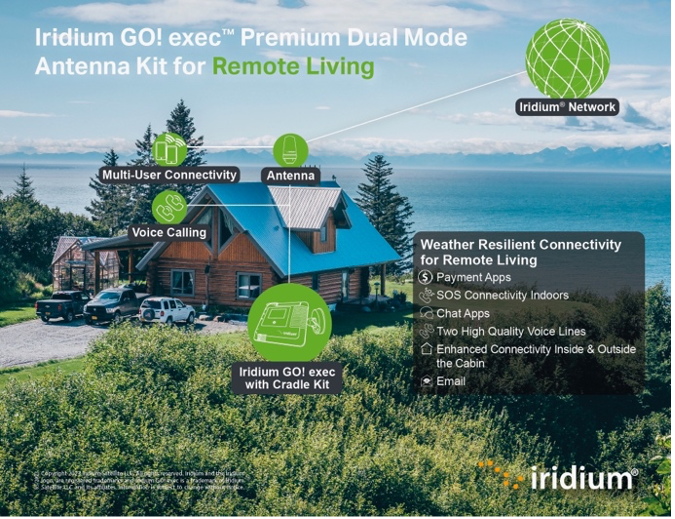 Launched earlier this year, the Iridium GO! exec operates off Iridium's truly global network, keeping users' favorite personal devices such as smartphones, tablets, and laptops connected anywhere in the world. With Iridium's weather-resilient L-band network, voice calling, two-way messaging, emailing, social media posting, Internet access, and emergency SOS can all be completed, even in adverse weather conditions. This delivers the market a dependable and one-of-a-kind personal communications experience for those needing to use their own devices while outside cellular coverage.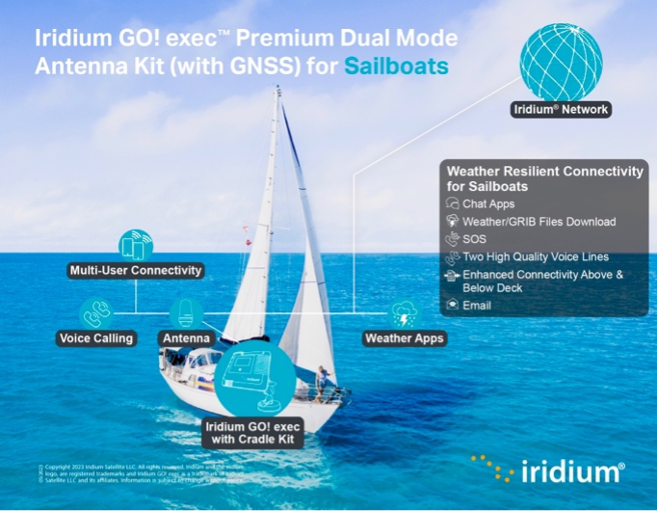 "The high mobility and easy pole-mount installation system of the Iridium GO! exec and external antenna kits deliver a robust, portable personal device connectivity experience," said Josh Miner, vice president, land mobile, Iridium. "A fixed external antenna kit paired with an Iridium GO! exec is a must-have for all types of remote workers, yachters, and off-grid travelers like RV'ers."
Consumers can choose between the two external antenna kit options, one with a premium dual mode antenna, and one without GPS and similar GNSS services built in, but at a significantly reduced cost. These options allow users to choose the kit best tailored to their specific communication needs. Equipment in both kits feature an IP68 rating, ensuring durability to withstand adverse weather conditions.
Read the full announcement of the recently launched Iridium GO! exec.
About Iridium Communications Inc.
Iridium® is the only mobile voice and data satellite communications network that spans the entire globe. Iridium enables connections between people, organizations and assets to and from anywhere, in real time. Together with its ecosystem of partner companies, Iridium delivers an innovative and rich portfolio of reliable solutions for markets that require truly global communications. In 2019, the company completed a generational upgrade of its satellite network and launched its new specialty broadband service, Iridium Certus®. Iridium Communications Inc. is headquartered in McLean, Va., U.S.A., and its common stock trades on the Nasdaq Global Select Market under the ticker symbol IRDM. For more information about Iridium products, services and partner solutions, visit www.iridium.com.
Press Contact:
Jordan Hassin
Iridium Communications Inc.
Jordan.Hassin@iridium.com
+1 (703) 287-7421
Investor Contact:
Kenneth Levy
Iridium Communications Inc.
Ken.Levy@Iridium.com
+1 (703) 287-7570
X: @Iridiumcomm