Join Alex Thomson Racing and Nokia Bell Labs as they share an insight into the work that took place in the lead up to the Vendée Globe 2020 to ensure that Alex was better connected than ever before, as he raced solo around the world.
While sailing offshore, particularly for a long duration of time, staying connected is key. Skipper Alex Thomson and his team were especially cognizant of this when preparing for the Vendée Globe – the single-handed, non-stop round-the-world yacht race that happens every four years. 
For a better part of a decade, Alex Thomson Racing relied on an alternative satellite communications system, which they found to have some restrictions. When Alex Thomson Racing's Technology Partner, Nokia Bell Labs joined the team in 2018, their experts measured the throughput, latency and reliability of the previous communications system used to understand the baseline and look at alternative connectivity options holistically. 
With faster speeds, more affordable available data, and light-weight robust hardware, they chose the Thales VesseLINK™ terminal using Iridium Certus® service to provide communications onboard the team's new HUGO BOSS yacht. Iridium® is the only satellite network with reliable, truly global connectivity, even in adverse weather conditions, which is why Alex and other IMOCA skippers rely on Iridium to stay connected while they compete.
Jesse Rowse, Alex Thomson Racing's Technical Team Manager shared a few major ways Iridium connectivity plays a critical role in supporting Alex at sea. "Over the course of the Vendée, we were able to have Alex, onboard HUGO BOSS, remain more connected to shore than ever before, and there's a lot of reasons for that. One, we do have more available bandwidth on a regular basis, which means he can send large video files whenever he wants," said Jesse. 
"Because of the reduced cost and stable connection, the boat's online every day. This means Alex is running WhatsApp, and this level of connectivity is unbelievable compared to anything we used to do. All of this is a huge departure to where we were at five or ten years ago."

– Jesse Rowse
Iridium connectivity supported Alex's performance by enabling him to get position updates and know where competitors were on the racecourse. It was also critical to making decisions on which route to sail safely and efficiently, made possible by downloading weather and satellite imagery in real time. Connectivity also helped to make the race interactive by allowing Alex to connect with fans and interview with media at sea to easily bring his journey to life. Perhaps most significantly for Alex was being able to stay in touch with family and friends.
"Alex commented that he was incredibly pleased. He had never been able to have a 40-minute WhatsApp call with his family without it being interrupted," shared Thierry Klein, Head of Industrial Automation Lab, Nokia Bell Labs. "He was incredibly pleased with the amount of data he could send and the reliability, stability and robustness of the connection."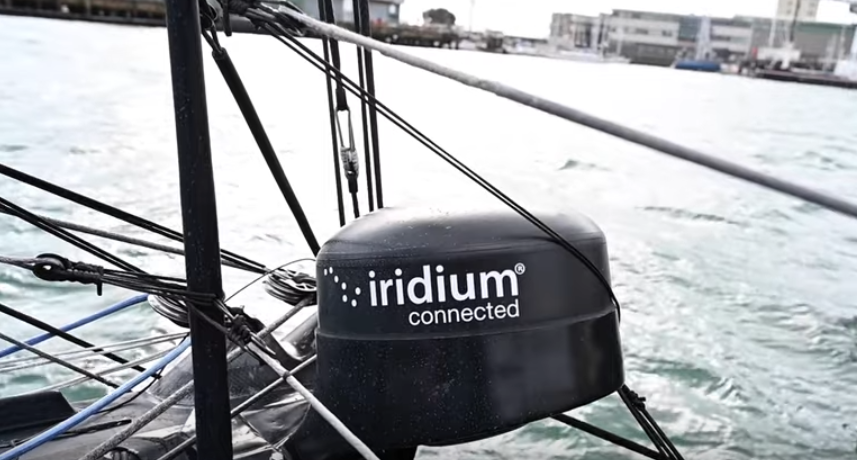 Iridium and our partner Thales are proud to be the official communications partner of IMOCA (International Monohull Open Class Association). IMOCA racing yachts are equipped with the Thales VesseLINK™ 700 L-band broadband terminal powered by Iridium Certus, enabling high-speed global connectivity for skippers anywhere they sail.