« Back
Iridium Eras, Part 4: The Land Of Milk & Honey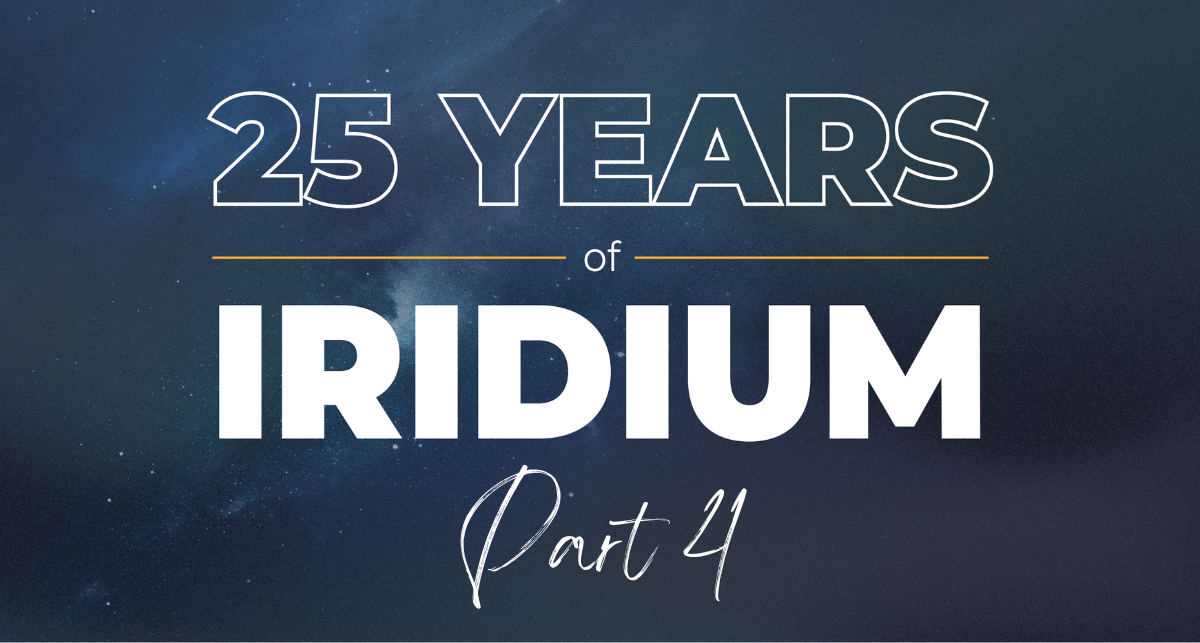 To celebrate Iridium's 25th anniversary, we're reflecting on the eras that made the company what it is today. From its iconic inception to infamous bankruptcy to its rise from the ashes, learn more about the world's first and only truly global satellite network.
Growth
With the second-generation constellation operational, Iridium quickly began to see returns on its $3 billion investment. Less than a year after completing the constellation refresh, Iridium closed on a $1.45 billion refinancing loan that would kick off this era of financial freedom and steady growth. The agreement allowed Iridium to repay its previous credit facility related to Iridium NEXT and provided a $100 million five-year revolving loan facility.
This freed up a lot of resources and allowed the company to shift gears and dedicate its time, attention and spending to driving growth and innovation more than ever before. The three main areas of focus included (and still do to this day)—the unique attributes of the upgraded network, end user device experience and Iridium's partner ecosystem.
Flexin'
The flexibility and highly programmable nature of the new network allow technology developers across all industries to create and innovate an unlimited amount of new products and services. From satellite phones, satellite messengers and IoT solutions, to midband, broadband, Positioning, Navigation and Timing (PNT) services and PTT capabilities, the refreshed network has proven to be an engine for growth and innovation.
This flexibility has also brought on a variety of end user devices. Iridium originally began with two offerings—satellite phones and pagers. Today, while those phones are still available, there are also radios, transceivers and chipset licensing options that allow companies to embed Iridium connectivity directly into their own products. All of this has made Iridium connectivity more accessible to end users, including businesses, governments, NGOs and consumers around the globe.
As Iridium grew so did its global partner network. Shifting gears to the present, today there are approximately 500 partners, creating and collaborating with Iridium to bring new products and services to market that have made Iridium ConnectedTM products and services the gold standard for critical communications.
Relentless Innovation
While there are too many growth era accomplishments to list, the following are some noteworthy moments from the past few years.
The completion of the second-generation network made plenty of new product and service launches possible including the commercial launch of Iridium Certus®, the unveiling of Iridium's first GMDSS terminal, and the launch of Iridium's first global satellite PTT radio. All of these occurred in 2019—the same year the constellation refresh was complete.
In 2020 and 2021, while the world shut down, Iridium kept things moving. The company made maritime history by formally becoming authorized to provide GMDSS service. This was a gamechanger for the entire industry, as it ended a decades-long monopoly and for the first time, made truly global GMDSS service possible. Additionally, Iridium teamed up with Amazon Web Services (AWS) to launch Iridium CloudConnect for IoT customers, launched Iridium Certus 700, 200 and 100 service classes, and was awarded a $30 million research and development contract by the United States Army.
Aside from the many product unveilings, service launches and new partnerships that occurred over the past few years, it is important to also highlight the many impressive financial accomplishments to paint a complete picture of Iridium's growth era and transformation. For instance, in 2009, recurring service revenue (a key measurement of success and growth for the company) was $213 million. As stated in the earnings report for the full-year 2022, that number steadily increased to $534.7 million. Additionally, from the beginning of the Iridium NEXT era in 2017 to present day, Iridium grew at nearly a ten percent Compound Annual Growth Rate (CAGR) on service revenue. This has resulted in a gradual growth of active network subscribers to approximately 2.2 million as of October 2023.
While nobody can predict the future, Iridium expects its growth era to continue for a long time. Iridium recently forecasted approximately $1 billion in annual service revenue and $3 billion in shareholder returns through 2030. Iridium is also committed to rewarding its investors, with a share buyback program authorized for $1 billion through 2025 and offering a dividend. These impressive numbers, accomplishments and predictions are representative of Iridium's transformation. The past 25 years have been filled with the highest of highs and some very low lows, but Iridium is confident in its ability to keep growing, keep innovating and keep succeeding.