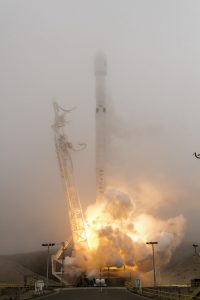 Iridium Communications announced today that the second set of 10 Iridium NEXT satellites, launched yesterday by SpaceX, are functioning nominally and have begun the testing and validation process. This batch of 10 satellites was launched out of Vandenberg Air Force Base in California, increasing the total number of Iridium NEXT satellites in space to 20.
"We are thrilled with yesterday's success. These new satellites are functioning well, and we are pressing forward with the testing process," said Scott Smith, chief operating officer at Iridium. "Since the last launch, the team at our Satellite Network Operations Center (SNOC) has been anxiously awaiting this new batch of satellites. There is a lot of work to do, and we are up for the challenge."
Now, and for approximately the next 45 days, these newly launched satellites will undergo a series of testing and validation procedures, ensuring they are ready for integration with the operational constellation. Once testing is completed, Iridium will also hand over control of Aireon's Automatic Dependent Surveillance-Broadcast hosted payload, to the team at Aireon's Hosted Payload Operations Center (HPOC), also in Leesburg, Va.
For more information about Iridium NEXT, please visit www.IridiumNEXT.com.