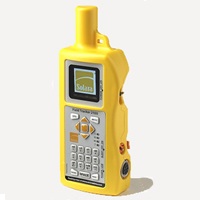 Solara Field Tracker 2100
Overview
The Field Tracker 2100 is a rugged, professional-quality portable communicator that delivers worldwide automatic GPS tracking and two-way short messaging capability. Field-proven, leading-edge features allow the Field Tracker 2100 to automatically track personnel and exchange messages while operating for days on a single battery charge.
Performance is excellent from the extremes of polar regions through to the tropics.
A comprehensive two-way Emergency Alert notification system with optional 24/7 monitoring with Solara's monitoring partners gives you peace of mind by enabling you to communicate the nature of any emergency.
Technical Specifications & Features
The Solara® Field Tracker 2100 is designed and engineered with:
Portable, automatic GPS tracking of personnel
Reliable, all-weather operation
Two-way text messaging
Comprehensive two-way Emergency Alert communicates the nature of the emergency
Operation for days on a single charge
Can be mounted in vehicles with optional mounting cradle
Innovative air vent system for pressure equalization at different altitudes while preventing water infiltration
Switches protected from unintentional activation/deactivation
A rugged, waterproof case
A waterproof keypad with direct tactile feedback
A sealed battery compartment with non-flammable batteries with no shipping restrictions
Shock-mounted color display
Antennas integrated into the case for maximum protection
Vibration and shock tolerance
Recessed power and alert switches that prevent unintentional movement
Full color display operates in extreme cold
Case material complies with FAR 25.853 aircraft interior fire rating
Optional compass and motion sensor
Optional AES-256 encryption (subject to export controls)
Optional Automatic Flight Following configuration.
For more information, visit our website.
Power
Internal non-flammable rechargeable nickel metal hydride (NiMH) batteries and battery charger
Optional external solar panel, direct battery connect kit, external AC adapter or vehicle accessory connector plug (12 or 24 volts DC)
Size and Weight
15cm (6 in.) plus 3 cm (1.2 in.) antenna x 7.5 cm (2.8 in.) x 4.5 cm (1.75 in.) maximum dimensions of curved shape
Approximately 495 g (1.1 lb) weight
Temperature
-20° C (-4°F) to 60° C (140°F)
-40° C (-40°F) to 60° C (140°F) (with cold weather kit or direct connect to power)
Shock and Vibration Resistance
MIL-STD-810 G ; 7.5g RMS random vibration 20 to 2000 Hz with 10G shock in each axis, plus survives 70G crash test
Water Resistance
IP68; waterproof, submersible to 1 m (3.3') for one hour
Altitude
Operation  to 13,000 m (40,000 ft)
GPS Chipset
SiRFStar III with 12 independent tracking channels
GPS Sensitivity:
Acquisition: -143 dBm
Tracking: -158 dBm
Operation Area
Iridium satellite network provides complete global coverage.
Certifications
FCC, IC, CE, FAR 25.853 aircraft interior fire rating
* Specifications are subject to change without notice.