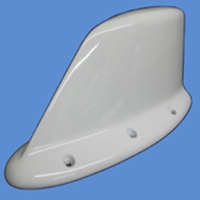 Sensor Systems Inc. - Satcom S65-8282-101
Sensor Systems, Inc. S65-8282-101 Iridium/Satcom Antenna is a broadband antenna providing coverage for Iridium as well as low-gain Satcom applications. Excellent for Iridium satellite services as well as SB200 Class 15 Inmarsat services. The antenna provides over 90% sky coverage. The small, low-drag molded radome displays enhanced protection against rain, ice and lightning strikes; hermetically-sealed and DC-grounded.
How it Works
The S65-8282-101 Iridium/Satcom Antenna must be mounted on top of the aircraft with an unobstructed view of the sky.
Technical Specifications & Features
Part Number: S65-8282-101
Frequency: 1530-1660.5 MHz
VSWR: 1.5:1
Polarization: RHCP
Impedance: 50 ohms
Power Handling: 60 watts CW
Weight: 1.35 lb
Height: 4.58 in.
Width: 4.25 in.
Material: 6061-T6 aluminum / thermoset plastic
Finish: Skydrol-resistant enamel
Connector: TNC Female
Temperature: -65°F to +185°F
Altitude: 70,000 ft
Vibration: 10 G's
Federal and Military Specifications:
ARINC 741, FAA PMA, DO-160D, MIL-HDBK-5400T, MIL-STD-810, MIL-DTL-5541
National Stock Number (NSN): 5985-01-457-5077