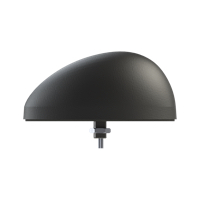 The Maxtena™ SATFleet Iridium/GPS fleet solution consists of two separate high-performance antennas in one compact and secure housing:
one helix Iridium enabling Voice and Data, and
one high gain active GPS antenna.
The SATFleet measures 2.4in (61mm) in width by 4.6in (116mm) in length with a peak height of 2in (50mm). By leveraging techniques in antenna miniaturization perfected in our other products, the SATFleet provides maximum performance in one of the most compact, easy to install form factors.
The Maxtena solution is designed for reliable Iridium network SBD application and provides superior call/voice quality. The low profile SATFleet is a screw mount antenna with a rugged IP67 rated housing and is ideal for the most demanding environmental challenges. The antenna provides outstanding performance for any telematics and fleet management application.