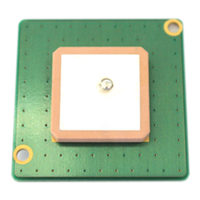 Maxtena MPA-D254-1621 Passive Microstrip Antenna
The MPA-D254-1621 Iridium Passive Microstrip Antenna is a high-performance, very low profile antenna product designed for Iridium-based embedded applications. It is ideal for handhelds, PDAs and tracking devices.
The very compact size and lightweight features make this Iridium embedded antenna one of a kind in the market and perfect for various commercial and industrial applications. With a total efficiency of 80%, this antenna can operate in the most extreme and demanding applications. The antenna comes standard with a 100 mm cable and U.FL connector although custom alternatives can be requested.