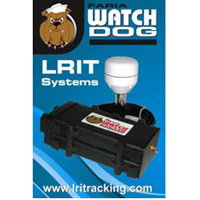 Faria WatchDog 750 LRIT System
The Faria WatchDog 750 LRIT terminal is a state-of-the-art Iridium Satellite and 16-channel GPS Long Range Identification and Tracking System. The WatchDog is a rugged, low-power-drawing, compact and weather-resistant LRIT terminal. The WatchDog LRIT System comes as a complete kit including omni-directional Iridium and GPS antennas, antenna cables and mounts as well as all required harnessing for fast and easy installation. The WatchDog terminal is typically mounted in the wheelhouse and the antennas are mounted atop the vessels with a clear view of the sky.
The Faria WatchDog 750 has passed Iridium's compliance and test requirements and meets all performance standards for LRIT systems outlined in IMO Resolution 81/210.
Technical Specifications & Features
WatchDog provides an Iridium LEO satellite interface with 16-channel GPS tracking.
9 to 36 VDC operation with built-in power management
Reports data to any ASP with on-demand polling rates down to the required once-every-15-minutes
Meets IMO requirements for A4 polar sea areas
Length: 8.57 in.
Width: 4.5 in.
Height: 3 in.
Weight: 3 lb
Operating Temperature Range: -20°C to +85°C